Hiroshi Amemiya's S15: battle against the clock
- Samuel Parra
Time attack is a discipline that has always fascinated me: Getting rid of everything but yourself and your car from the equation and battling exclusively against the clock, no excuses, trying to lower lap times by tenths of a second until the car limit is reached. Finding a way of improving its cornering speed or increasing the car's downforce by adding aero pieces that often seem to come out of a madman's lab and, when everything is installed, going back to the circuit and starting over again.
Now imagine yourself driving around your city and seeing this on the rearview mirror.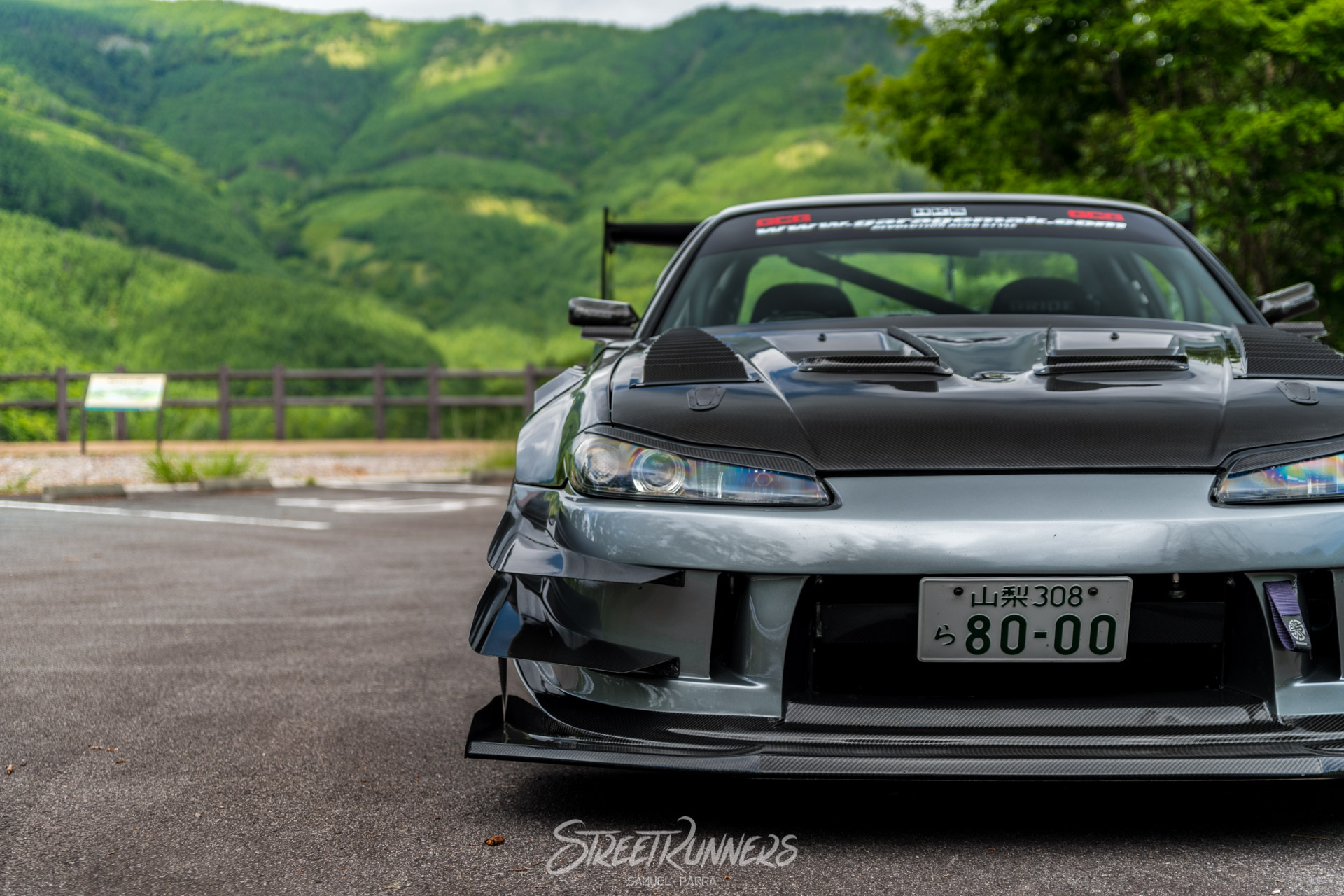 This is Hiroshi Amemiya's S15. A car built to be used as a daily commuter and, at the same time, prepared to hit the circuit of Tsukuba on weekends.
When I came across this car in social networks I tried to contact its owner by all means. What kind of person would have a car like this as their daily driver?
After some messages, we found a time that fitted our schedules and agreed on meeting close to the city where Ame-san lives, about 1 hour away from Tokyo.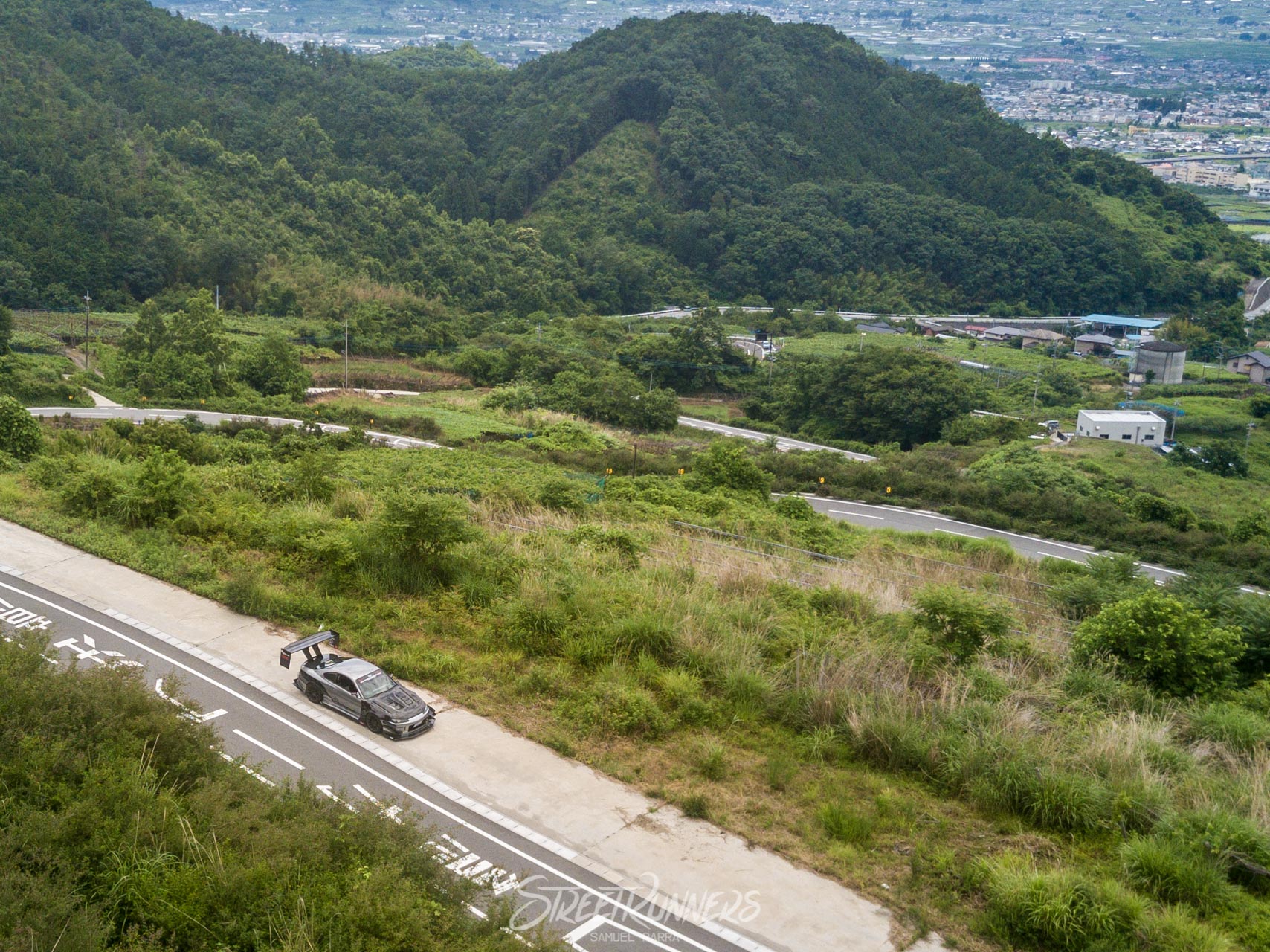 As soon as I got out of my train I looked around the station's parking lot and spotted it in a second: to say the car draws everyone's attention would be an understatement. Having introduced myself, I sat on the Bride bucket seat, ready for what was to come. Ame-san turned the key, started the engine, put the car in first gear with a loud clack sound coming from the sequential gearbox and took me to a local mountain road to take some pics of the car.
The first thing I found surprising about this S15 is that even having a full race cage, sequential gearbox, 6-point harnesses, gauges and meters all across the dash and the extensive use of carbon fiber, the car still keeps most of the extras it came from factory, such as the sound system or the AC. Although the circuit is where this car really shines, Ame also wanted to be able to use this car whenever he felt like going for a pleasure drive, so he decided to keep those even if it meant increasing the car's total weight a bit. He calls this mix "all-around spec".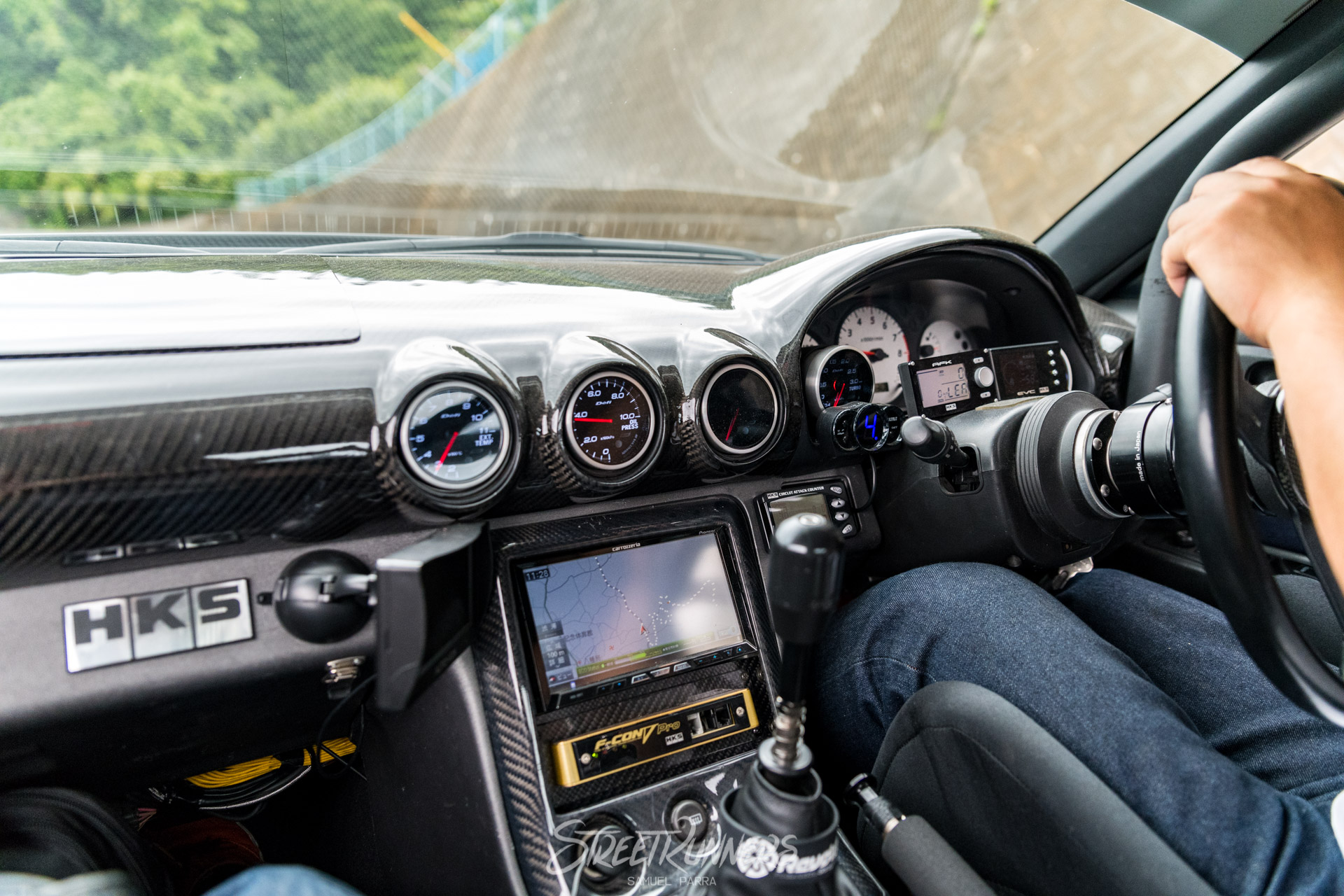 During the drive to the photoshoot spot, we somehow managed to communicate with each other quite well. It's always easier to connect with a fellow petrolhead despite the language barriers. Ame's English and my shamefully bad Japanese were enough for us to talk a bit about him and his car.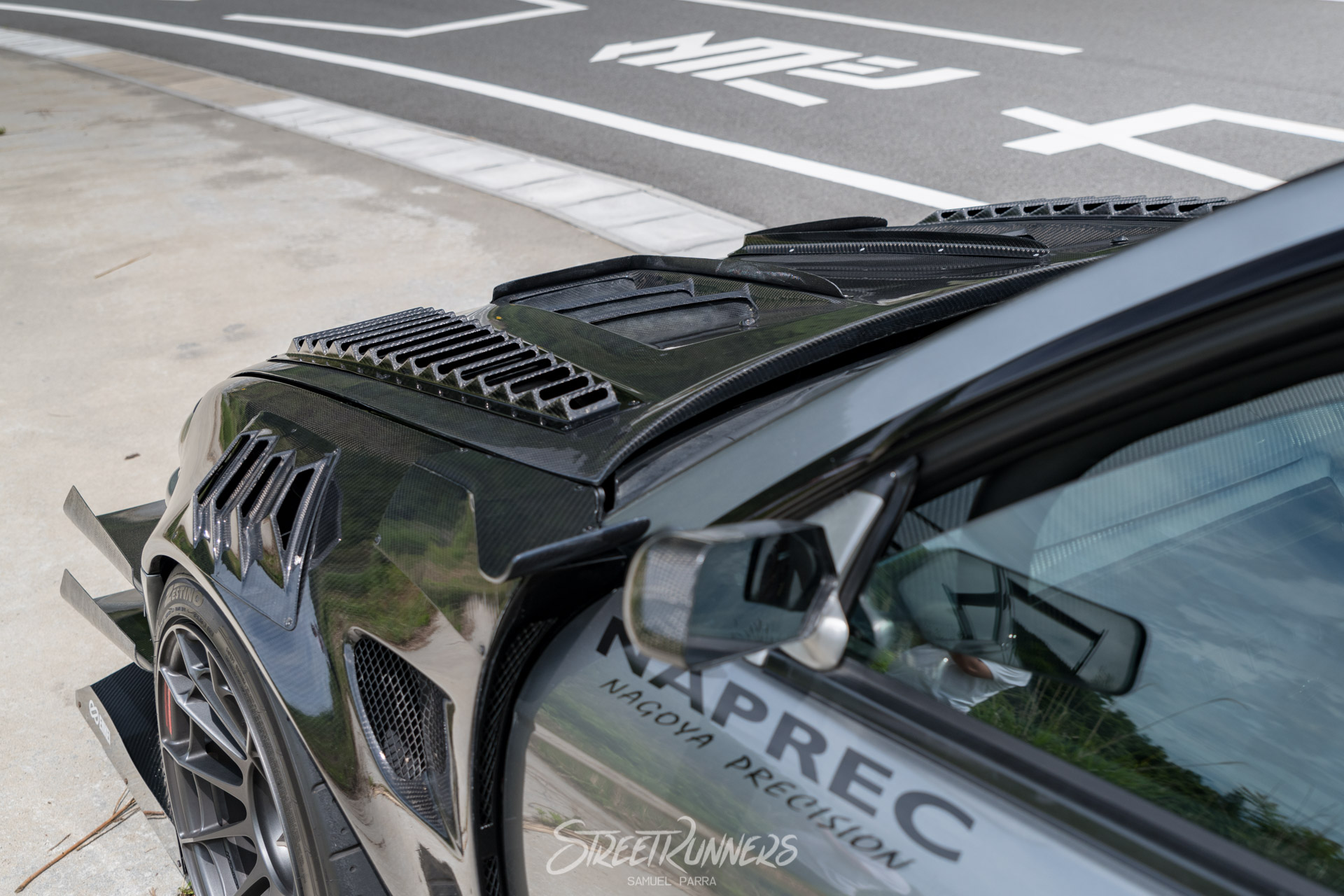 Ame's story with his S15 is one of love at first sight. You would never imagine it from someone who drives a car like this, but when he first got his license he wasn't really into tuning or cars in general. However, that changed when he first saw the Nissan S15 on a magazine. Ame-san immediately fell in love with its design and the way the lines of this coupé flowed. It struck him so much that he went to a car dealer and bought one. It's been 19 years already but it's clear that the way he feels about this car hasn't changed much since that day.
Although the S15 is not a time attack project car as common as other Japanese machines from that era such as the Nissan GT-R or the Mazda RX-7, with the proper tuning and adjustments, this Nissan really shines. Ame-san made it clear from the very first moment we started talking: he thoroughly enjoys modifying his car and trying to push its limits to squeeze every last drop of performance it has to offer.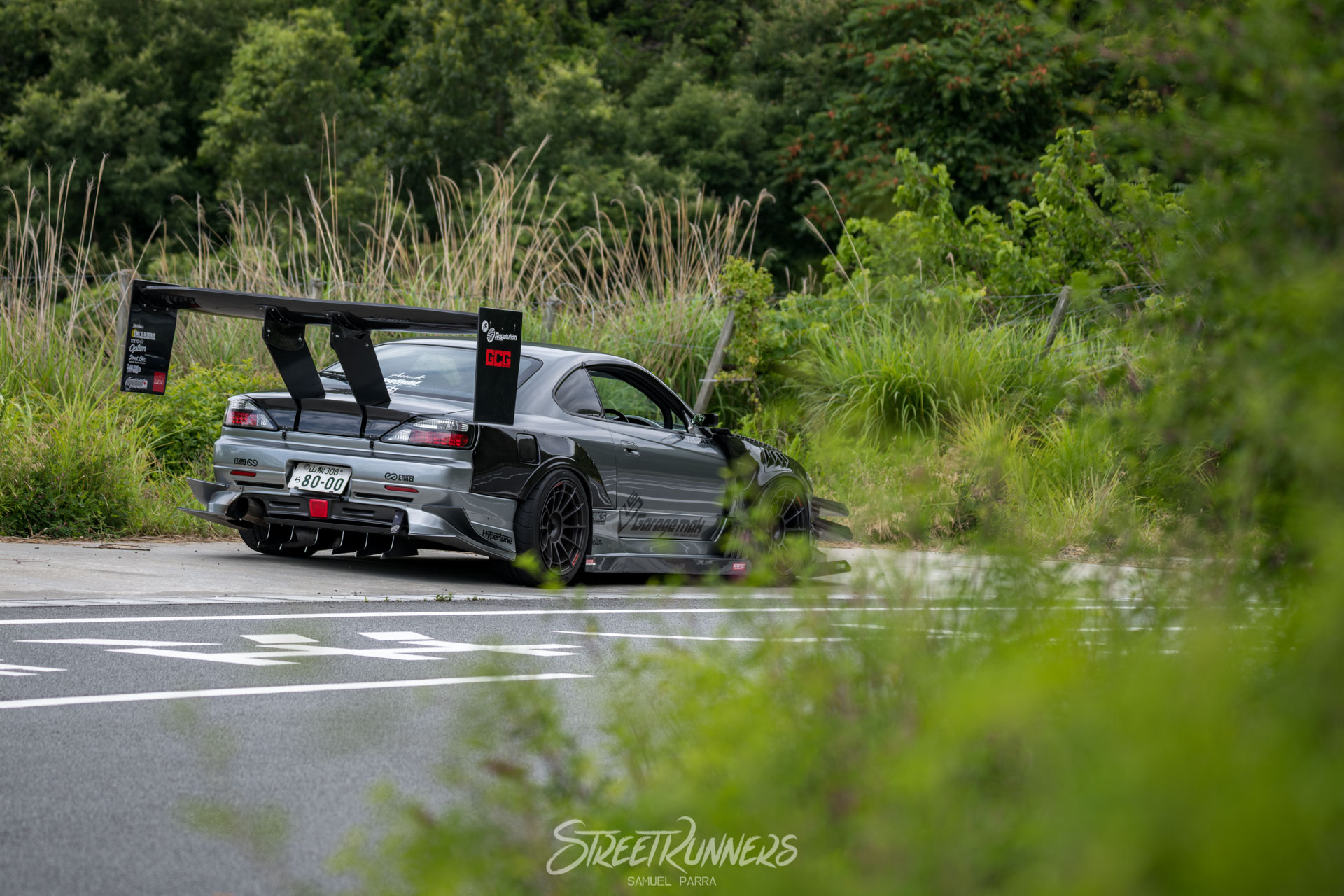 That's exactly how he came across Garage Mak, the workshop which would really transform this car. He met them thanks to a common friend who worked at Option/HyperRev, a Japanese car magazine: they were planning to release a Nissan Silvia-only special issue and wanted to write a feature about increasing power by modifying the ECU only. The idea was to find out how much power was there to gain in a Silvia with automatic transmission, and since Ame-san's car was originally an auto, he accepted the offer and the magazine put him in contact with Garage Mak in order to have his ECU tuned. One thing led to another and, since that first visit to the workshop, the car has already gone through more than 8 iterations.
Apart from gradually increasing the car's power, during all these years Garage Mak as also made sure that its looks matched its performance. Ame told me that he entrusted them with all the modifications because he believes there's no other workshop that makes such beautiful and at the same time functional parts. He must know a thing or two about that because although his intention was always to be able to use the car on public roads, this S15 is regularly taken to both Tsukuba Circuit (his best time is under the 1-minute mark) and Fuji Speedway, where he really puts under test each new improvement to this Nissan's chassis.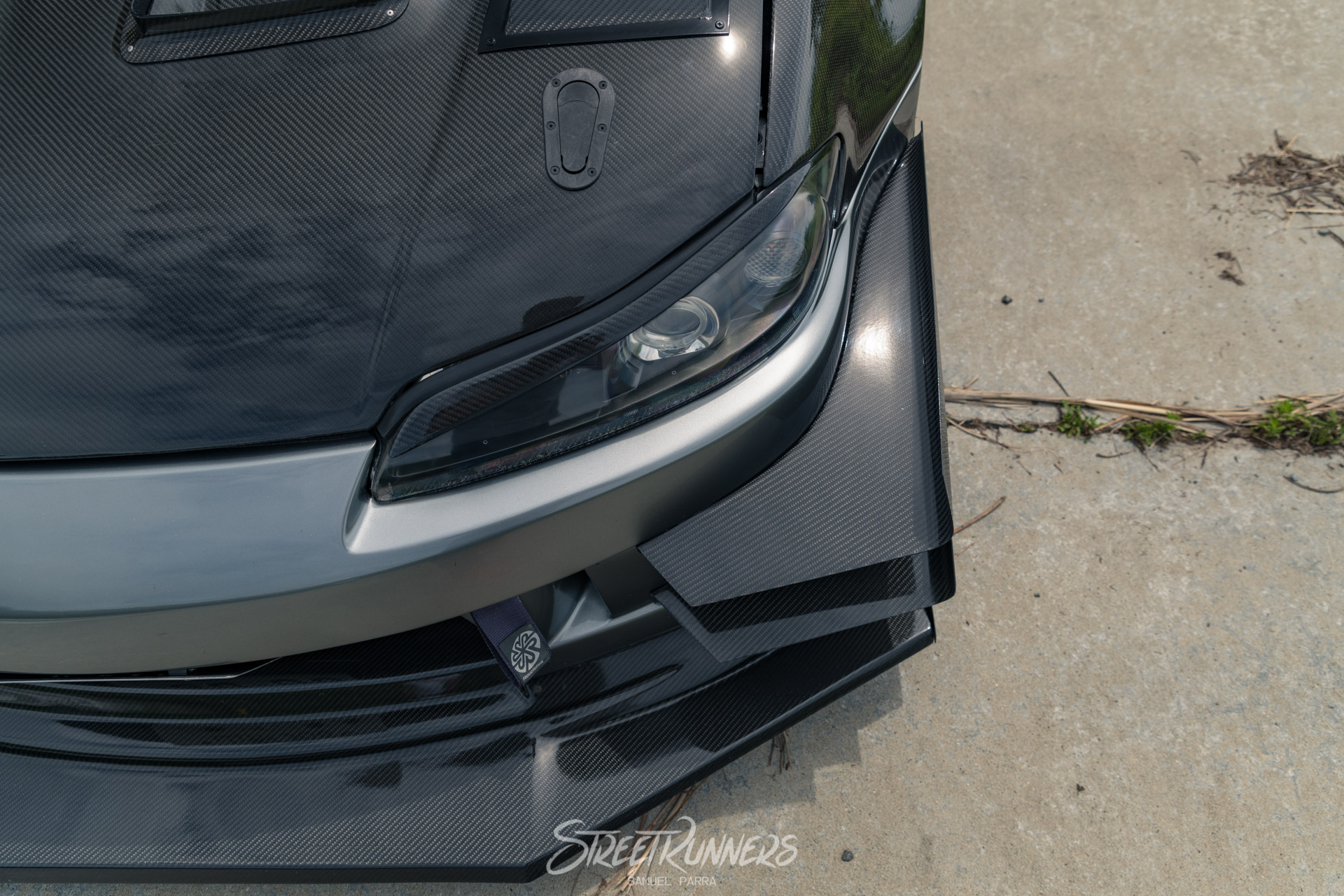 Another achievement of both Ame-san and Garage Mak is that even with the amount of performance-focused changes that this car has gone through, it would not look out of place in a car show. That's how good this car is. Not only on the outside, where the combination of dark grey and carbon fiber weave looks perfect, but also when opening the hood: a spotless engine bay in which all the original welds are nowhere to be seen, as everything is seam welded now, improving the rigidity and its looks.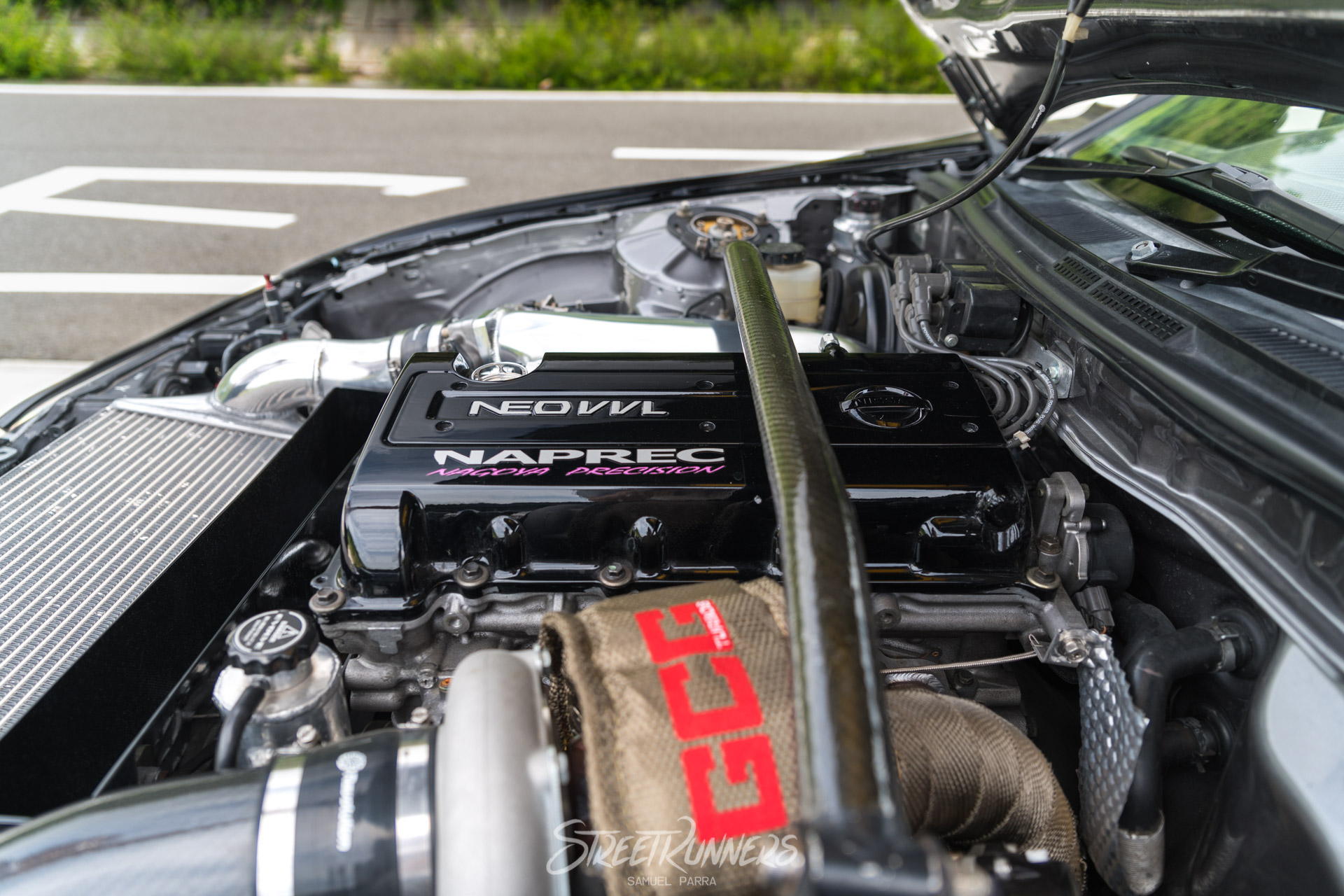 The SR20VET has been stroked to 2.2 liters thanks to a NAPREC kit. The radiator is mounted in parallel to the ground, under the intercooler. The engine, which has forged internals, paired with the GCG GTX turbo and 1700cc injectors, produces some impressing numbers: 915hp and 883Nm of torque.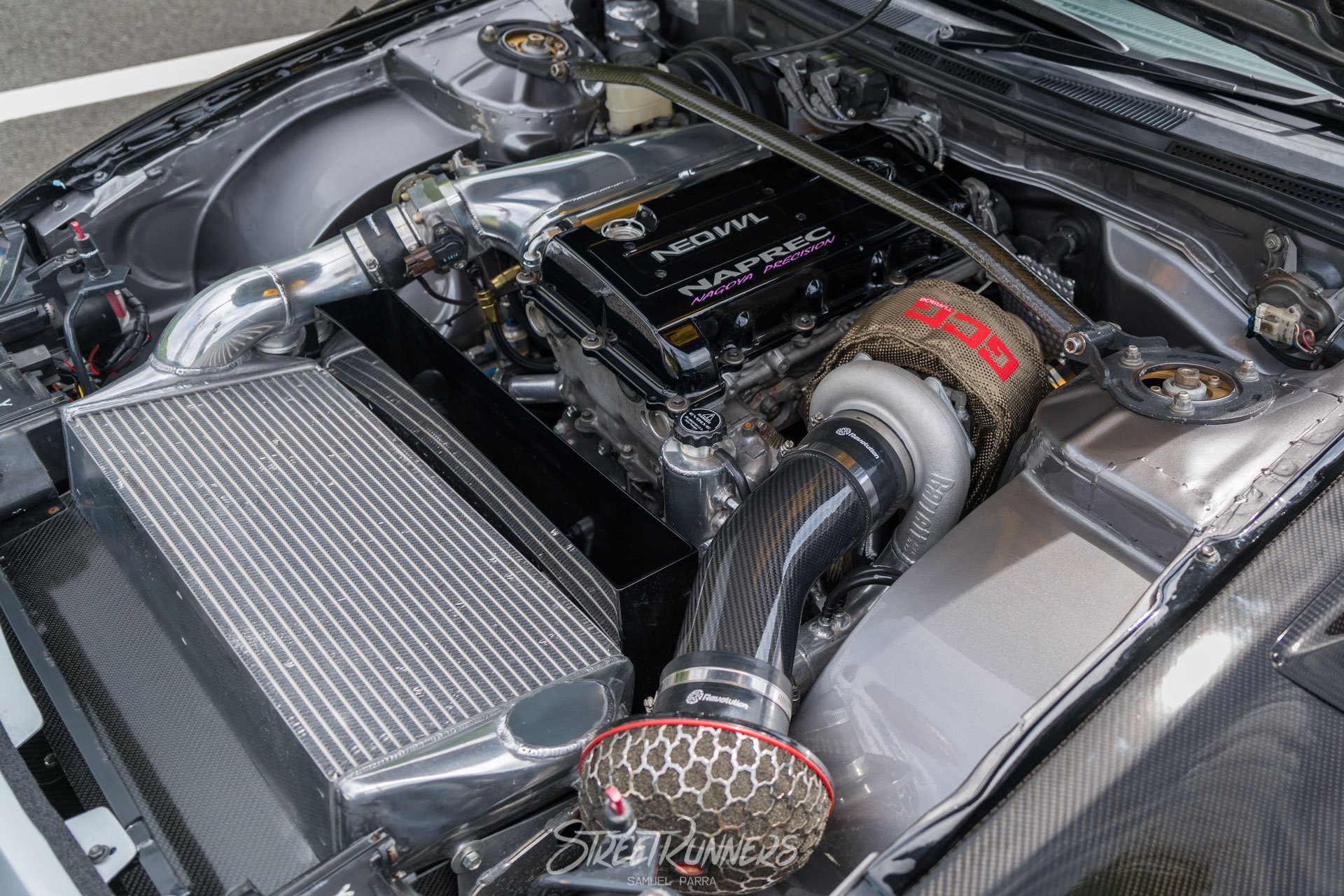 Seeing these pictures I'm sure you'll agree with me: Ame didn't want his S15 being a race car to be an excuse to do things halfway. Every single modification on this car has been done both with quality parts and exquisite taste.
And then there's the wing. Being 2150mm width, it's only a Garage Mak prototype at the moment. To give you some context, the most common wing at the Japanese time attack competitions is the  Voltex Type 16, which is the biggest one that Voltex sells, and it "only" measures 2000mm. Given the proportions of Ame's wing, it's been mounted to the chassis and the trunk, where the external dry sump tank is located, has been modified and cut in order to install the wing stands. It may not be of everyone's taste, but it's functional. I personally think it matches the rest of the styling, and although it's what stands out the most from this car, I don't feel like it's out of place in a build like this.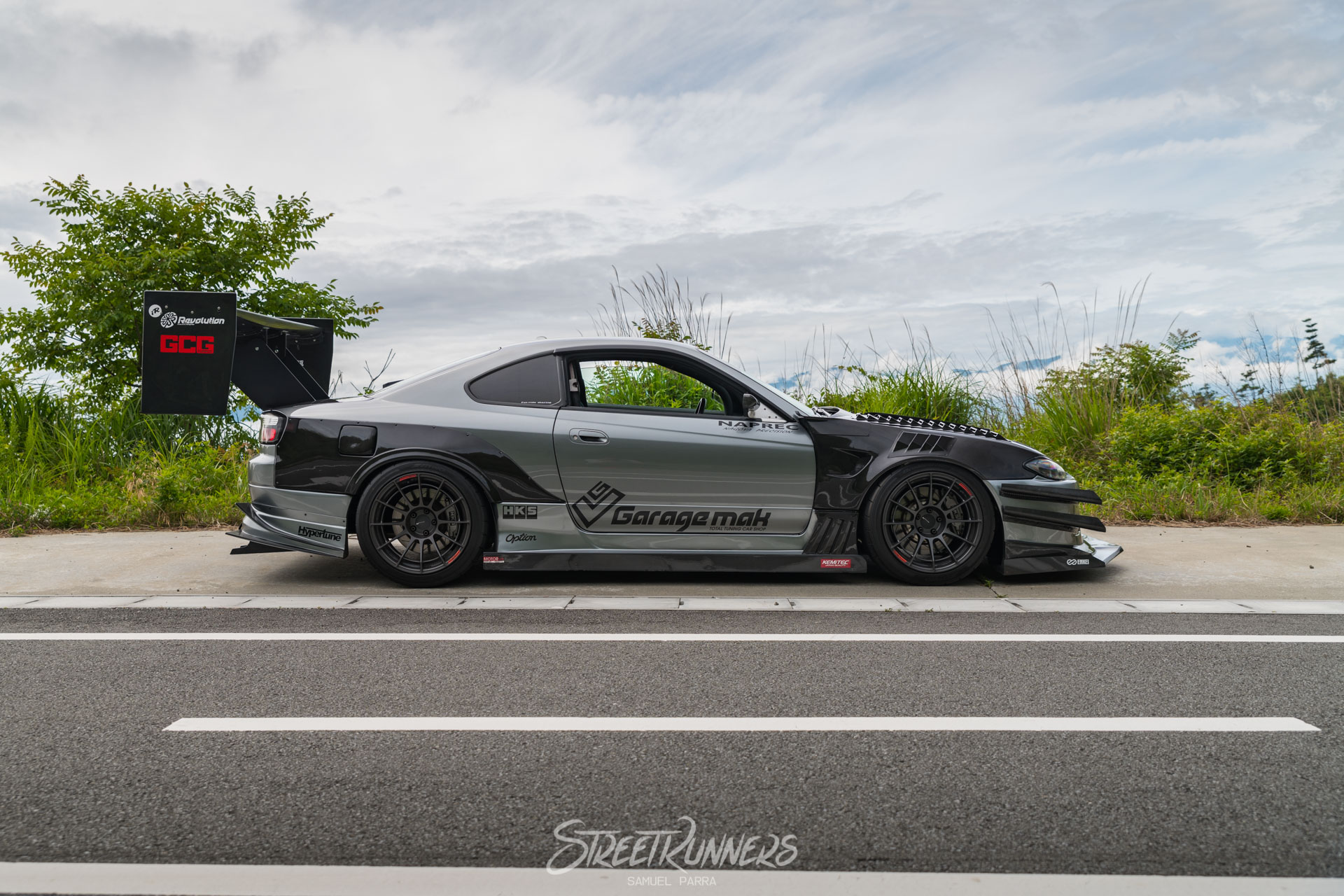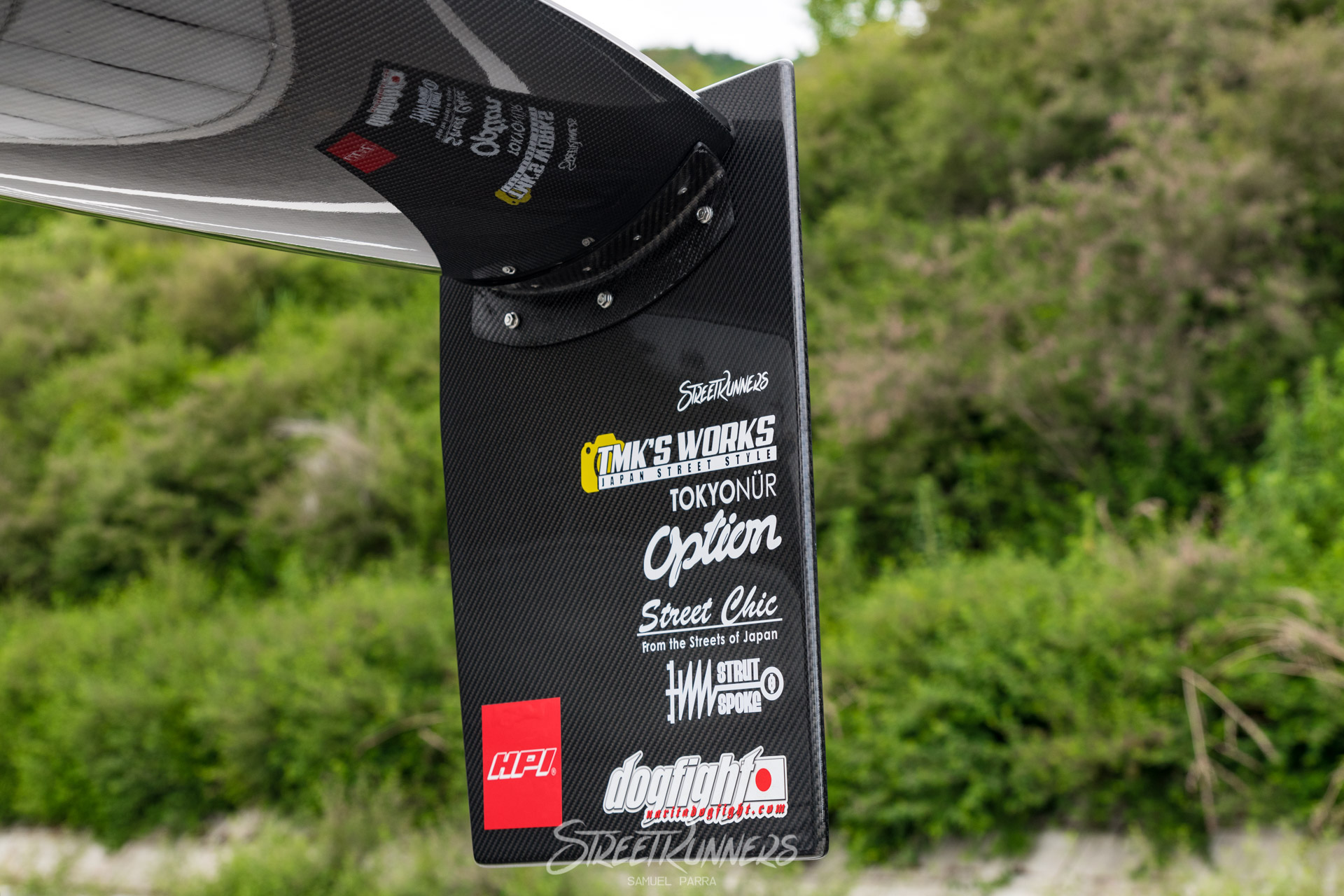 Wheels are another almost one-off part of Ame's car: Enkei NT03RR. They've been on sale only for a few months and they are made to order only, in this case in 18x11 size. Their 12 thin spoke design allows the HKS calipers (built for them by Endless) to be seen through them.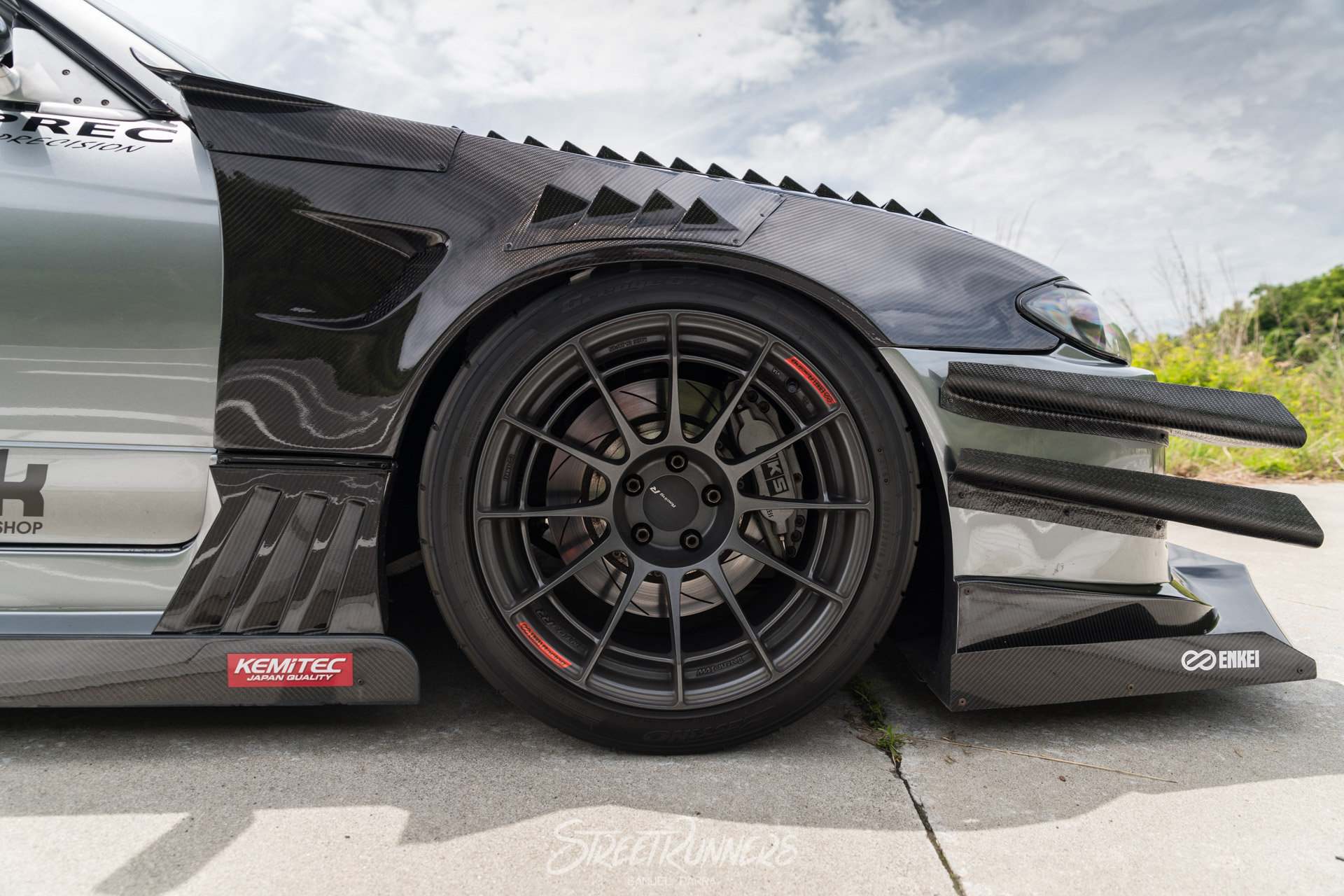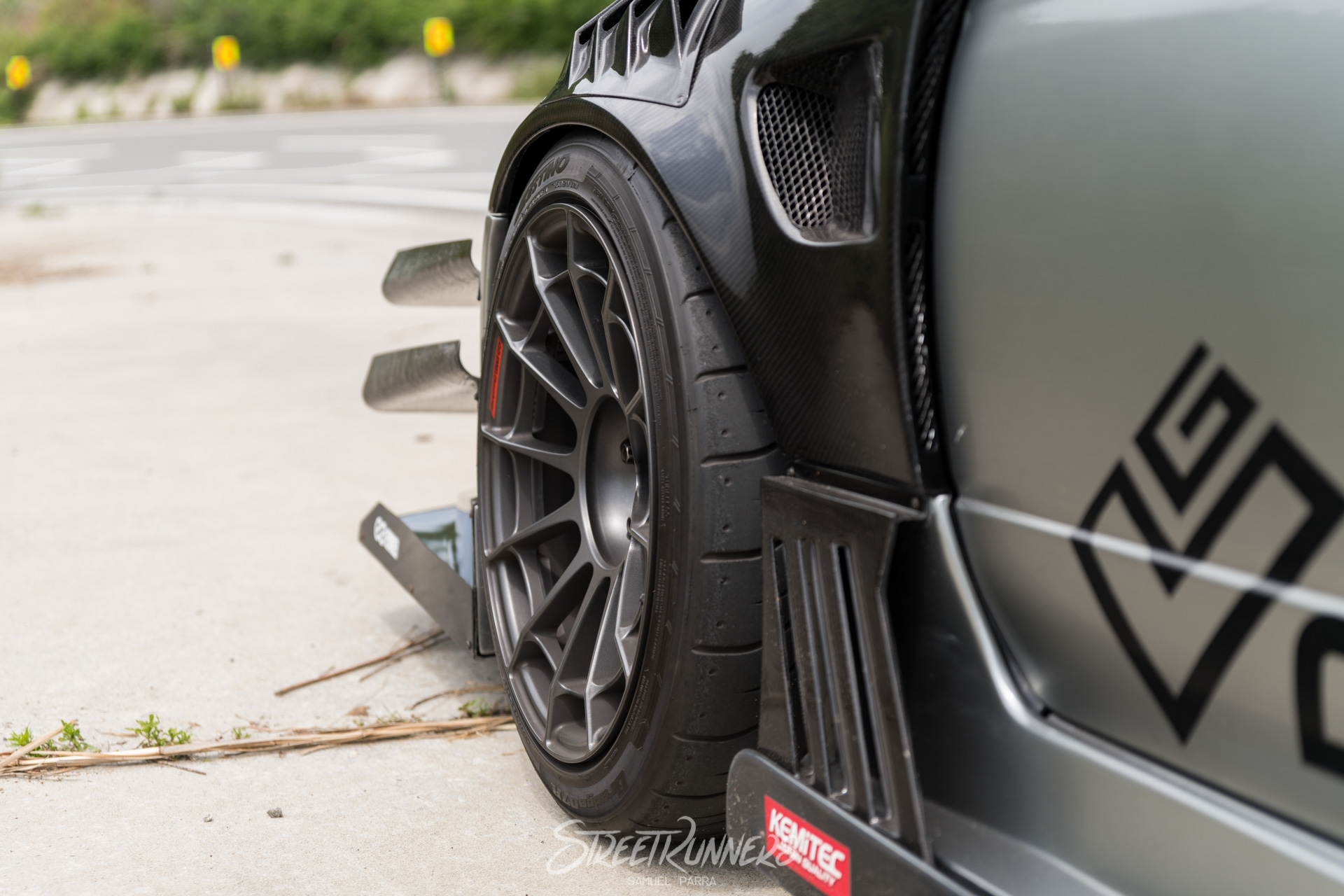 One of the most challenging situations Ame faced with his S15 was to find a balance between track and street use. With the front and side splitters, diffuser, canards, and that wing, the car is set up to have as much downforce as possible. It's been a few weeks since I saw the car in person, but I still wonder how can anyone drive a car like this on a daily basis on public roads. I guess it's just another of Japan's many mysteries. As Ame-san told me,  "everything becomes possible if you have a clear vision of what you want and commit to it!".
Ame-san's vision of this S15 -or Grey Shark, as he nicknamed it- is to replace the remaining OEM panels for carbon fiber counterparts, and call it finished when the whole exterior is widened and completely made of the said material. From what I've heard, Garage Mak is already working on making his dream come true, and although they're still in the design stages of the aero parts, Ame-san enjoys his car as it is for the time being.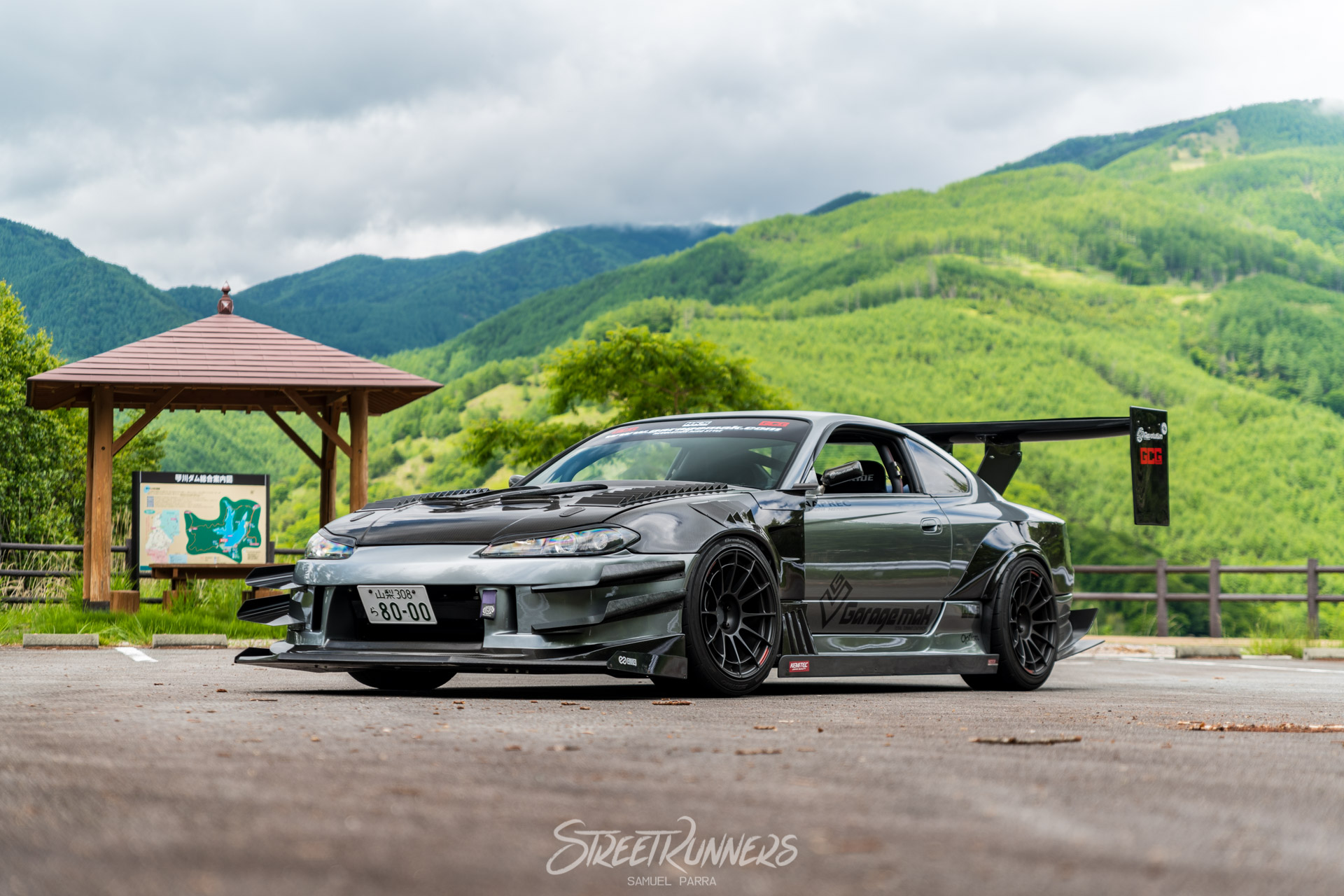 On a personal note, I really enjoyed meeting Ame in person. In Spain, sadly I find a whole spectrum of bad attitudes when I search for cars to feature, or even when I read others' comments on car builds, both on forums and on social networks. That's why I loved Ame's vibe: "There are many ways of modifying a car. It can be built for drift, grip, stance… Being able to build a car the way we like it and enjoy driving it whatever our style may be is an amazing feeling. And what's even better is that it allows us to meet all kinds of people and enjoy wonderful experiences that we would never live if we weren't part of this culture."
Ame-san would rather let his car speak on his behalf. I guess that mindset is part of the Japanese culture, but although the Spanish scene has improved a lot during these last years, I believe we would all benefit from an attitude like his: doing things not only for social media reputation but for love for motorsports and cars. I'm sure that this desire of creating something unique and build cars not for others but for ourselves would spark the creativity and ideas that us car enthusiasts have, and it would lead to even more amazing car builds in my country. I don't know what the future holds, but meanwhile, I'll keep getting inspiration from people like Ame.
PS: If you like time attack in general or you're just curious about how extreme can some people be when building their cars, do yourself a favor and visit  Narita Dogfight, my personal favorite blog regarding this type of competition.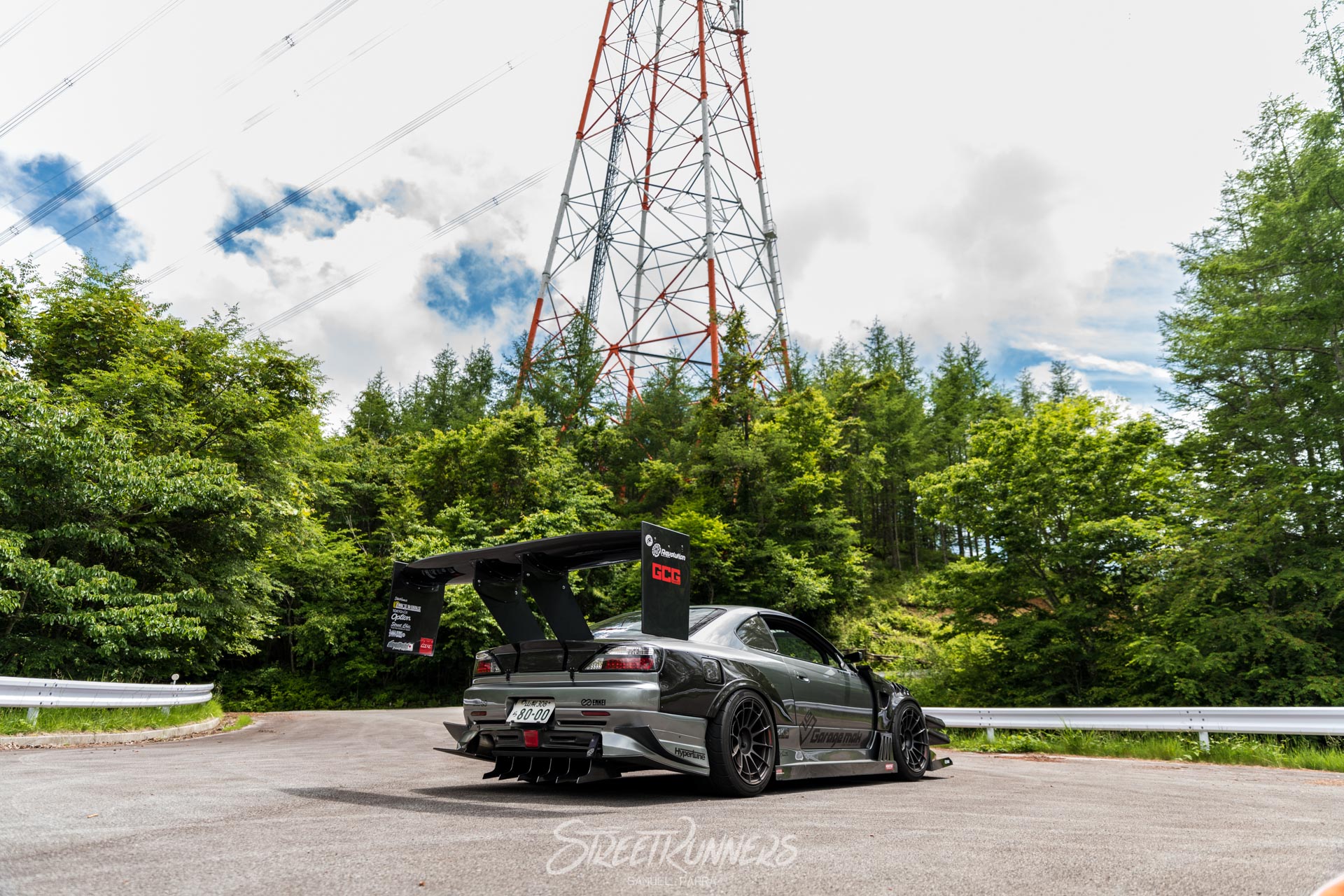 ---
BONUS IMAGES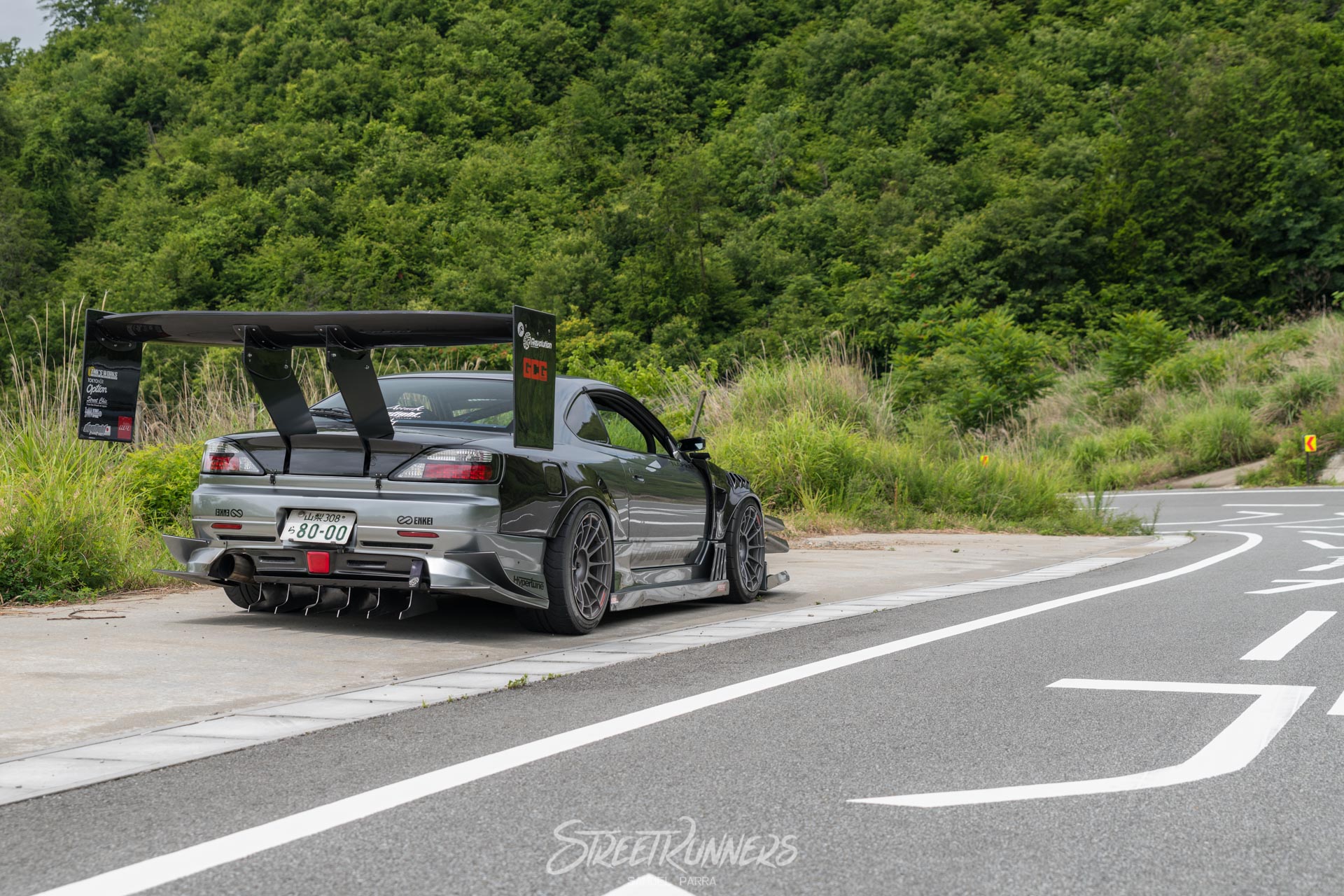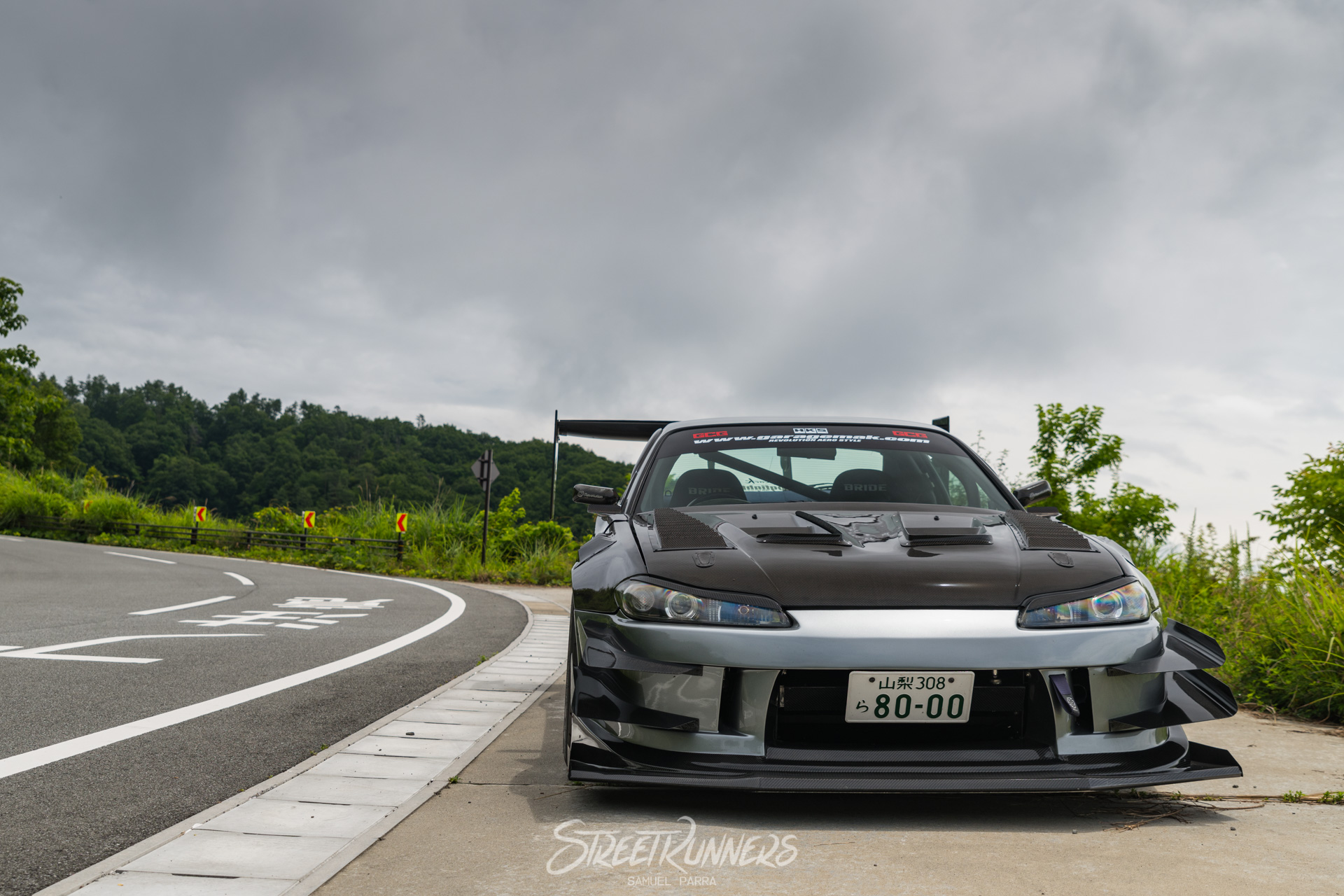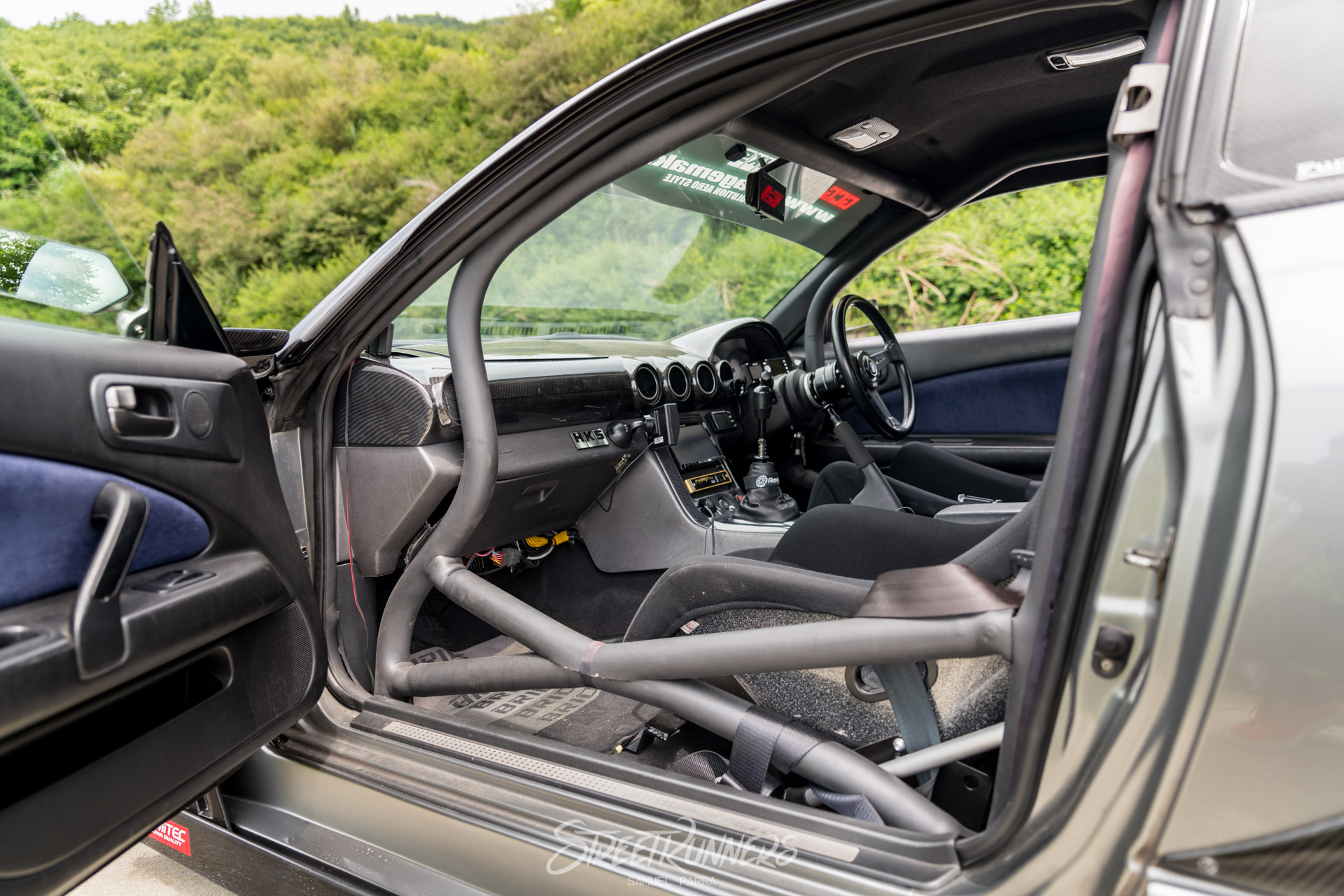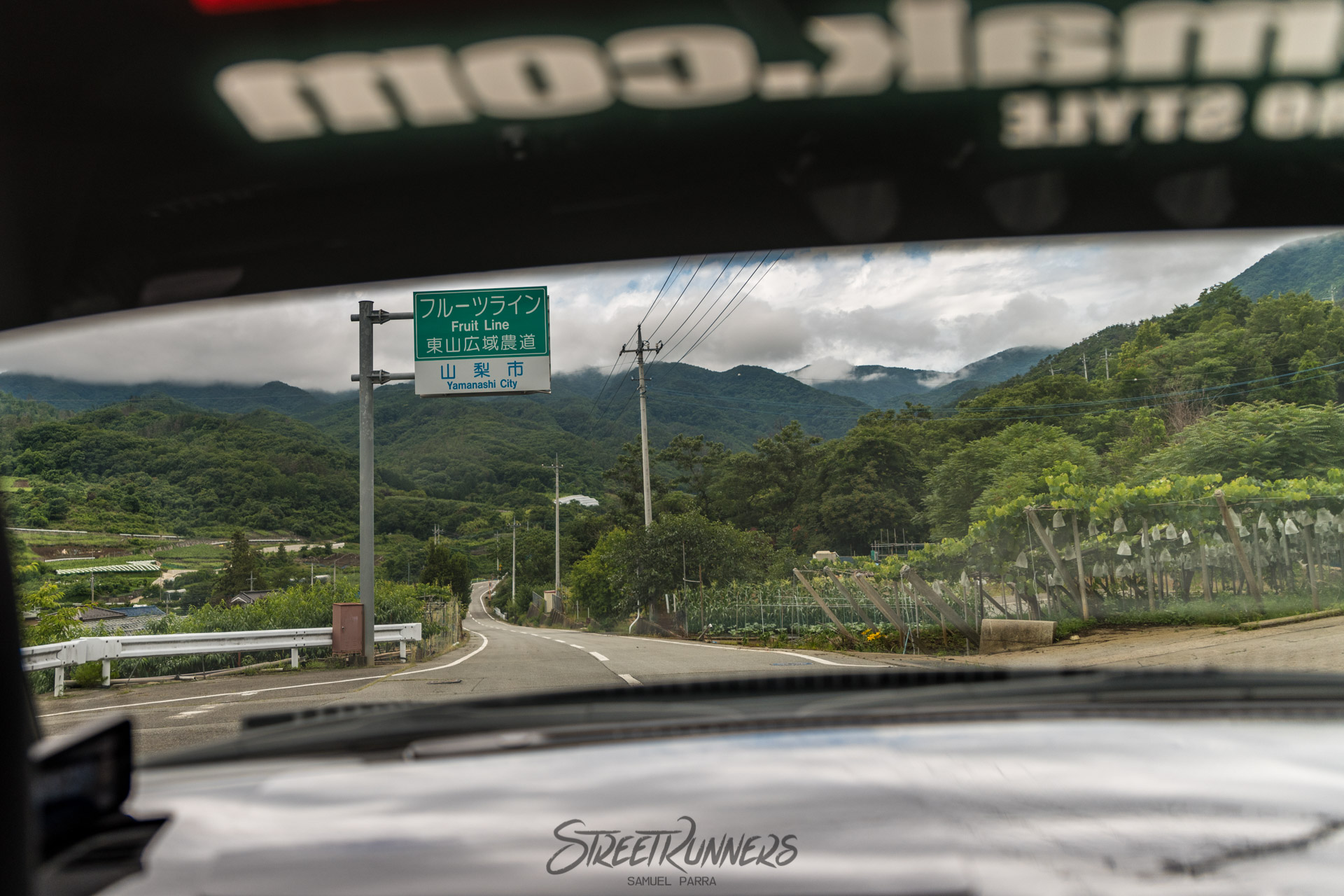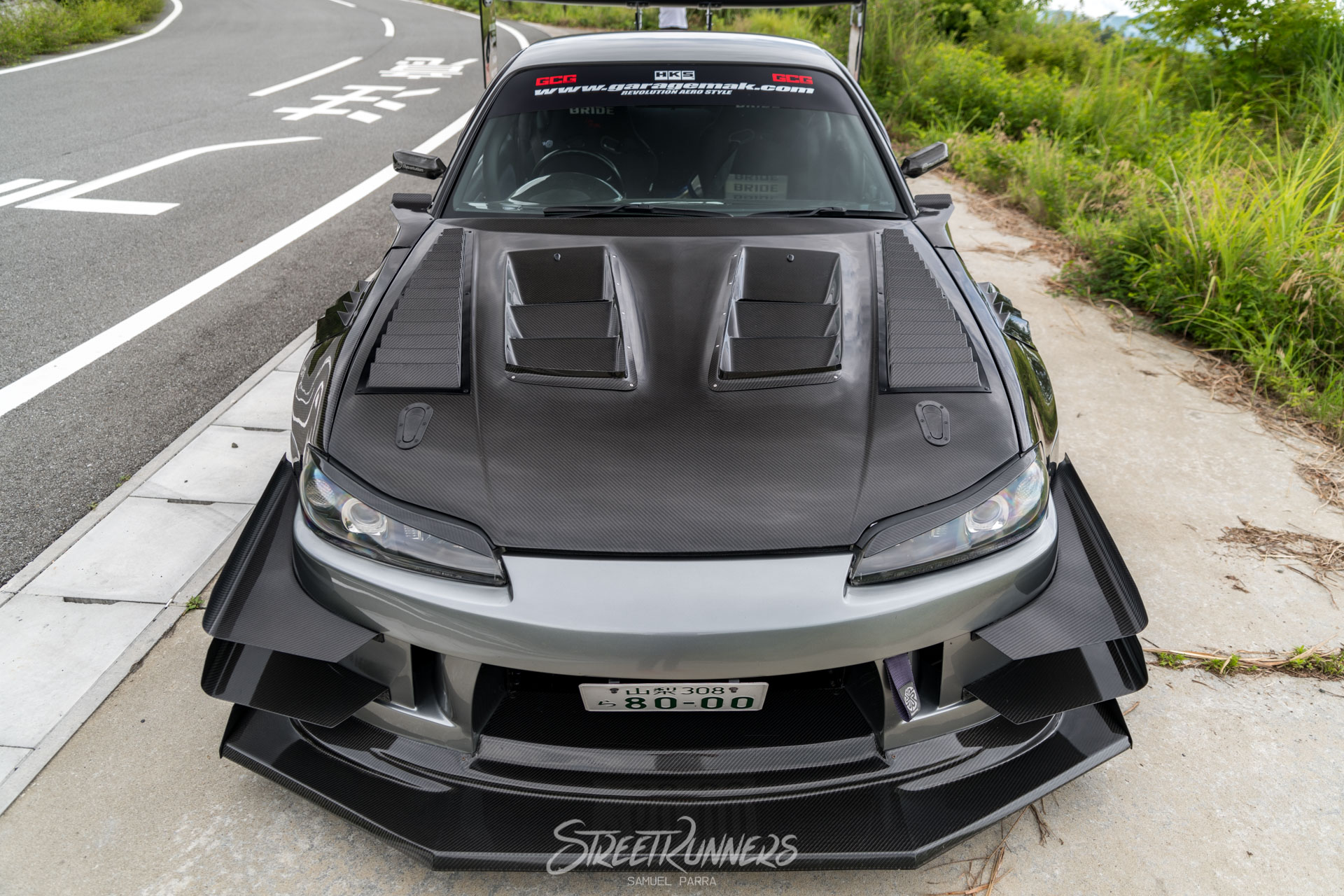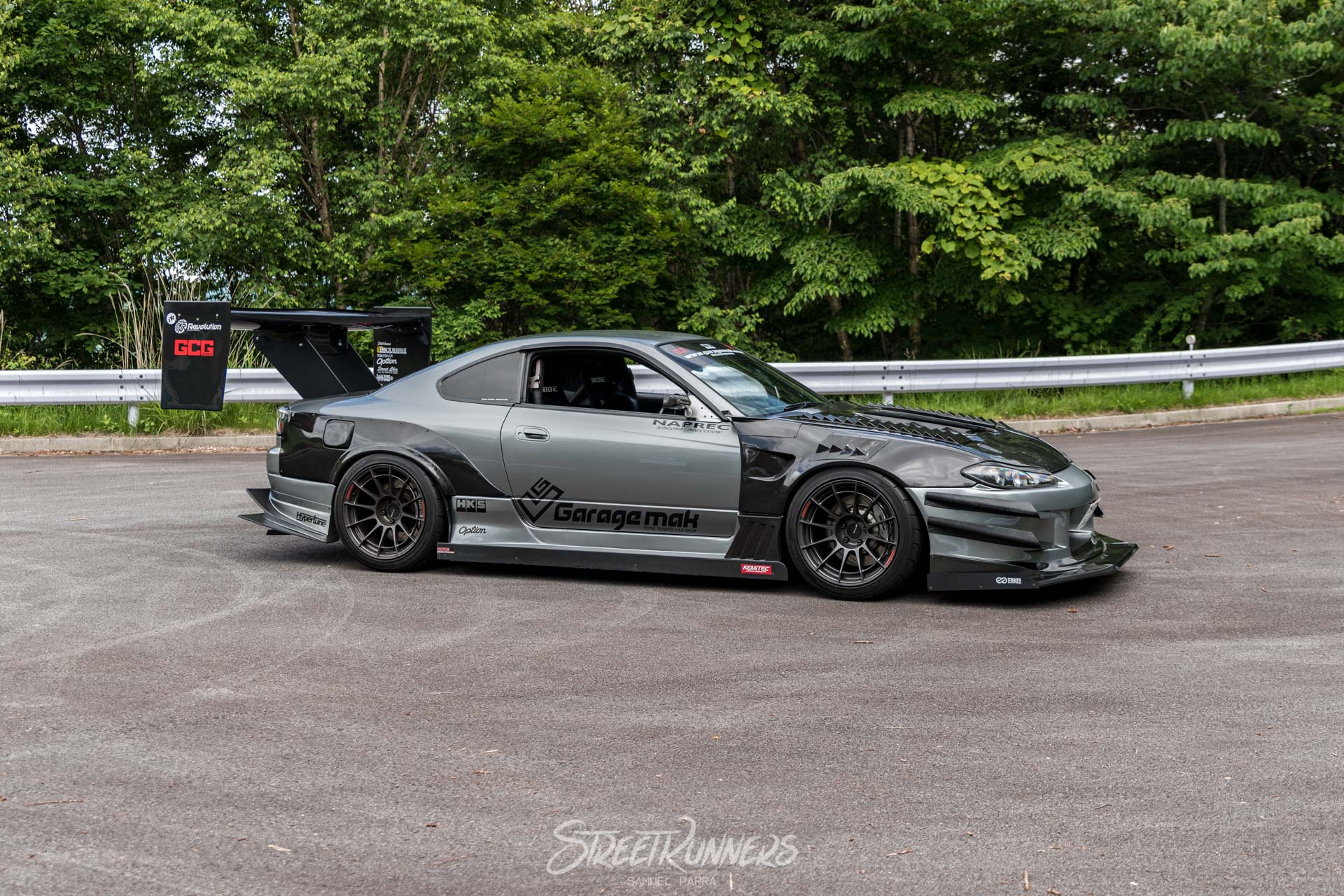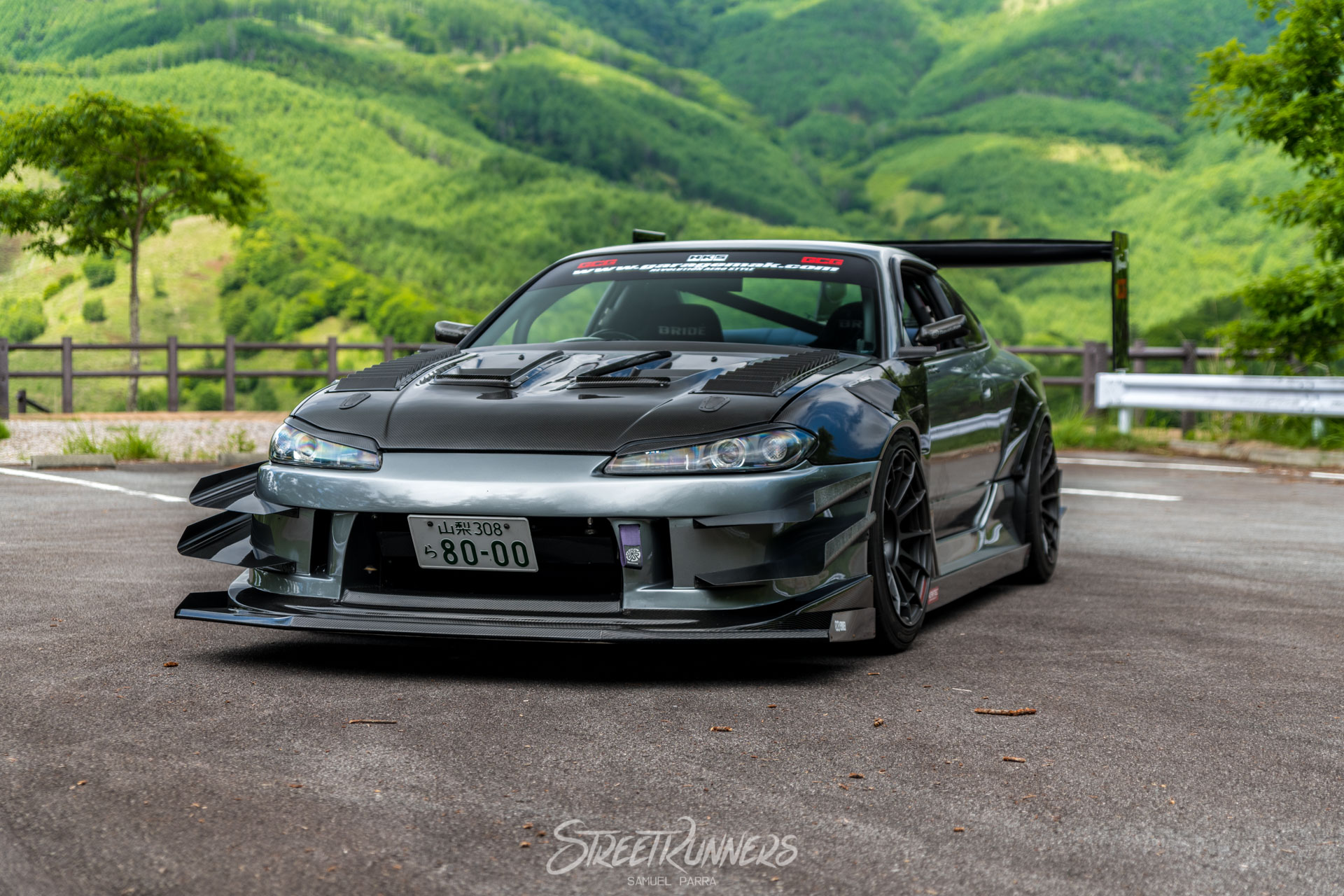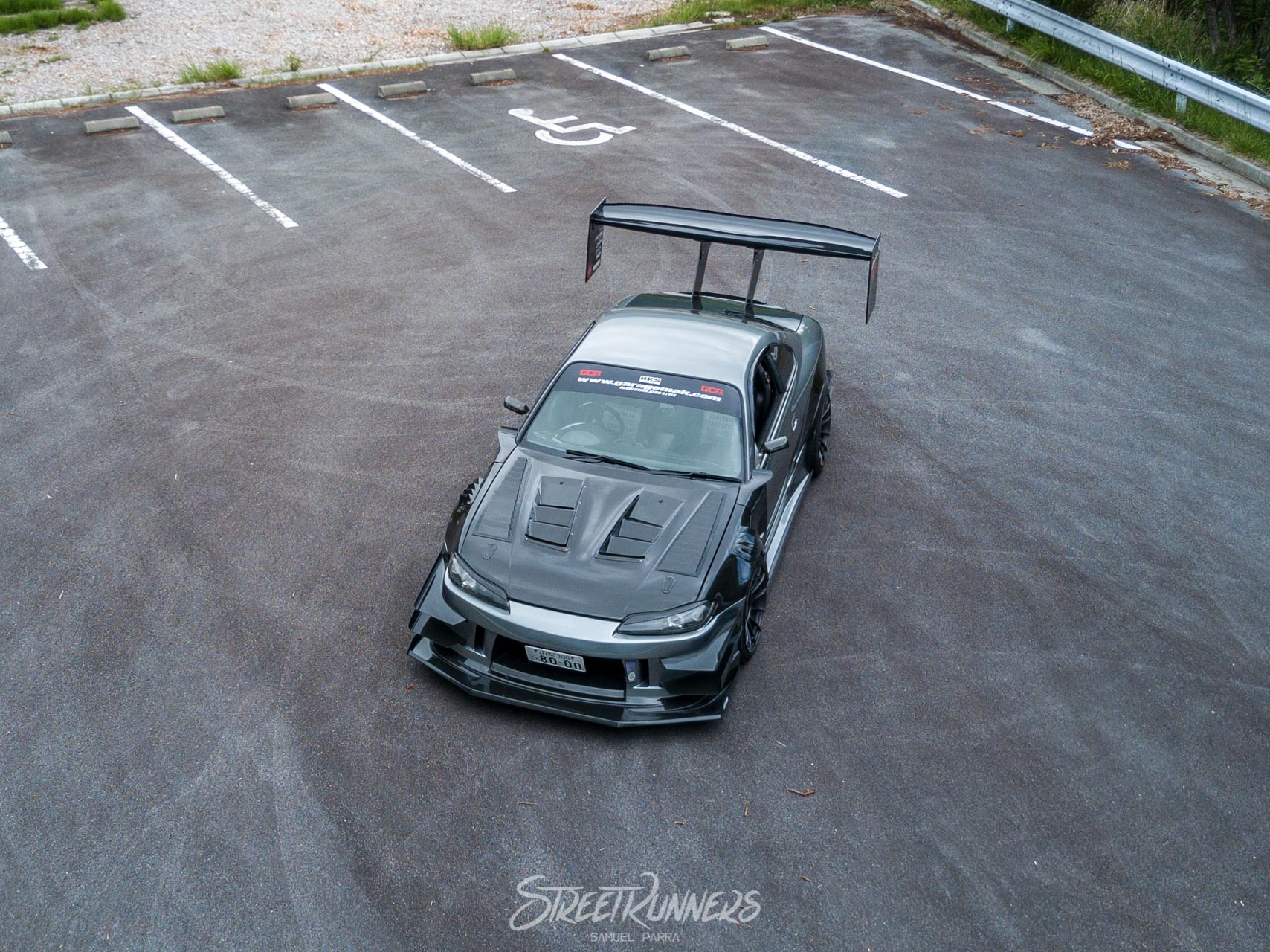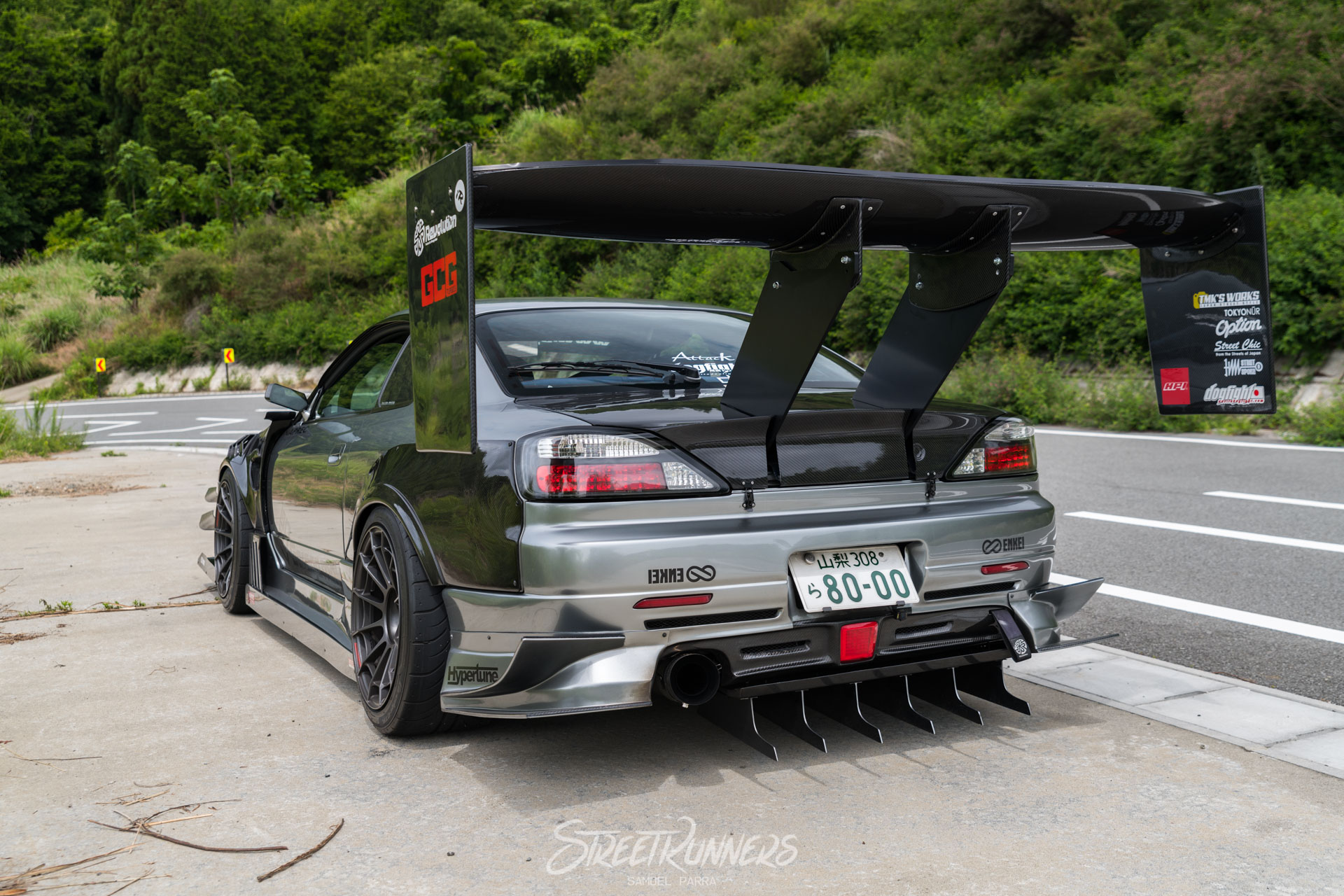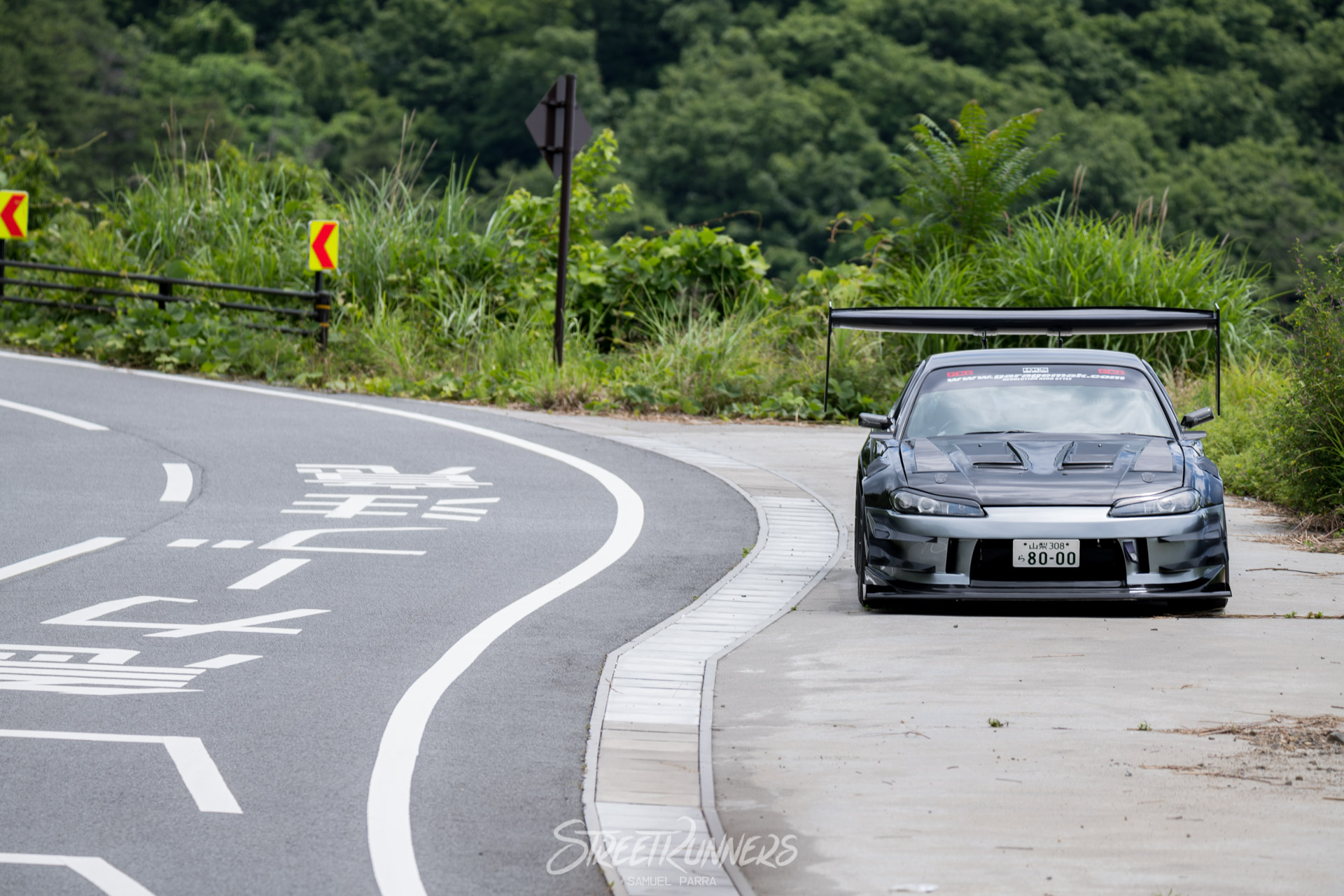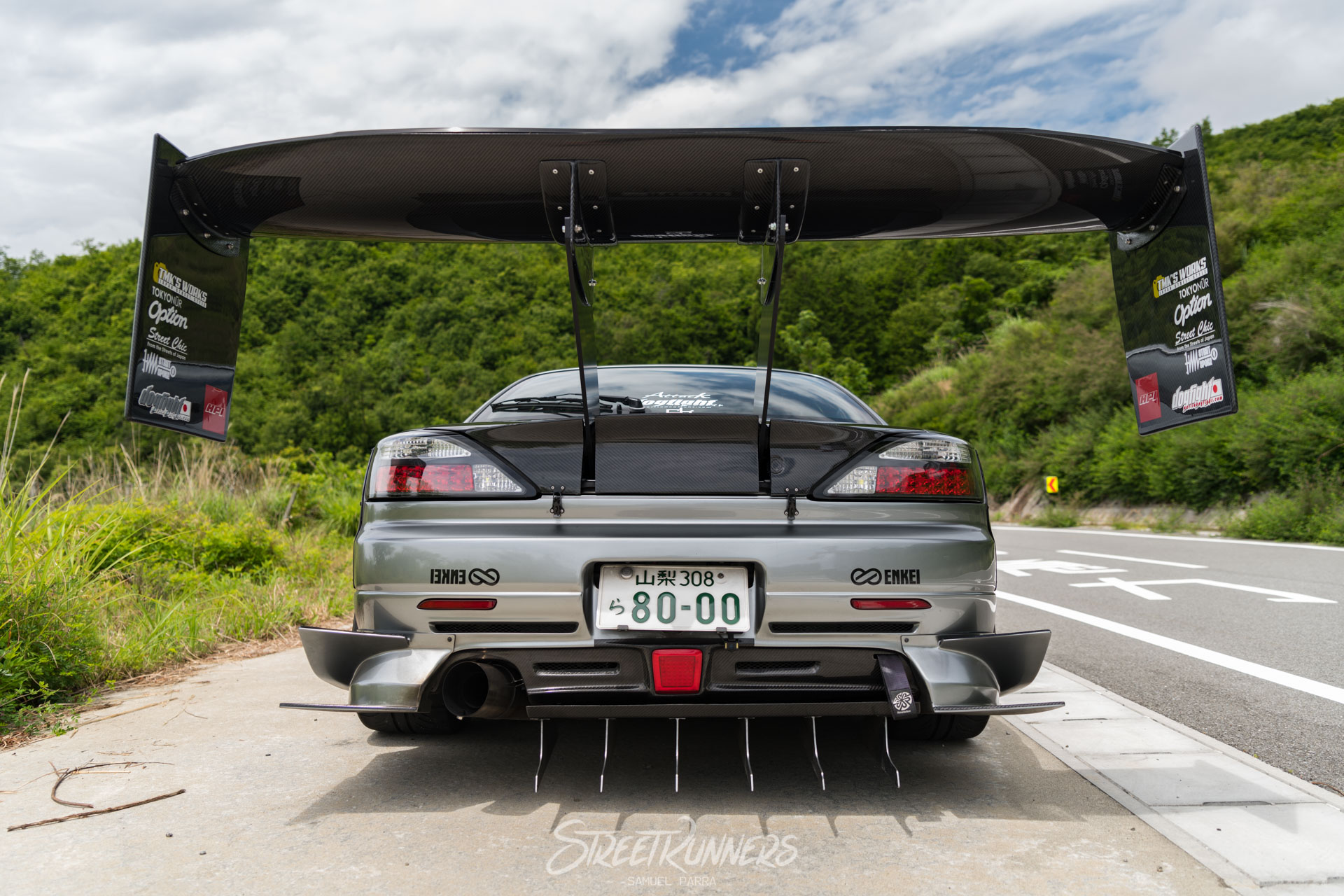 ---
PARTS LIST
This car has been built according to TC2000 time attack regulations and is also street legal. It includes quite a lot of one-off parts, too.
ENGINE AND TRANSMISSION
SR22VET engine. 915hp / 883Nm. Red line at 9000rpm.
GCG GTX 3584 RS turbo @ 2.6 bar
NAPREC dry sump
NAPREC valve springs and retainers
TOMEI 2.2L stroker kit
iR EX Mania one-off exhaust manifold
Garage Mak one-off titanium exhaust
Turbosmart wastegate and blow-off valve
HKS Type R intercooler
ULTRA MDI - Dual RR conversion kit Nagai Electronics ignition system
Kelfordcams camshafts
1700cc Injector Dynamics injectors
Setrab oil cooler
KOYO aluminium radiator
High pressure SARD fuel pump and tank
HKS 6-speed sequential gearbox
ATS Carbon Twin Clutch SPL clutch
ATS Carbon LSD 1.5 WAY differential
3.9 final ratio
SUSPENSION AND DRIVETRAIN
HKS HyperMax PRO MAK-SPL coilovers
Enkei NT03 RR 11J ET+16 wheels
Zestino 07R 285/30 R18 tyres (front)
Yokohama A050 295-30 R18 tyres (rear)
BRAKES
HKS front 6 piston calipers
HKS rear 4 piston calipers
355mm front brake discs
332mm rear brake discs
CHASSIS
7-point Saito roll cage
GTR33 anti-roll bar
Front and rear CUSCO strut bards
Do Luck lower reinforcements
INTERIOR
Bride Sieg3 / EXAS3 buckets
Nardi steering wheel
Garage Mak carbon fiber dash cover
6-point harnesses
ELECTRONICS
HKS V-Pro ECU
DEFI gauges: oil pressure and temperature, exhaust temperature and boost
HKS Circuit Attack Counter
HKS IR-6 boost controller
EXTERIOR
Garage Mak Type 6 GT body kit:
Garage Mak CF hood
Garage Mak CF trunk
Garage Mak fender spoilers
Garage Mak diffuser
Garage Mak flat underbody
Garage Mak 2150mm prototype GT wing
Craftsquare GT CF mirrors
One-off rear CF windows