RWB Germany #2 - Osechi
- Samuel Parra
When a few days ago I jumped on a plane to Munich, I mainly did it because we had been invited to witness Nakai-san, the man behind RAUH-Welt Begriff (RWB) modify a Porsche 911 993, but I wasn't expecting much more from that trip. Fortunately, I was totally mistaken. Tuning World Bodensee, the event in the small german location of Friedrichshafen where the birth of the second RWB in the country took place, surprised me in a good sense: tuning is not dead in Europe, although we'll see that in more detail in the follow-up feature we're preparing. This feature is not intended to be a step-by-step write-up on how an RWB is built (you can read our RWB UK feature for that), it's more about trying to share with you how we felt during those days in Germany. 
Our adventure started a few hours before taking off, when I got an unexpected call from Sidney, the owner of the 993: he wouldn't make it in time to pick Nakai-san at the airport, and as we were landing at the same time as him, Sidney asked us to take him to the hotel, and of course we agreed!
But if being his driver was already a big responsibility (he had to make it in time for the show, as building the car live for the visitors of Tuning World was one of the highlights of the event), driving through places I did not know, at night, while it was snowing like crazy and our rental car (a Skoda Yeti with summer tyres) was skidding non-stop as the roads started freezing made the experience even scarier. Luckily, just a couple of hours after having left the Munich airport we arrived safe and sound to the hotel where Sidney and Christian (from RWB Malaysia) were waiting for us. Nakai-san, unaware of the struggles we had gone through, went to rest to his room after having slept during all our journey.
We did the same and after a few hours sleep, we headed to the place the event was taking place. Even though the weather wasn't any better, the venue (both the press room and the facilities which were open to the public) were top-notch.
Even though we arrived just after the doors opened, when we got to the booth Nakai-san was already working. If you're reading this feature, you probably have already seen some of his videos modifying Porsches around the world on YouTube (we even did our own!), but seeing him work for yourself is a whole different thing. I've never seen anyone with such energy and attention to detail. Before we even realized it, he had already prepared the front bumper completely: sanded down some corners for a perfect fit and painted and installed some grills on the air ducts.
At that moment I decided to go and check the car before Nakai-san worked his magic and changed its looks completely. When Sidney started searching for a donor 993 he came across one that already been modified to be used in the circuit, with various upgrades such as an oversized fuel tank and no interior trim. The problem? It didn't have the most appealing appearance, as it had been involved in a big crash and most of its bodywork had been damaged. Far from feeling overwhelmed by it, Sidney decided to repair it himself. On top of that, he added a full roll cage and shaved even more weight by replacing some metal panels with carbon kevlar material. He chose a set of KW 3-way competiting racing suspension and he also installed a CAE shifter, which is believed to be one of the best mods anyone can do to their 993 transmission.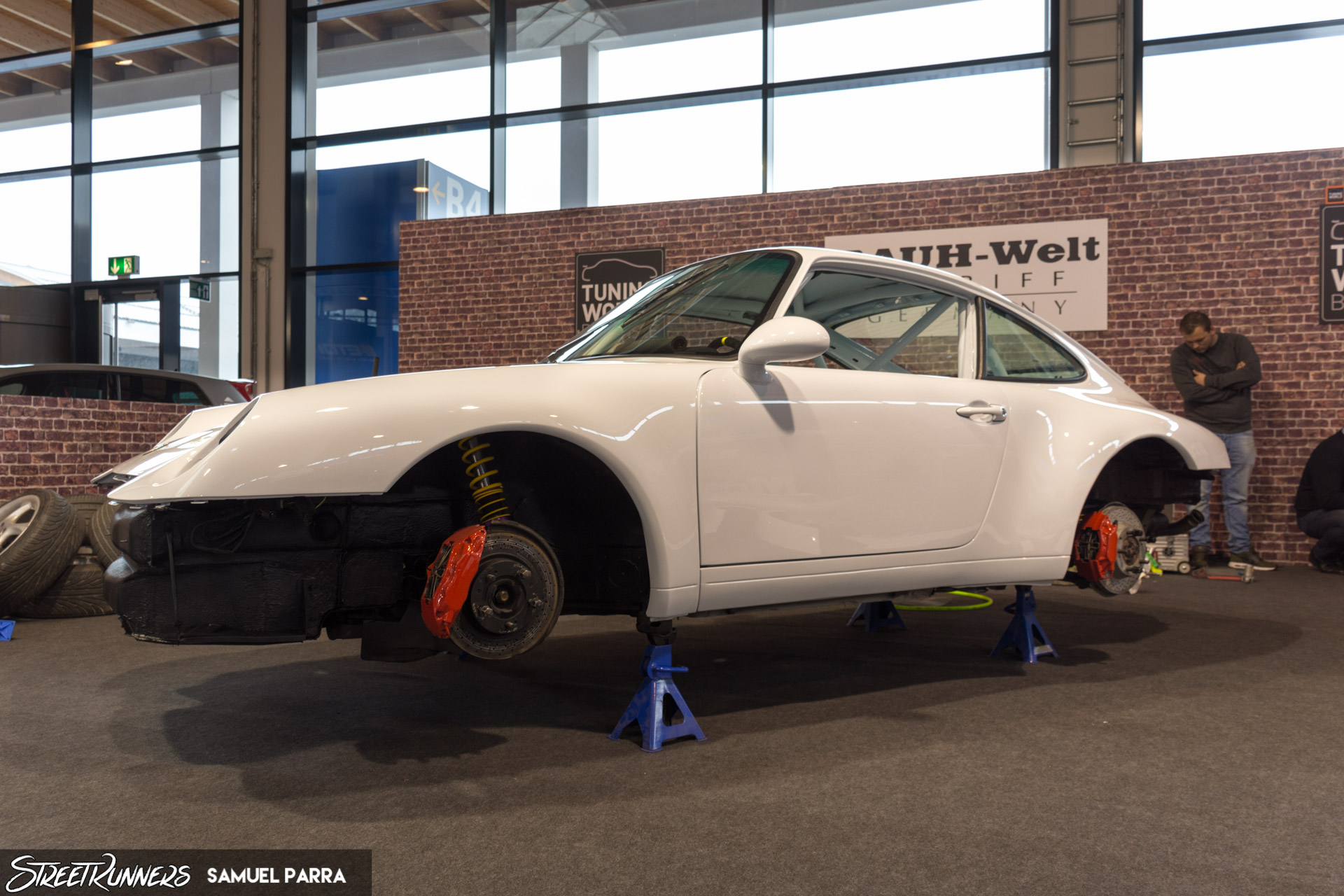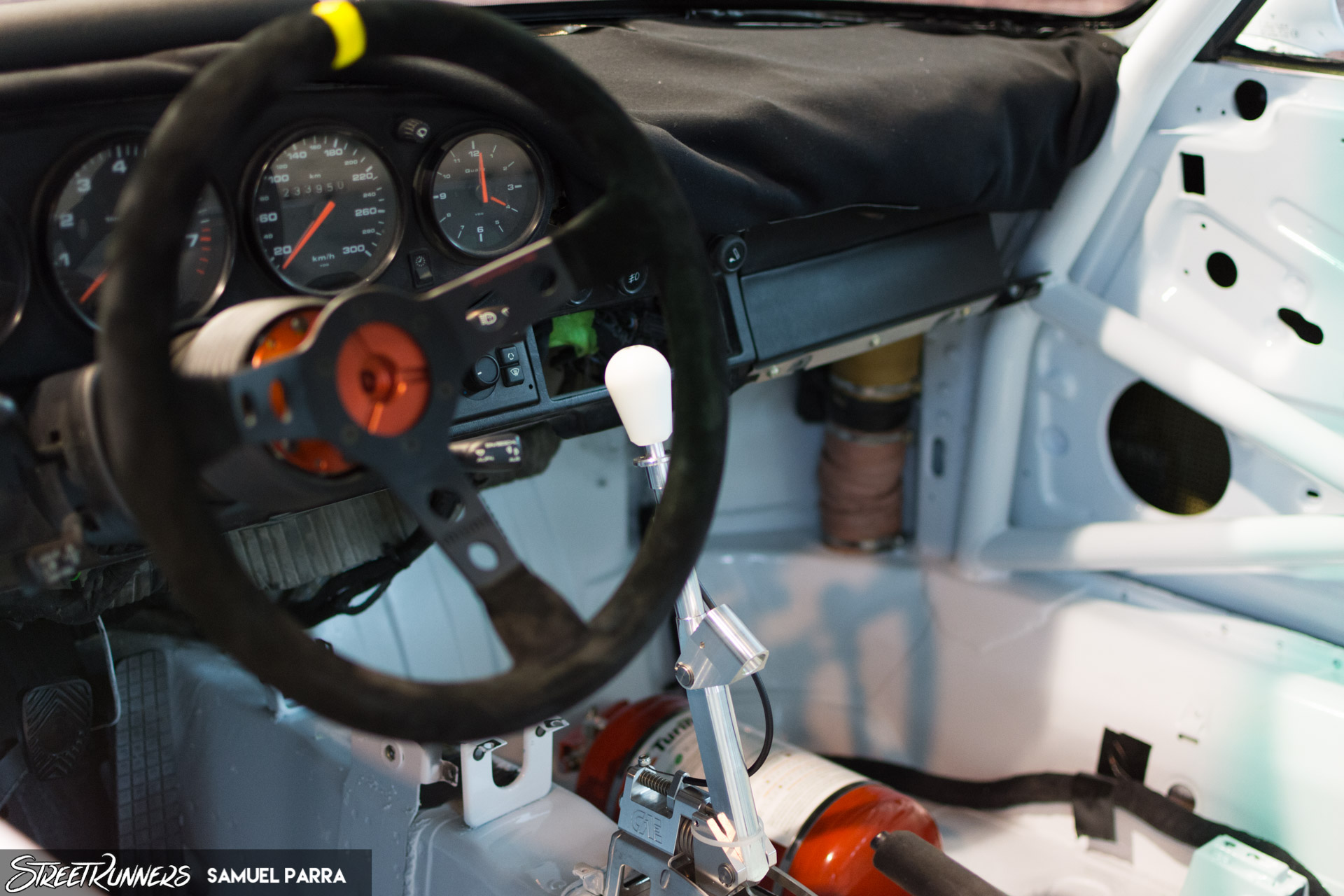 If there's a saying that's true on Nakai-san, it's blink-and-you-miss-it. I went to have a chat with some of the RWB crew members that had come from other countries to support Sidney in his build (we had visitors from France, UK and Belgium) and, when I came back to the car, he had already installed the front bumper and was in the middle of doing the same with the first part of the rear wing, which also acts as an engine cover.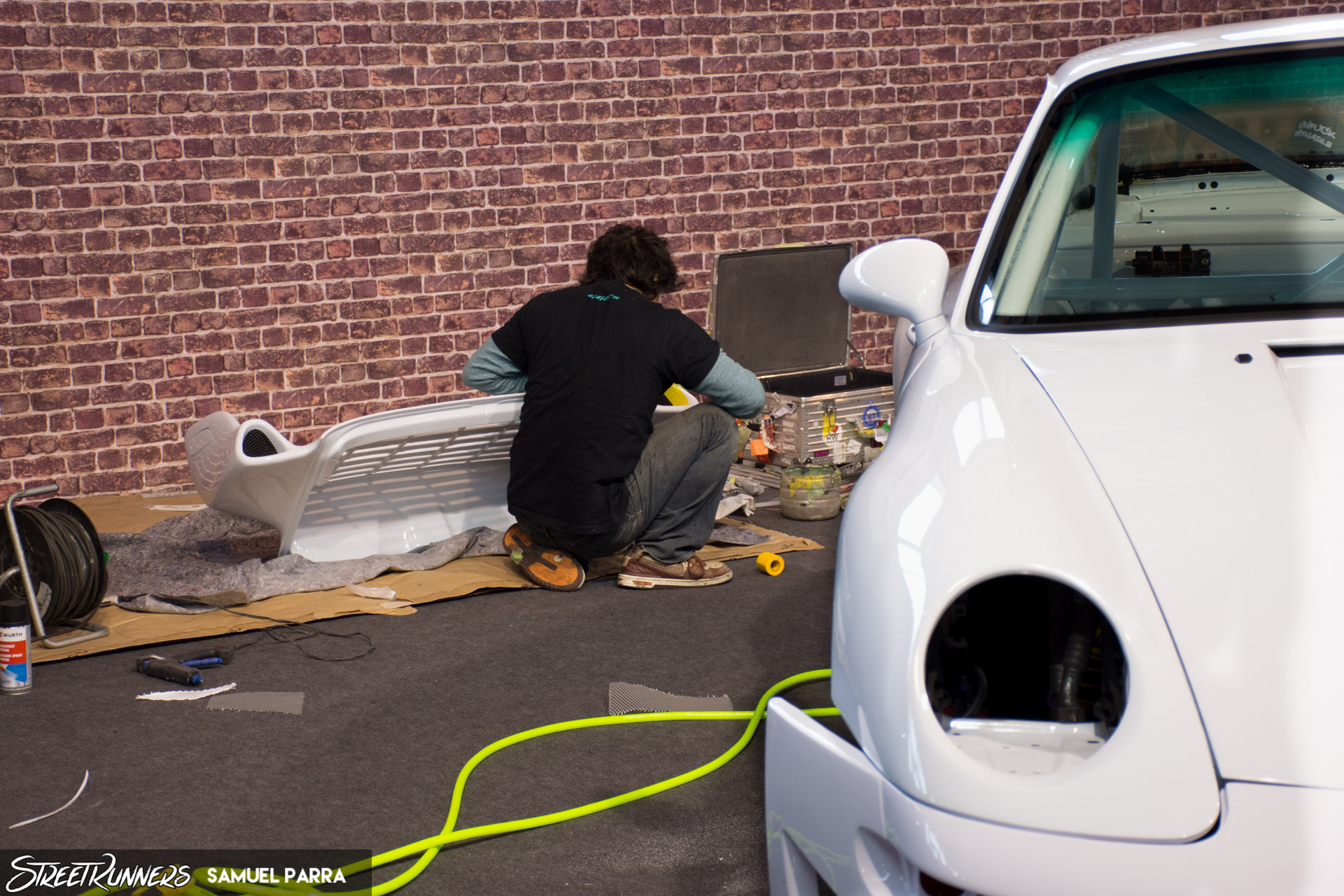 If you've seen him working, you'll know what comes next: some fine-tuning of the overfenders using his air belt sander and the point of no return: cutting the original fenders to make room for the new wider wheels. It's the most awaited moment in the build for those who witness it, and it also makes purists cringe, especially with the crazy prices the aircooled 911s are selling for. But that's also what makes it stay true to the RWB roots: "Rauh", or rough. What for most of the people means destroying a classic car with skyrocketing value, for a few it means sealing the deal with a man who's stayed true to his values since he first started modifying Porsches more than 10 years ago in a small workshop outside of Tokyo. A man to whom they've trusted their cars because they believe in his vision of how a 911 should be and are willing to do so to the very end.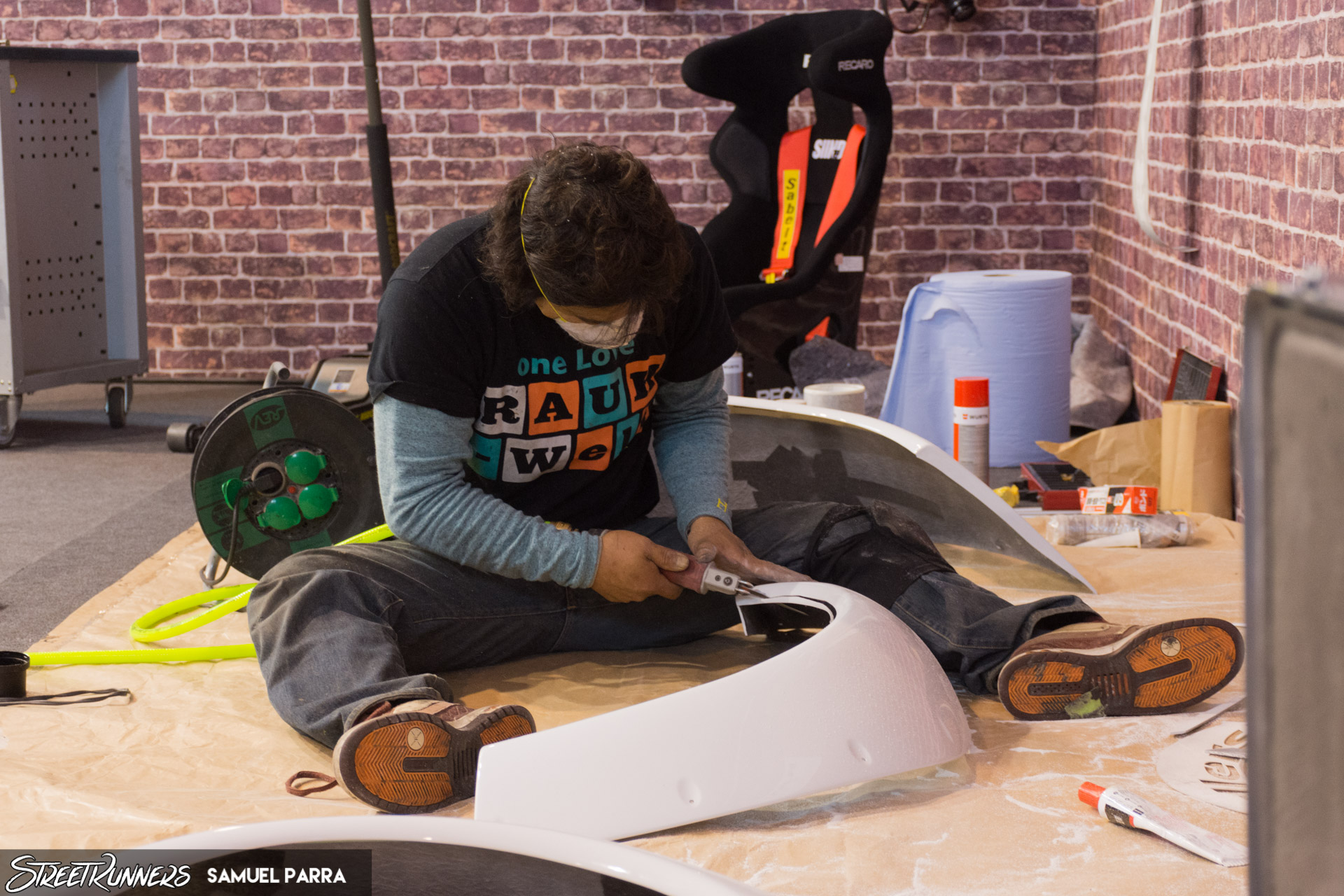 As usual, Nakai-san wanted the future owner to be a part of the transformation process and asked Sidney to finish the fender cuts himself.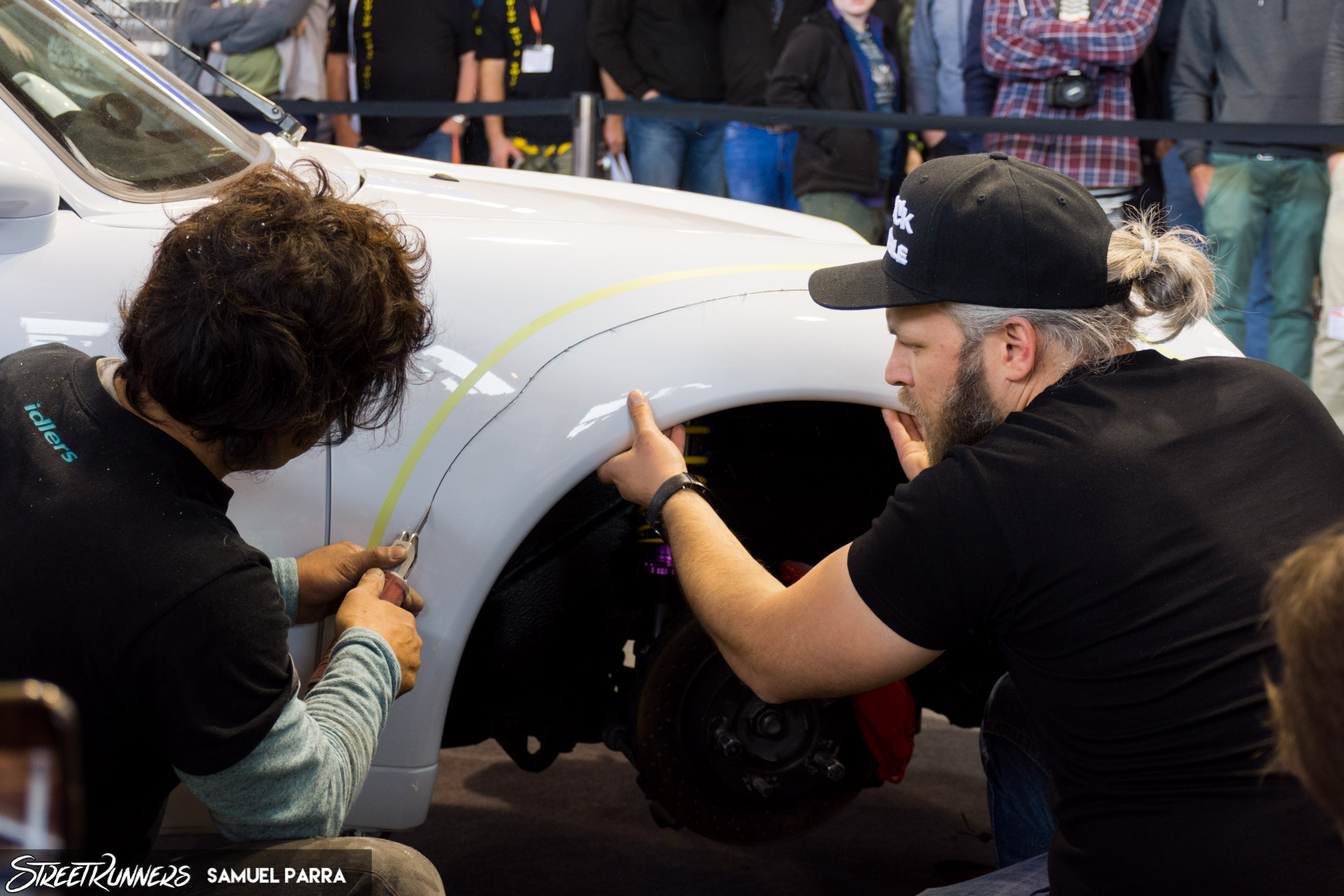 After the fenders are cut, the overfenders are provisionally installed and the car starts looking a bit like how it will be when finished. He also applies Sikaflex to the places where the bumper meets the bodywork, another of the 911 RWB hallmarks. By the way, have you noticed anything different in the front bumper's design?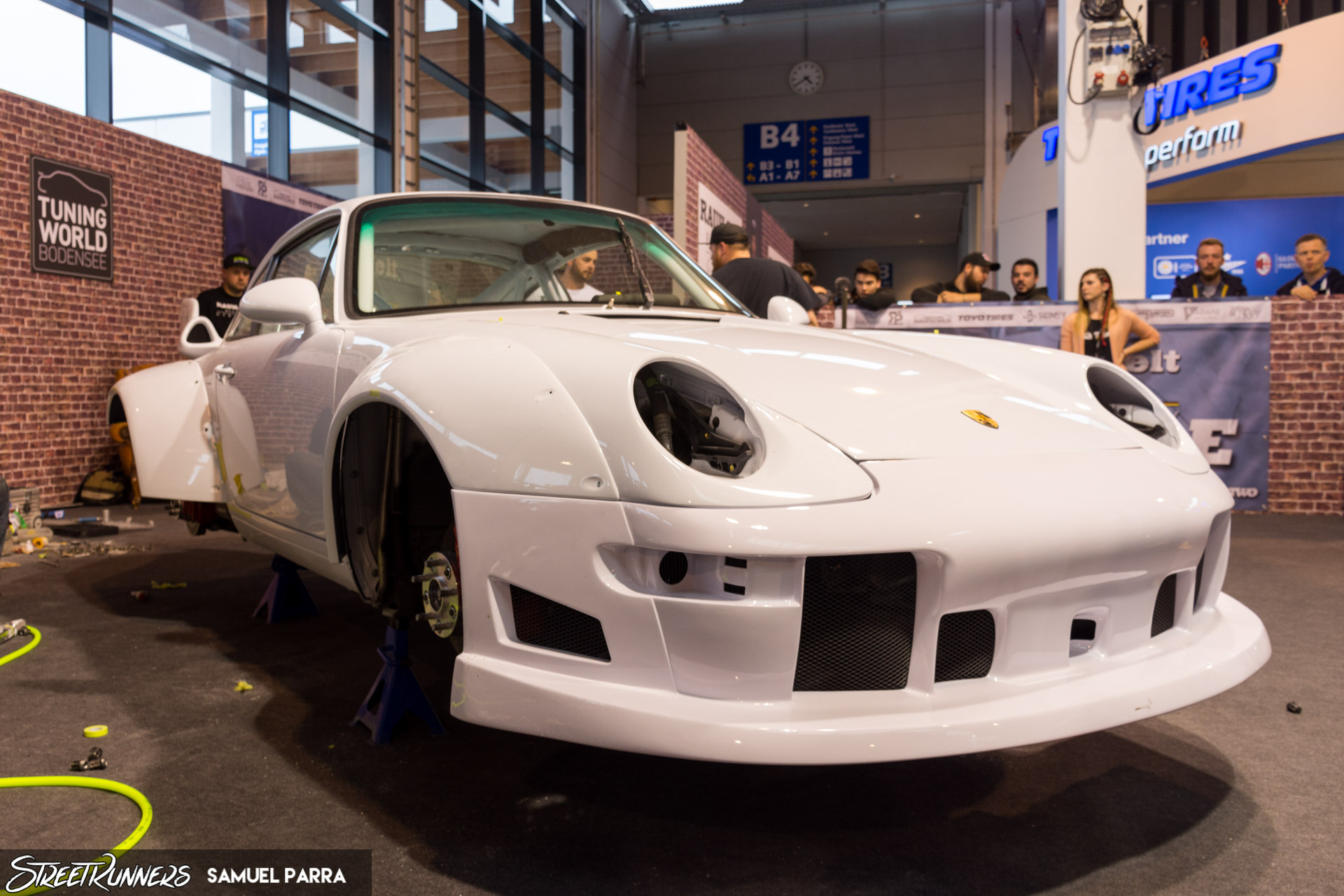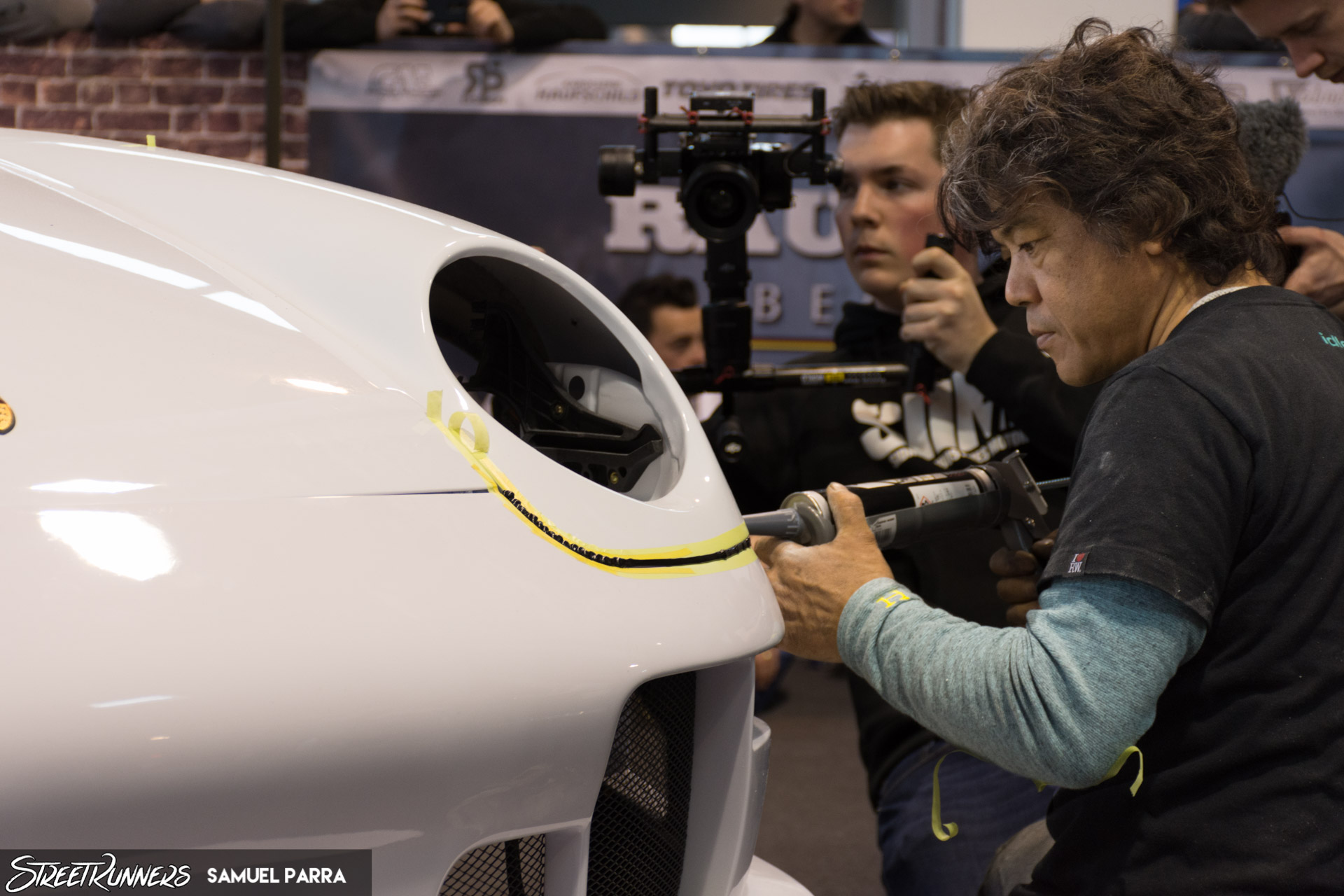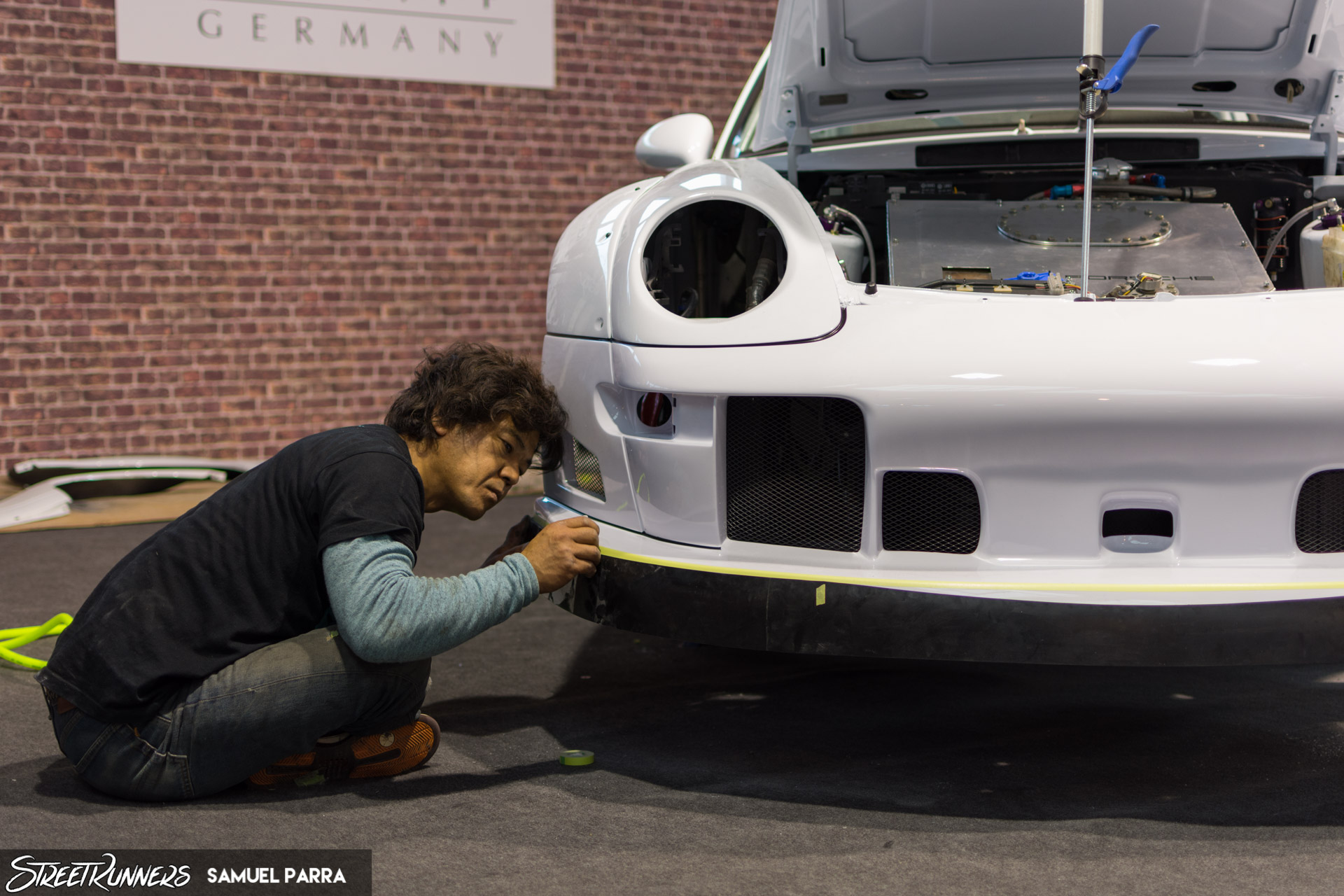 The white color, the side air vents… As Sidney already had a RWB993 (the first one in Germany, Furusato, meaning Homeland, a gesture to the german origins of Porsche), Nakai-san and he wanted to do something special for his second car. It came from the racing world, so they decided to modify the standard RAUH-Welt 993 kit to create a one-off: a tribute to the super rare 993 GT2 EVO, with only 11 cars ever made.
As the hours went by, the number of visitors started decreasing until 6 PM, when the doors closed to the public. However, Nakai-san doesn't like leaving things unfinished, and when the noise and people wandering around came to an end, he got to work again with only a few dim spotlights that were still on as his only light source, creating an eerie atmosphere that was vaguely reminiscent of his workshop in Kashiwa.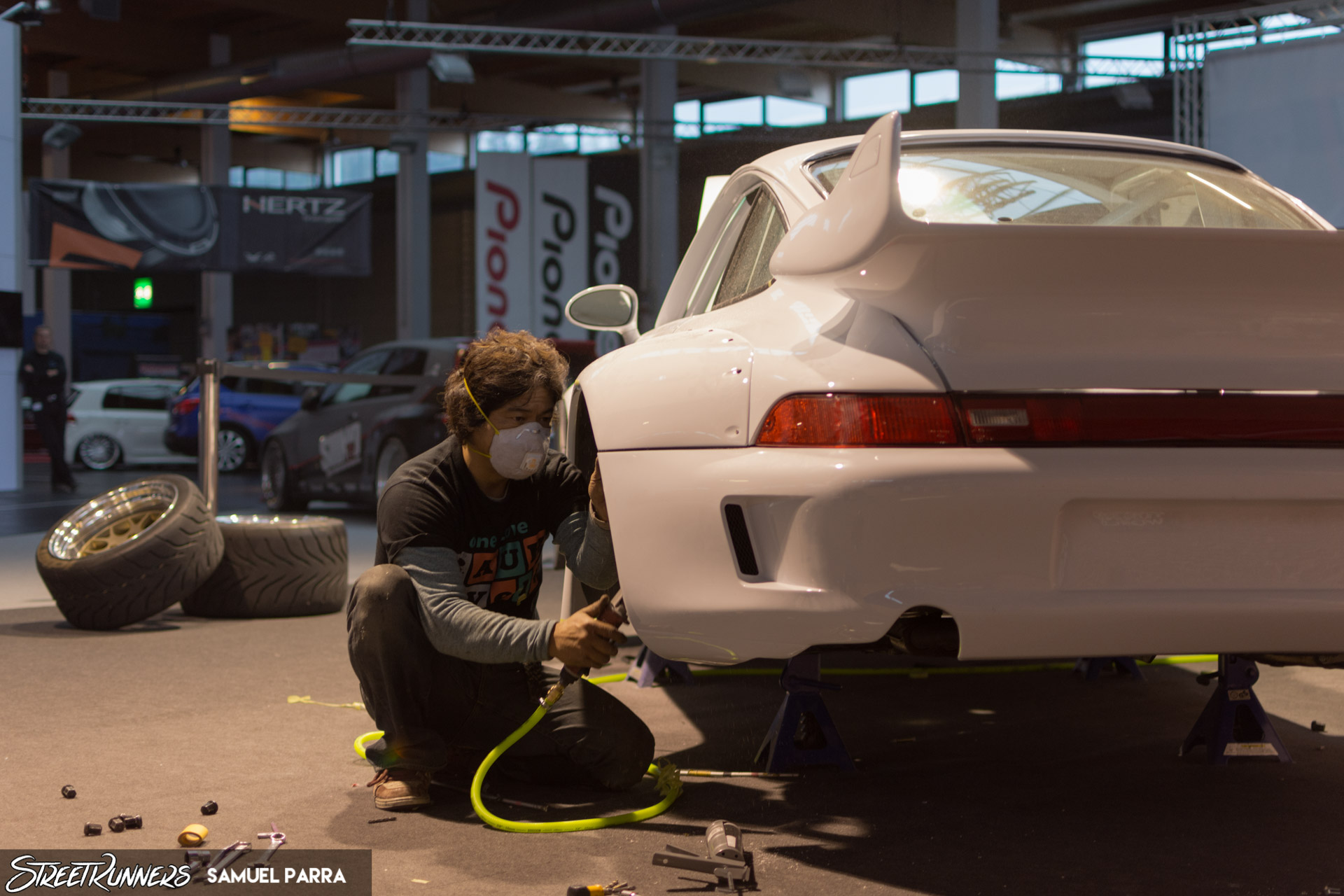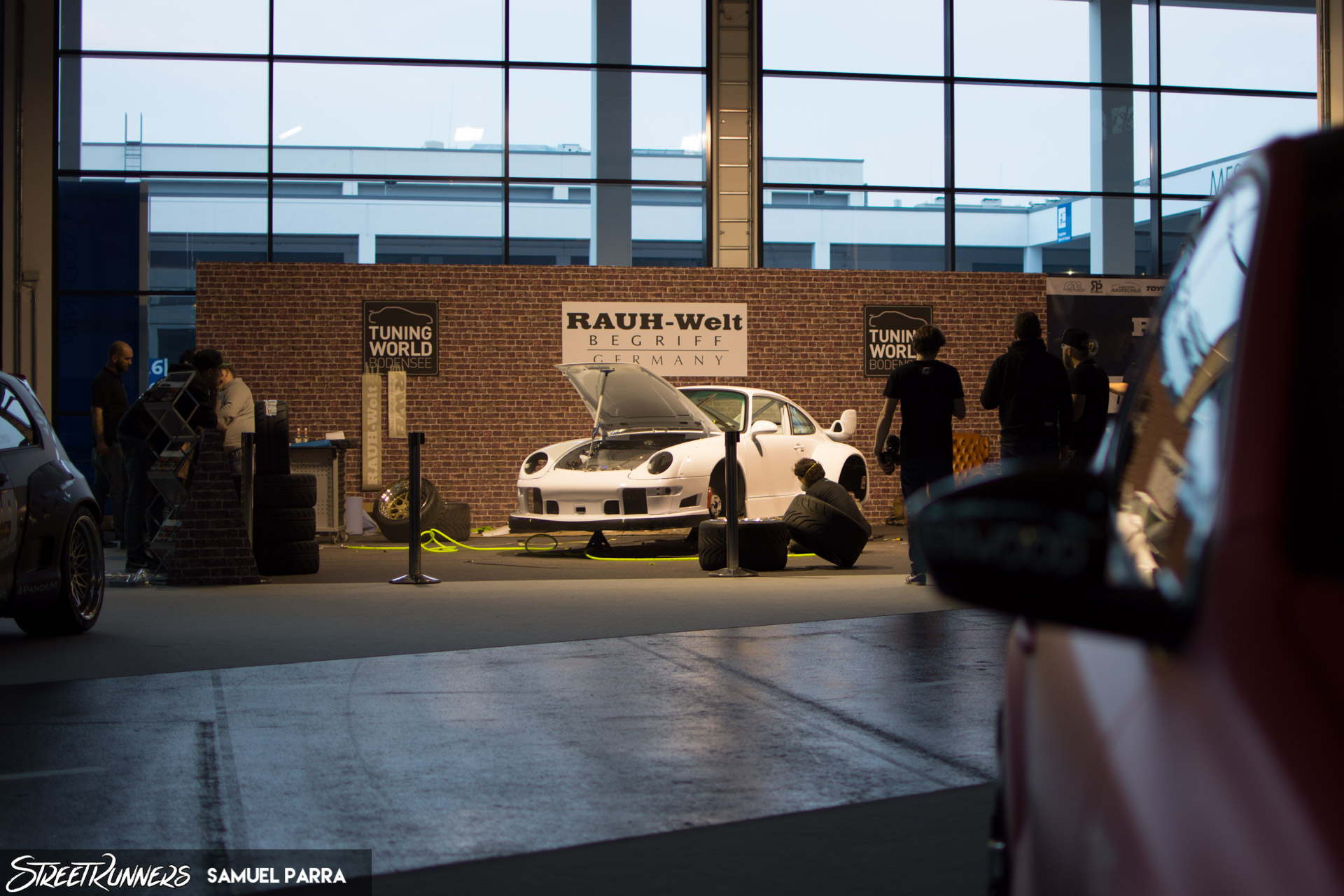 Anybody else would have called day 1 a wrap at that point. However, RWB is not only about modified cars. Their members are proud of considering themselves a family, and we've witnessed it. After leaving the venue we went to have dinner together, and even being from different parts of the world, even having just known each other for a few hours, it was one of the best nights out with friends that I can remember. Nakai-san has this power of being the link that makes people of all types of backgrounds be together and feel like at home. We all share the same passion, and for some of us, RWB has been the way of finding each other.
I don't want to sound too sentimental, but I didn't want to write this feature without trying to explain why RAUH-Welt Begriff is so special for me, and how Akira Nakai went from being a superstar who I read about in my computer to someone I've had the pleasure of meeting personally, and even call him friend. I've been preparing the feature on our visit to his workshop in Kashiwa last January for some time already, so you'll soon understand better what I mean.
Time flew that night and without even realizing it, we were at the Messe Friedrichshafen again for the second day of the build, which would end with the car finished.
Usually, the second day of the build is more calm than the first for Nakai-san, but it's also the one that he spends most time in. He's a perfectionist, and the second day is when he adjusts everything to the millimeter: the car is not done until he says so, and when he does, it can only mean that the car is perfect.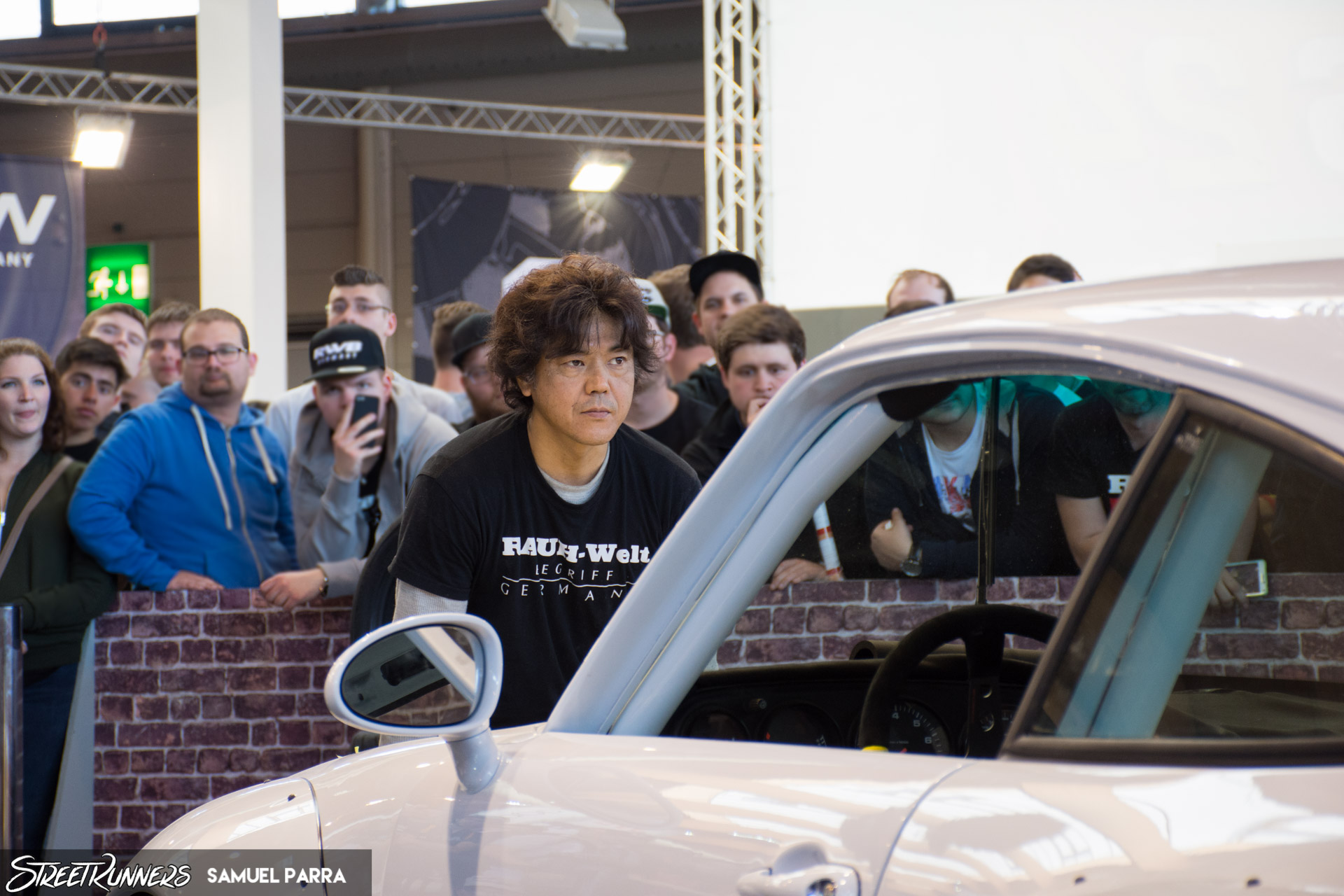 However, there were some setbacks this time: there was a mistake when ordering the wheels and they did not fit and they couldn't be used. Luckily, Sidney had brought Furusato with him too, so they decided to use its wheels, which had golden accents as opposed to the ones that were supposed to go in the car, which were all silver. I think it was a great choice as they combined great with the white bodywork and the golden vinyls.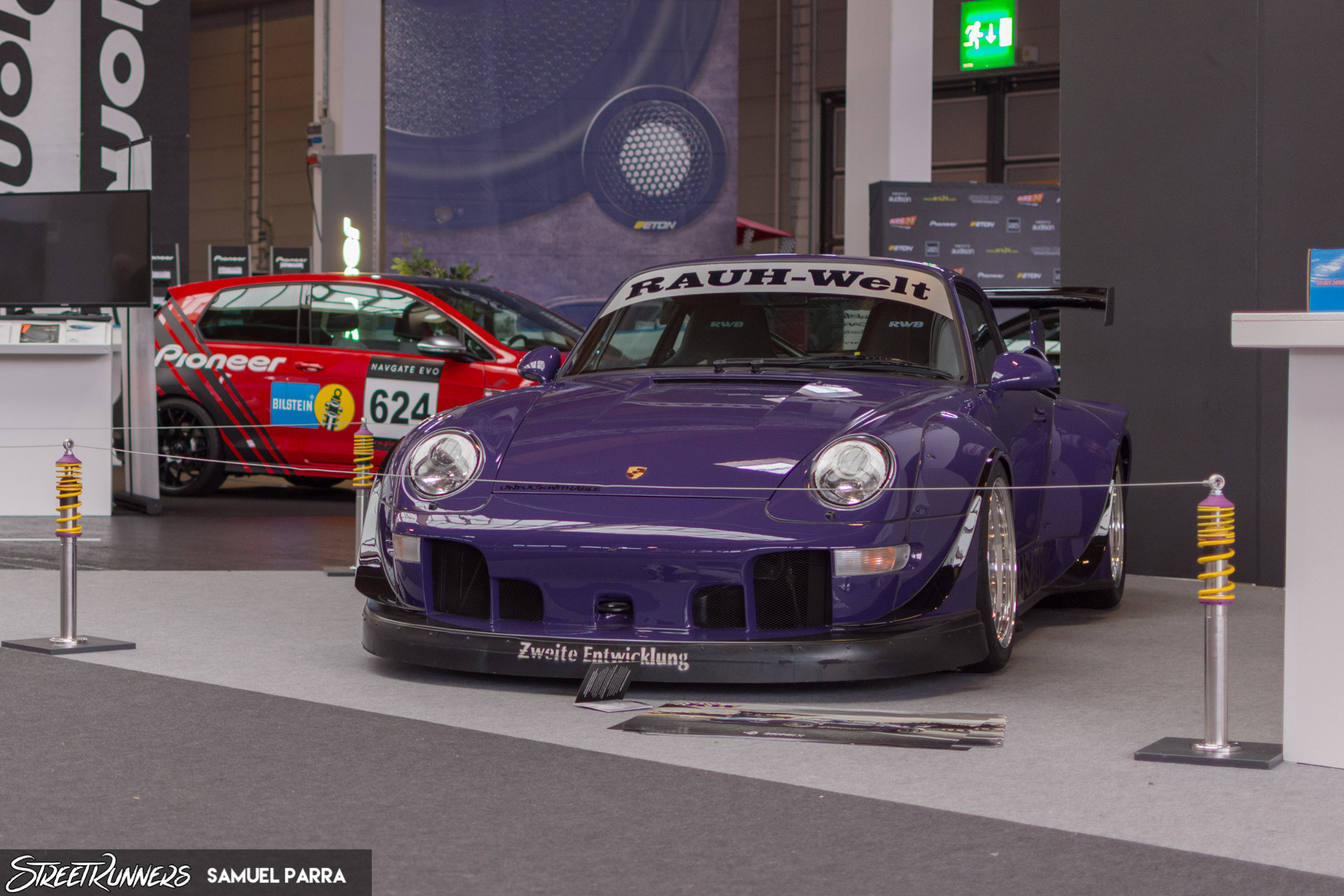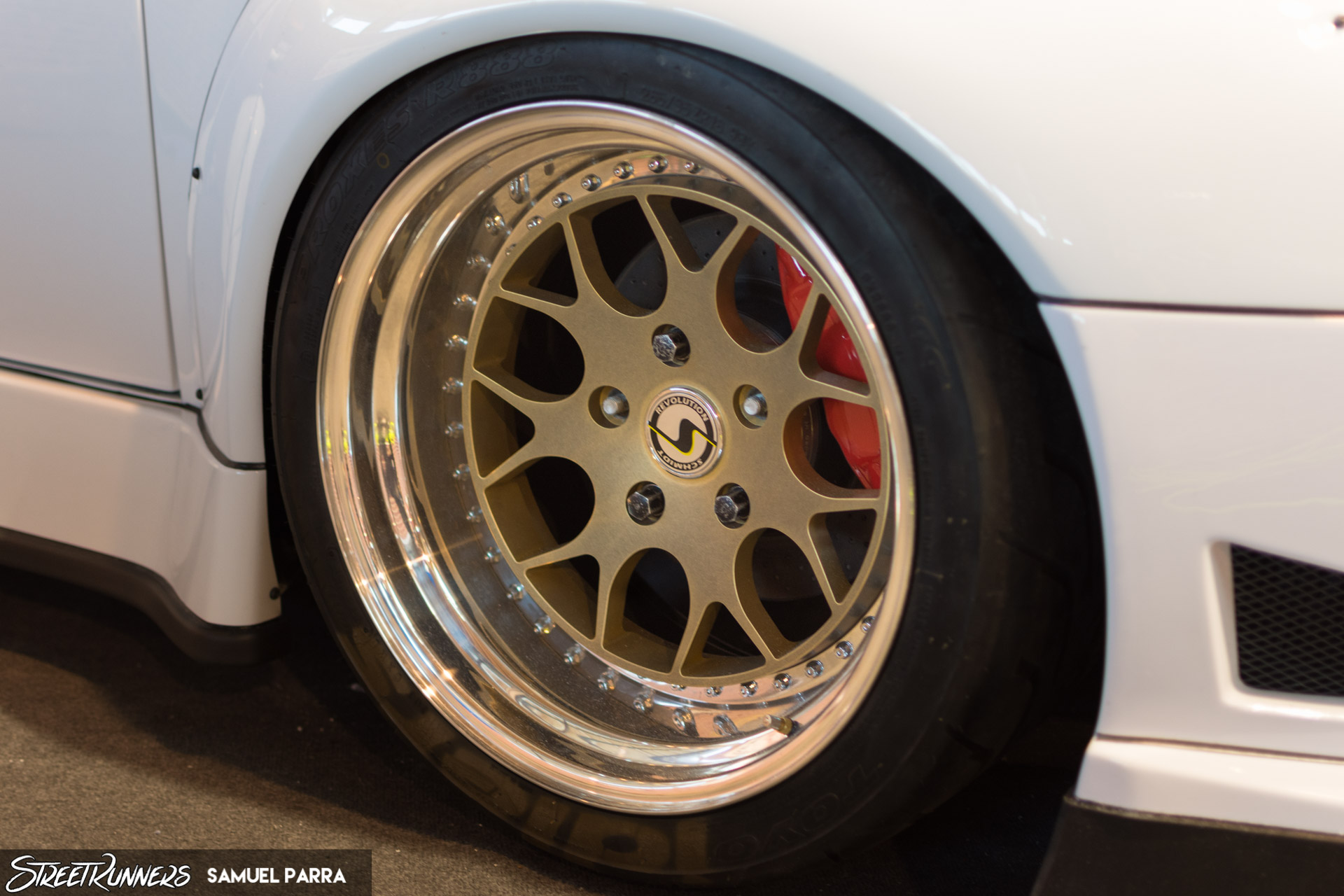 With that problem solved, only the final touch was left: the moment when Nakai-san considers the car "is born", when the new owner and he peel off the protection of the windshield banner.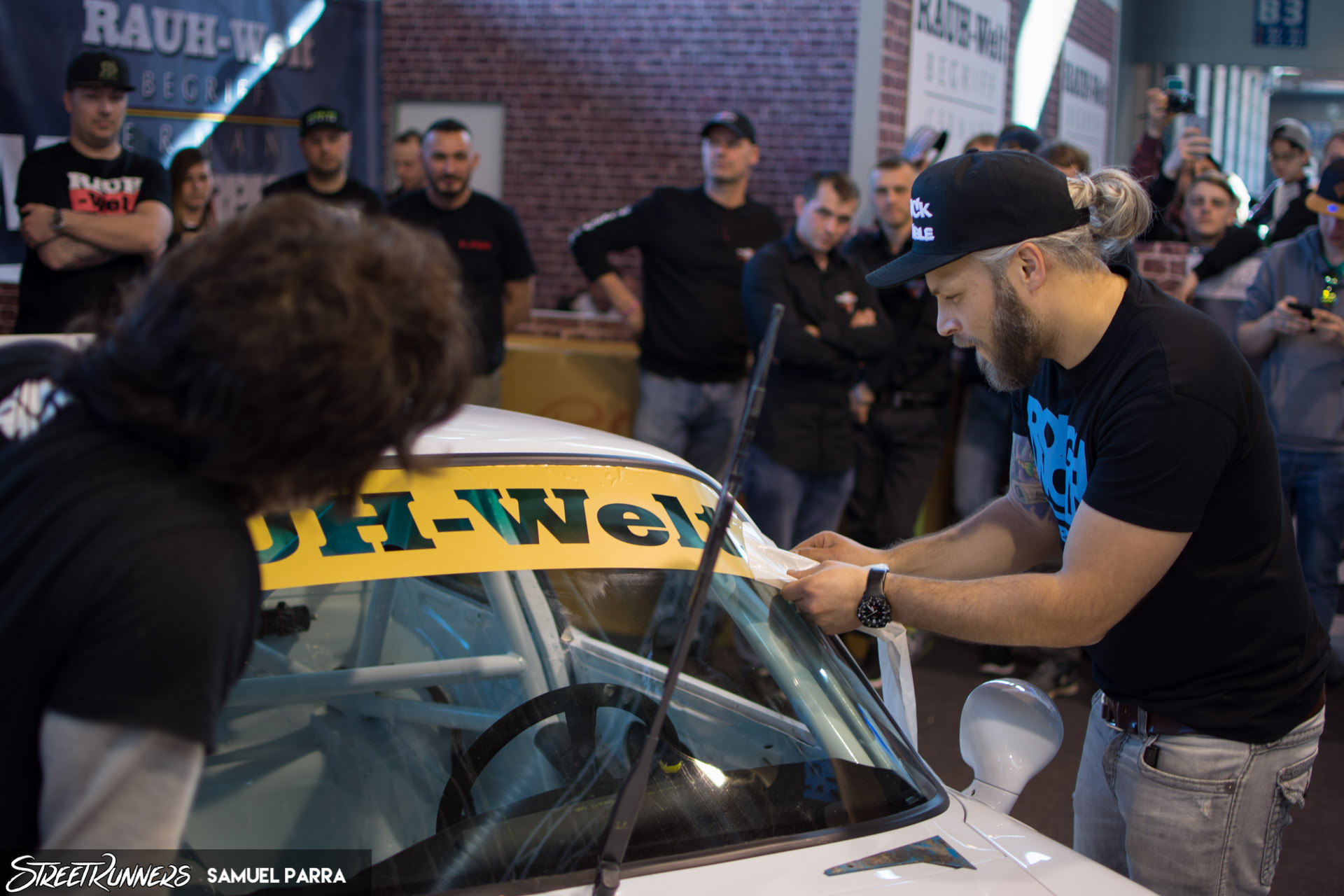 After a handshake, the car was only missing signing his signature.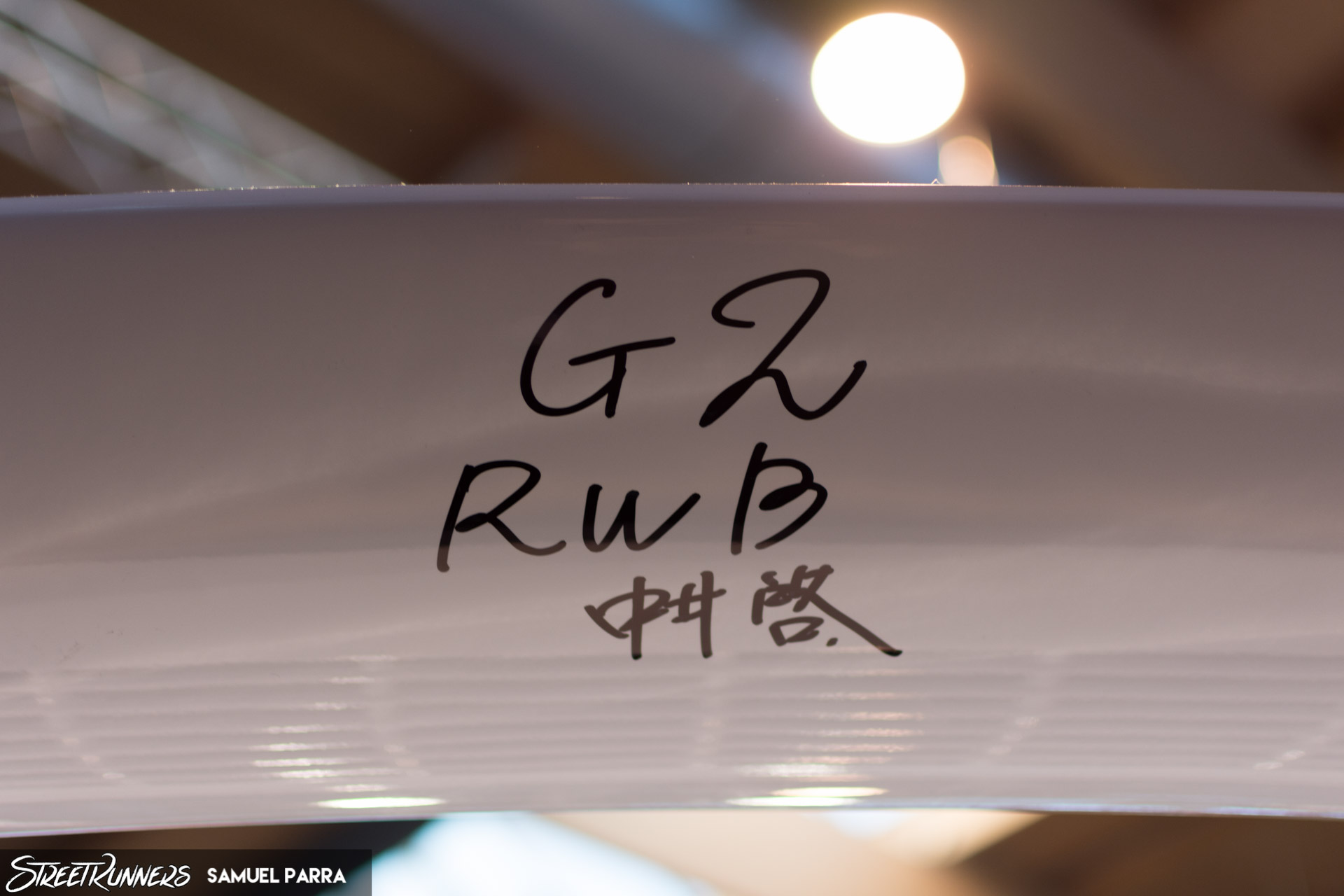 The influx of visitors to the RWB stand was constant, and the majority of them were able to see the finished product. Being an event with more than 100,000 visitors, I wouldn't be surprised if we see some more RWB cars in Germany soon after some of them decide that they want one of their own.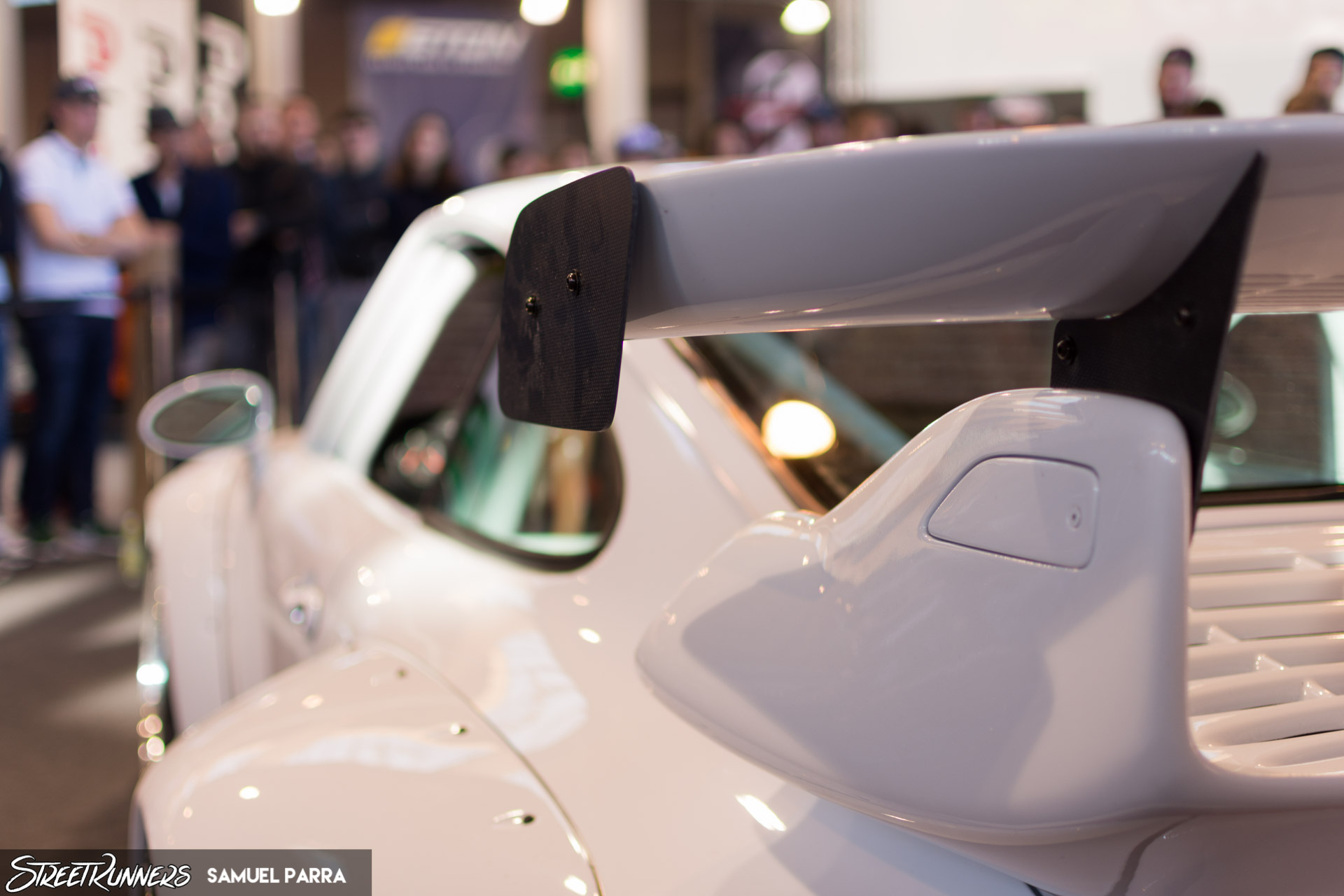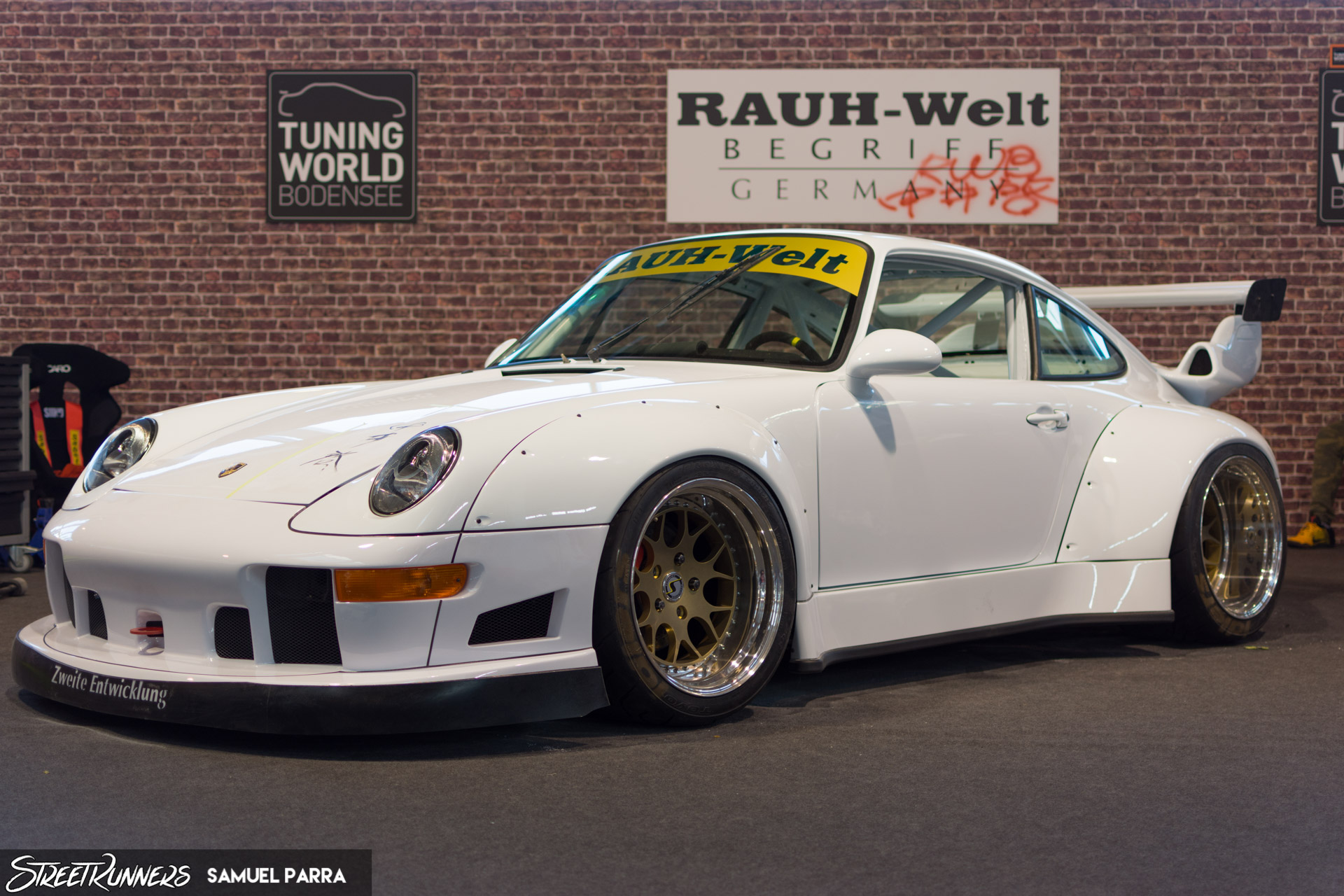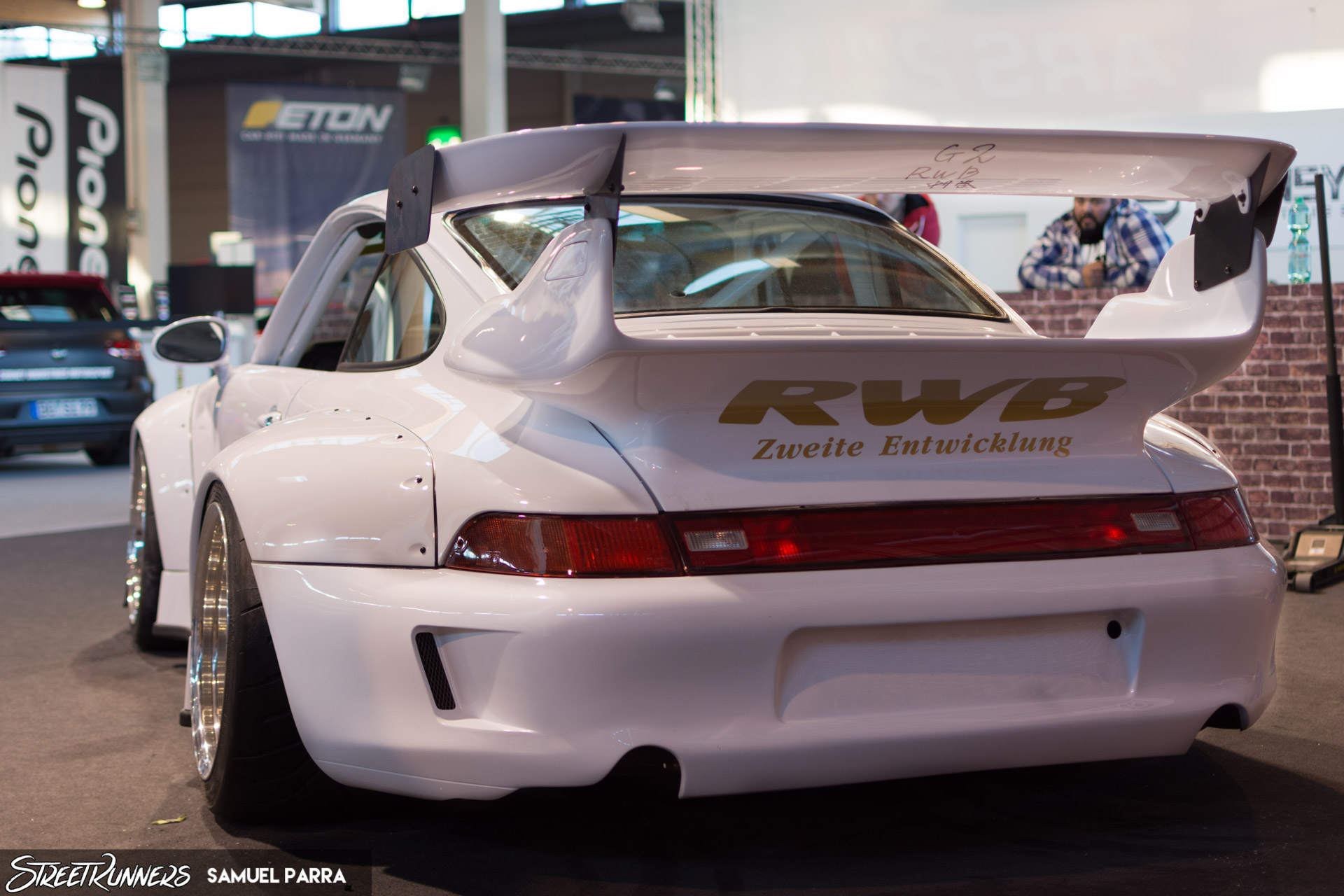 After spending some time with fans who wanted a picture or an autograph with Sidney and Nakai-san, we went to visit a lake close to the venue before we headed for our last dinner together. As I said, it's these moments that make RWB special. It's not about the cars: it's everything else.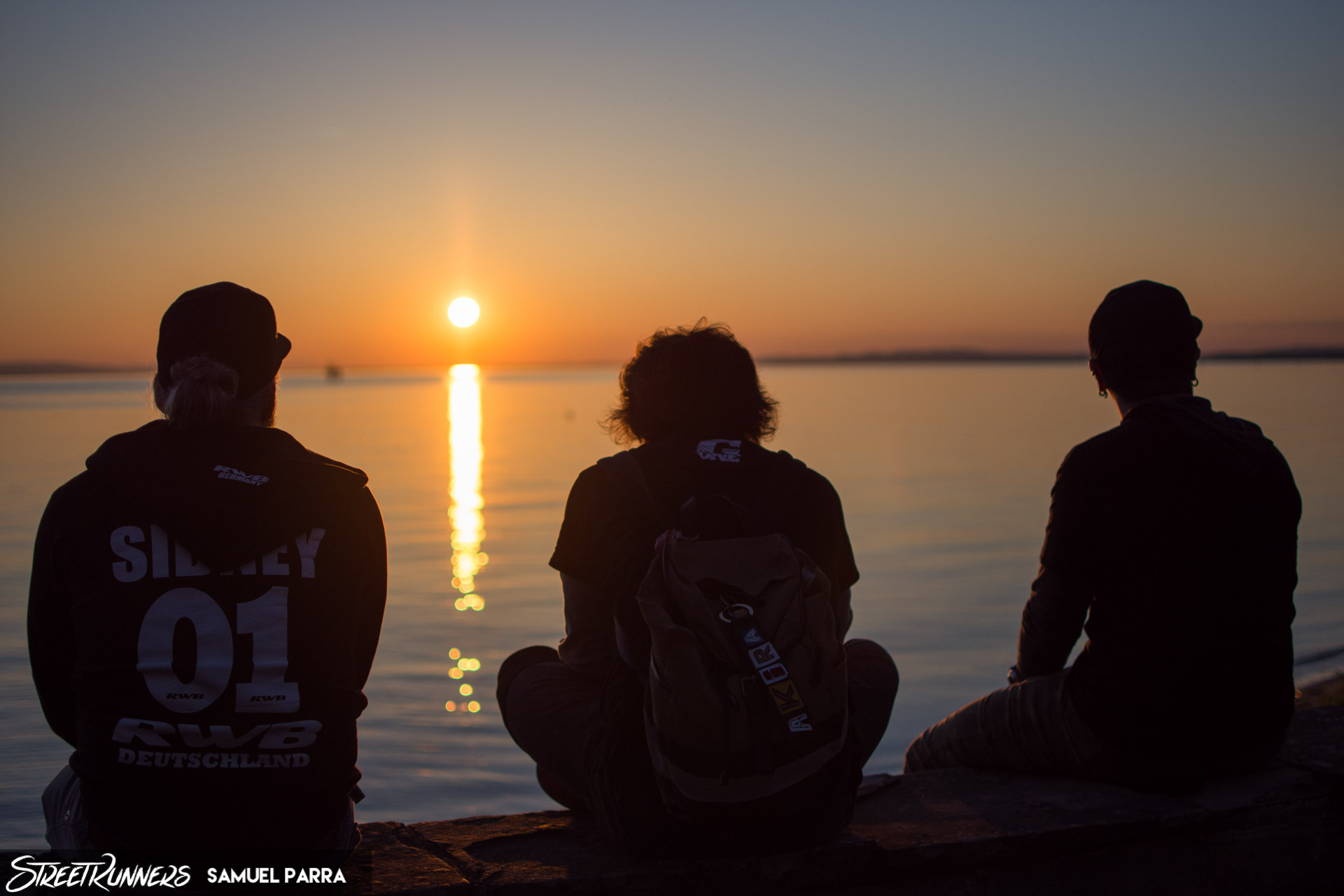 I hope that you enjoyed this feature as much as I did, and I hope I could transmit a tiny part of what I lived during those days in Germany. If you enjoy Nakai-san's work, you're in luck: it looks like the number of RWB cars in Europe is increasing exponentially lately, and before the end of this year we'll witness the birth of another RWB in a neighbour country. Who knows, maybe we will even see some of them on our roads…