Keiichi Tsuchiya's AE86: the perfect daily?
- Samuel Parra
There are not many people who can brag about their name being almost a synonym for a driving style. It's even more difficult to earn the King nickname and have almost everyone agree. However, both things are true for Keiichi Tsuchiya.
Nodoby can deny that he's done more for drift that anybody alse. Without the required funds to support a career as a professional driver, during the 70s he soothed that ache as a hashiriya (street racer) in the twisty mountain roads of Japan. His unique style of driving through corners built him a reputation in certain circles. He wasn't a professional, but his name was starting to be heard at some mountain passes, where -still only a few- other enthusiasts came hoping to see him driving his other half, the iconic Hachi-Roku.
Thanks to his ability and training on public roads, at some point he was able to become a professional. However, this didn't make him forget about his roots. Instead, he used that knowledge to create his own style, performing controlled slides in races in order to put on a show. This style changed the rules of the game at that time. Until then, it was only associated with illegal races on public roads, but now a pro was using it to shave seconds off his lap times. In the mid-1980s, Keiichi Tsuchiya's name was on everyone's lips.
It was around that time when some Japanese car magazines teamed up and asked him to do a promotional film showing off his technique at the place where he did his first slides. His home course, Usui.
That tape, known as Plupsy, was released in 1987, and Tsuchiya paid a high price: he was a pro driver and he could be seen drifting in public roads in that tape, so he was accused of reckless driving and his pro driver license was revoked.
(Plupsy, the movie that made Tsuchiya lose his pro license)
Even after being banned from the racetracks, people couldn't forget what they had witnessed. For the first time somebody had introduced drifing in circuit racing, and without even realising, he had legitimized it as a sport. On top of that, Plupsy was a turning point in the illegal street racing scene. All of a sudden, all the young kids wanted to be like the Drift King while driving his Toyota AE86. Specifically this one: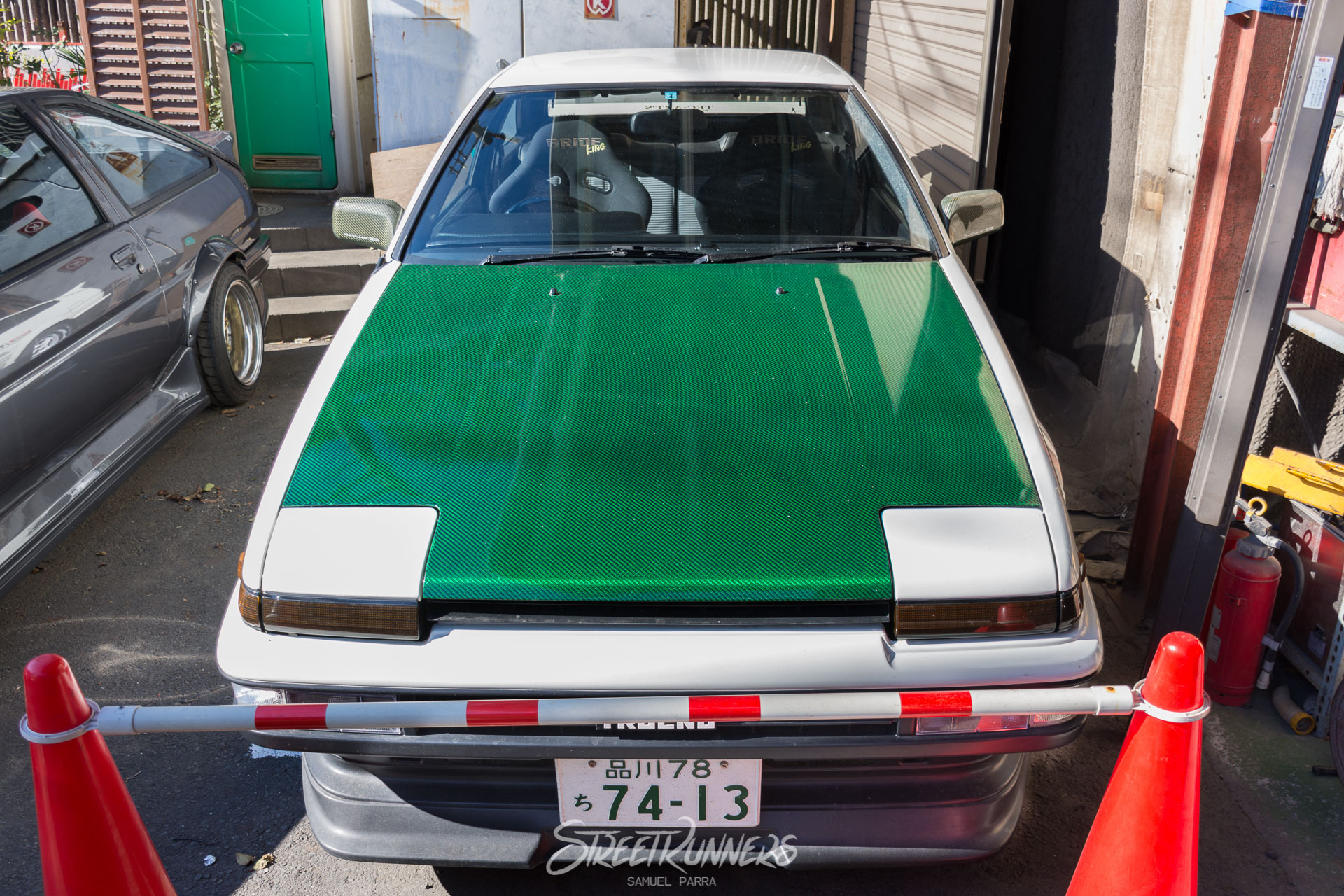 I came back to Japan at the beginning of the year in order to learn more about car culture in the country. I had already visited the country in 2015  (sorry, no English translation available), but this time it was going to be different, as I came exclusively for my love for motorsports and planned all my trip around it.
One of the places I visited was TEC-ART's, a family-run workshop which focuses almost exclusively on the Toyota AE86. On my way there I assumed I would find some really cool cars, but what I didn't expect was to find Tsuchiya's  Hachi-Roku in there.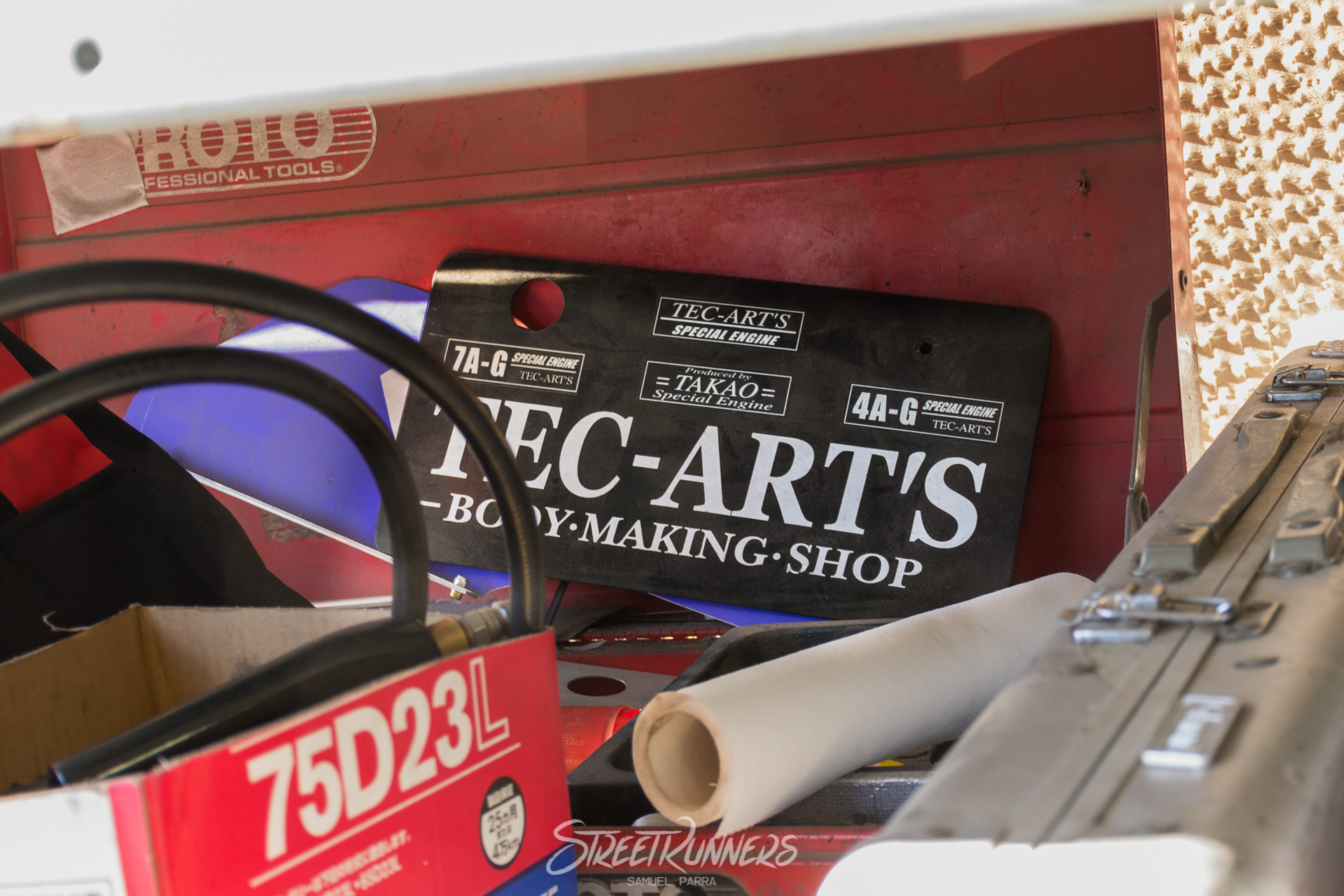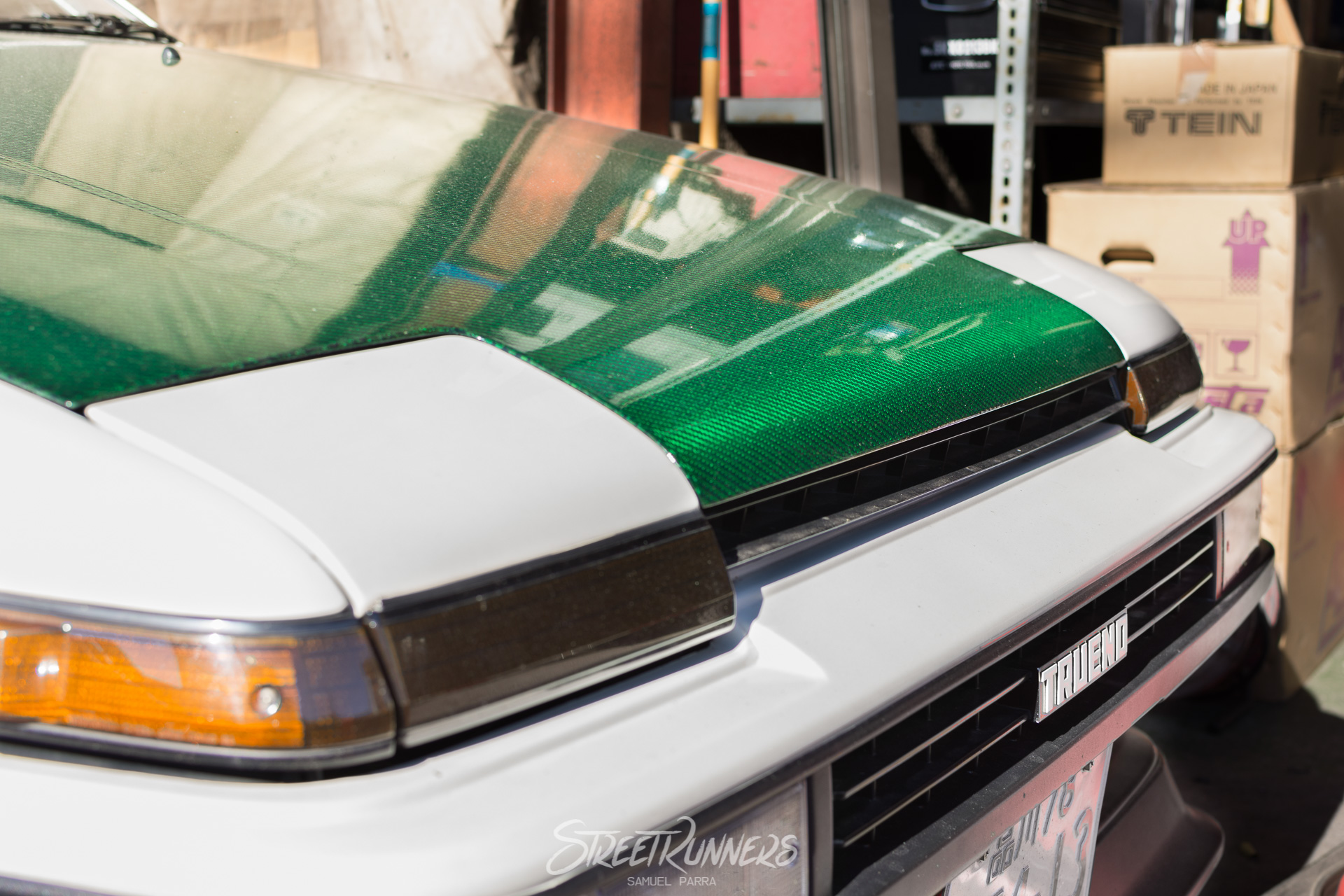 I'm still preparing an in-depth feature of TEC-ART'S, but being the only workshop that is allowed to touch Tsuchiya's car, you can expect them to be really good at what they do.
In fact, they're not only good, but also very friendly! I cannot exactly tell how much time I spent staring at that car, but it must have been a good while, as one of the mechanics came out of the workshop laughing with a key in his hand while he pointed the car and said something like "dorifto kingu!". Without even realising, I was handed that key. There was nothing special about it except for a keychain with the word KING written on it.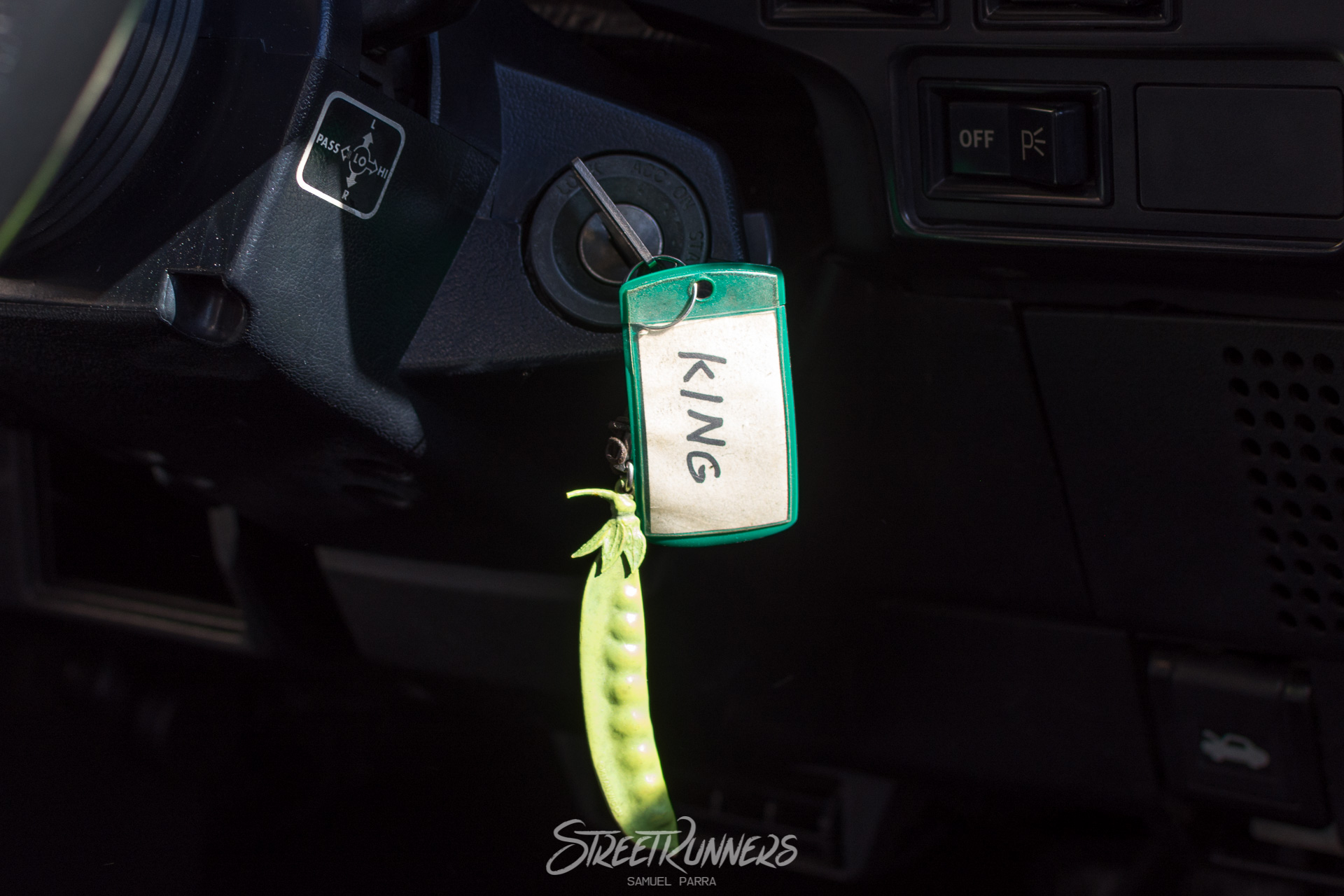 What does this car hide under the unmistakable green carbon fiber hood?
A true Frankenstein. _A 7A-FE engine with a Corolla AE111 cylinder head from the 4A-GE _Black Top, the holy grail of these engines.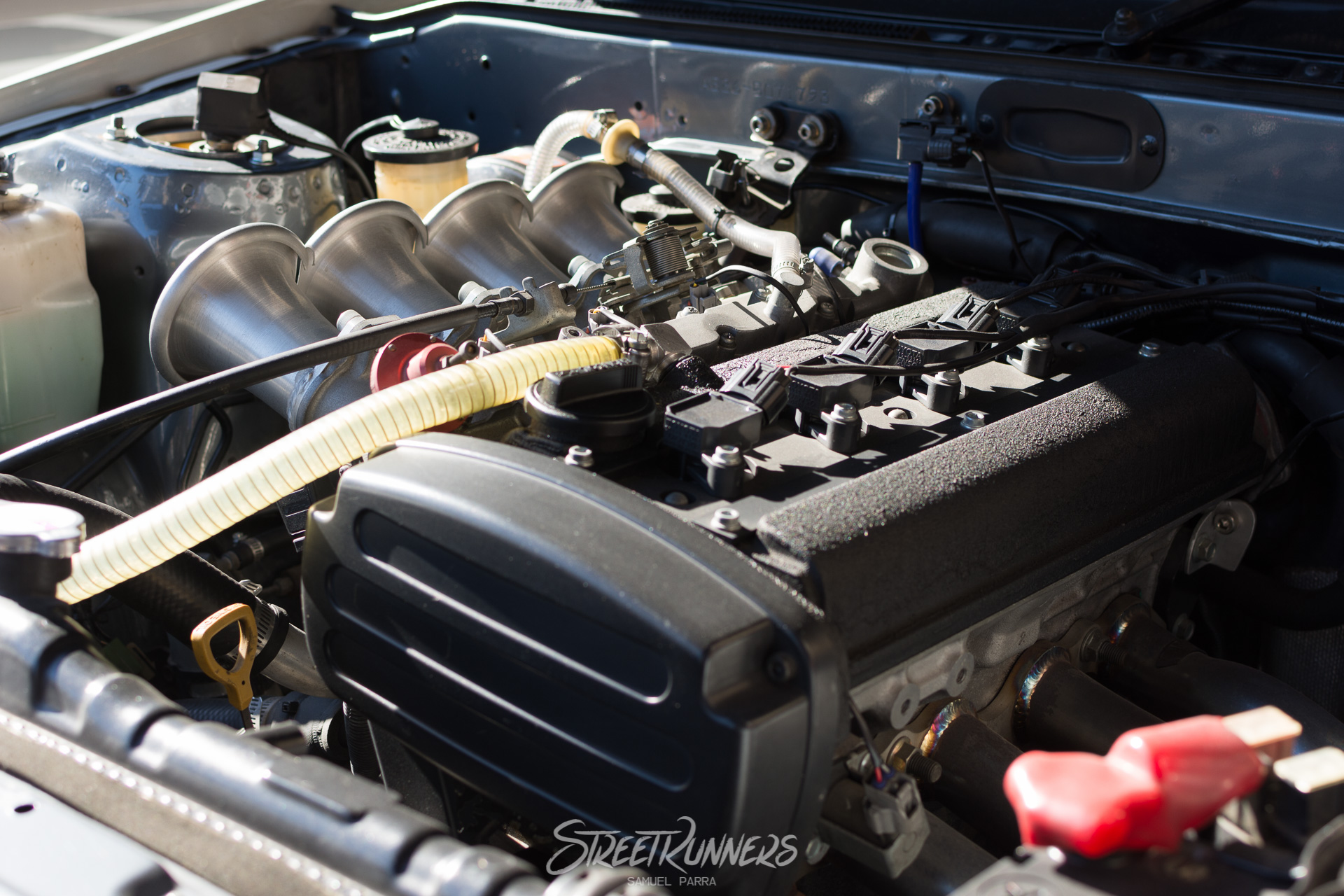 During the years he raced for Toyota, Tsuchiya worked side by side with a mechanic from TRD (Toyota Racing Development), Tadao Sakurai. He was the only one allowed to work on the car and tuned it trying to find a good balance between power and driveability, which made the car capable to race against more powerful cars during many years. When Mr. Sakurai died, Tsuchiya chose TEC-ART'S as his new mechanics and agreed on the workshop's proposal of swapping the original 1600cc engine for a bigger one (1800cc), thus making the car produce around 200whp and 225Nm torque at 4200rpm.
But that wasn't the only overhaul the car went through. The new engine was also paired with a set of ITBs made by TODA, and TEC-ART'S also replaced the suspension system by a new one designed by them. They did the same with the exhaust system, too.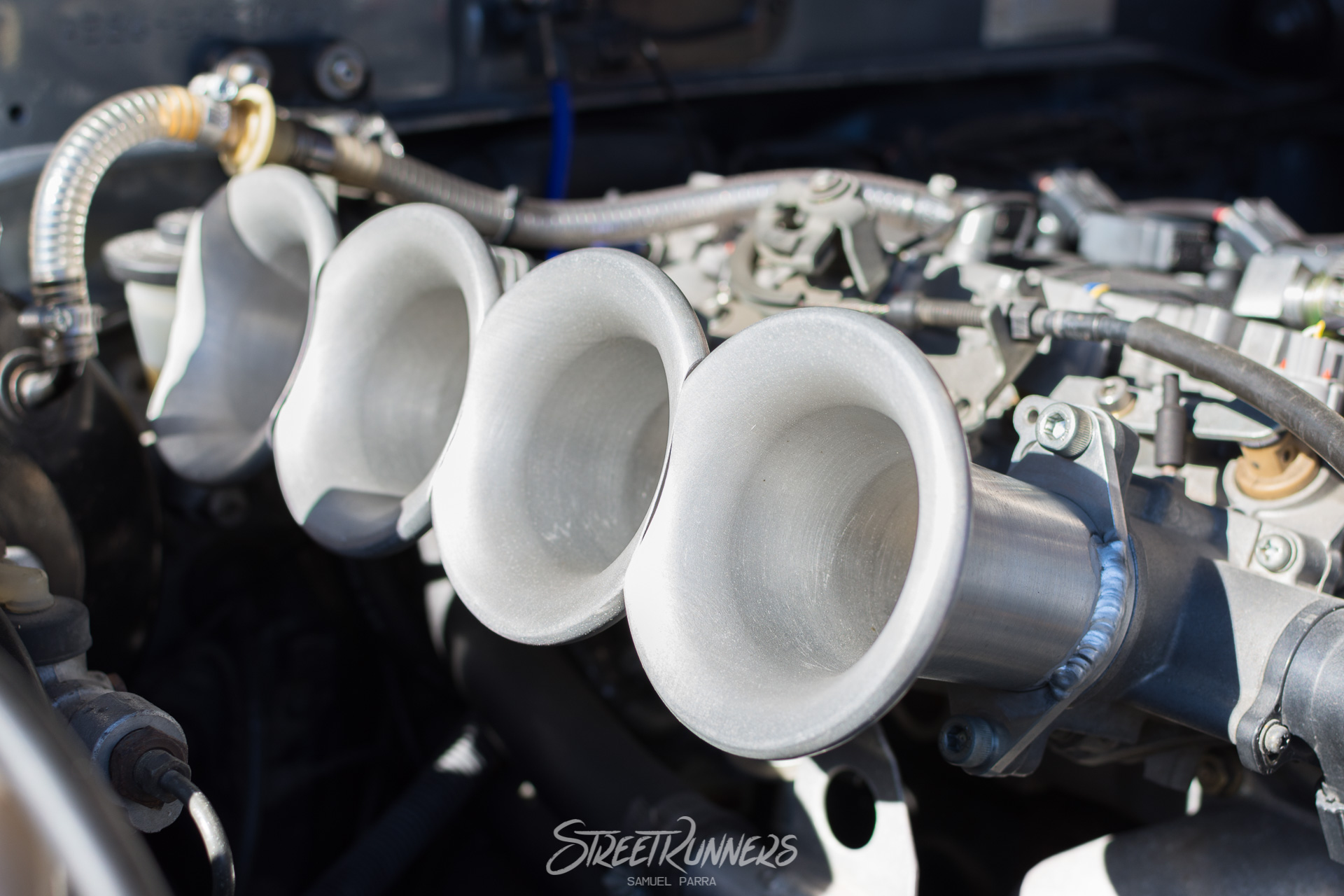 Regarding its exterior looks, this Trueno is equipped with a set of 15x8.5 Work CR-01. And although this Trueno is a restyling, it is rocking the original version of the model's front bumper -a bit bigger, and only color matched in half-. A TRD ducktail on the rear completes its looks, but what really stands out is the green tinted carbon fiber hood, almost as iconic as Tsuchiya's green racing suit.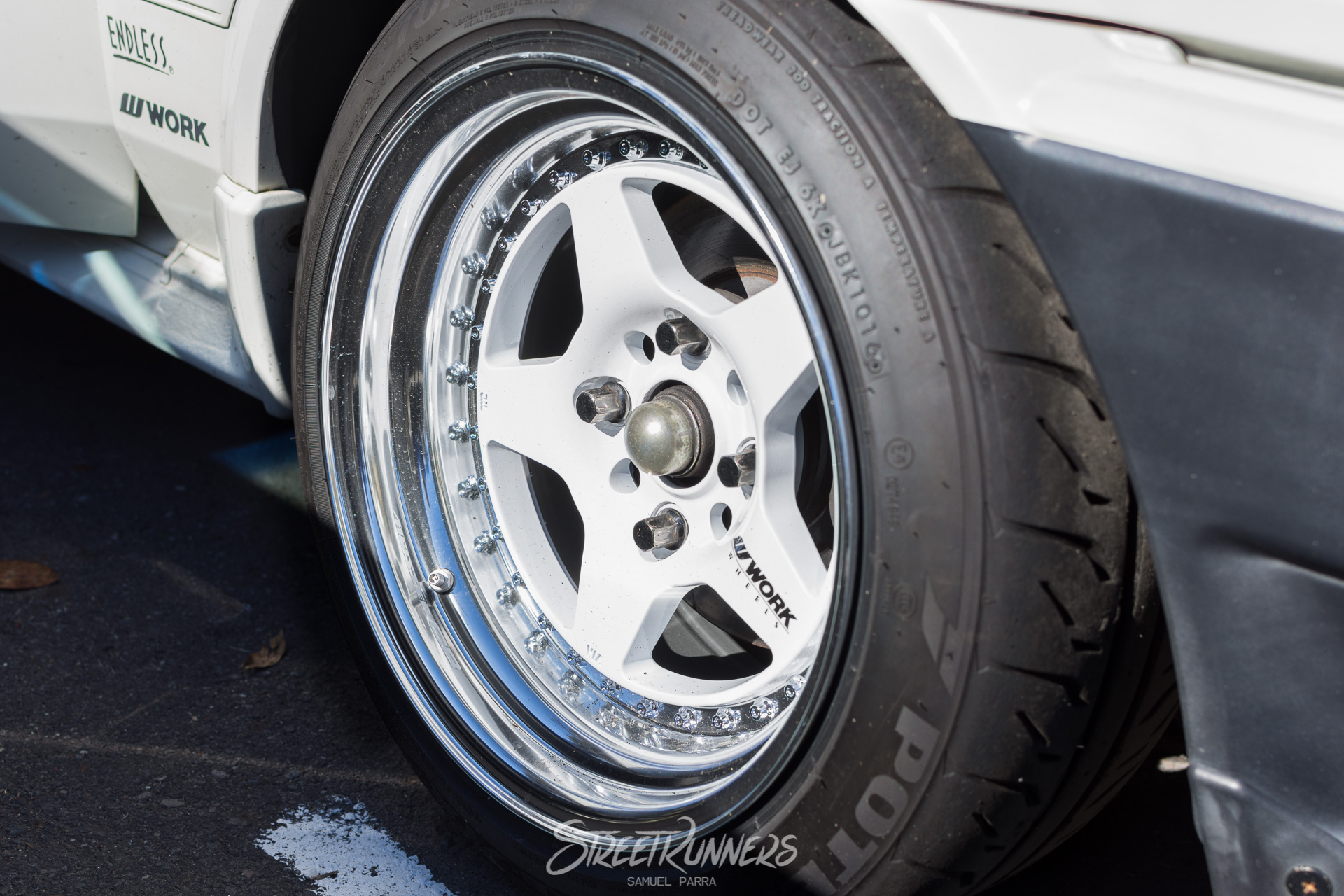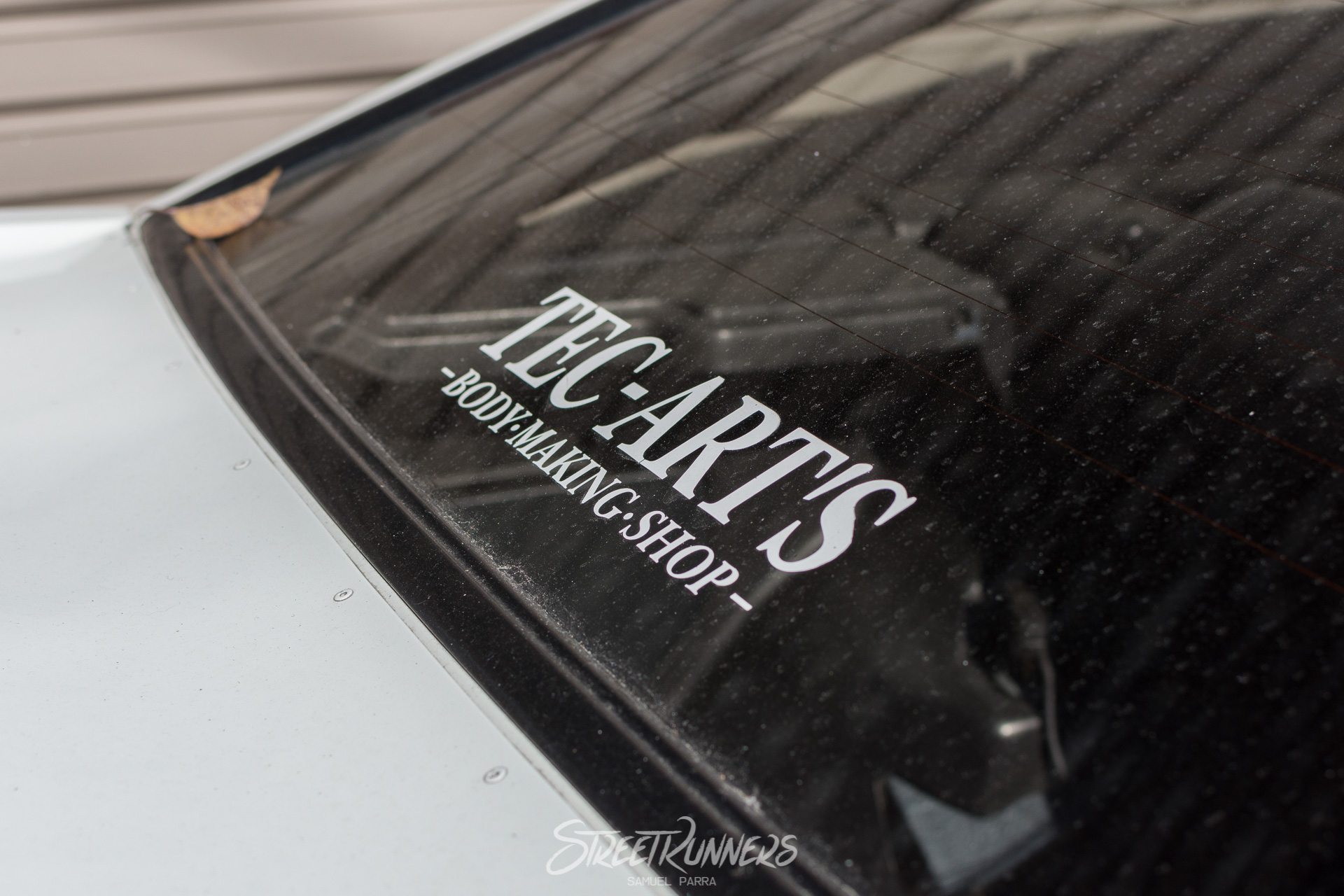 This car is really something else. Not only because of what it represents, but also because even at first glance one can really appreciate that it has achieved a perfect balance. You could use it as a daily driver without any problem or go straight to the touge and really get the best of this engine and chassis setup. No interior panels have been stripped, there are no hanging cables, all the aftermarket gauges are perfectly integrated… Only a pair of Bride buckets (King special edition, of course) hint that this car is not only used as a daily driver.
But without any doubt, the best thing about the car is that anyone can have one like this one. At TEC-ART'S they offer the "Keiichi Tsuchiya AE86 Street" pack, which, in case you hadn't guessed, consists on installing the same parts that Tsuchiya's car has. And no, you can't order those parts anywhere else and install them at home. Most of the parts installed in the original car (exhaust system, suspension…) are hand-made and are only sold at TEC-ART's. For about £20000 / $25000, this kit may seem a bit over-the-top, but you've already seen what this car is capable of given the right hands…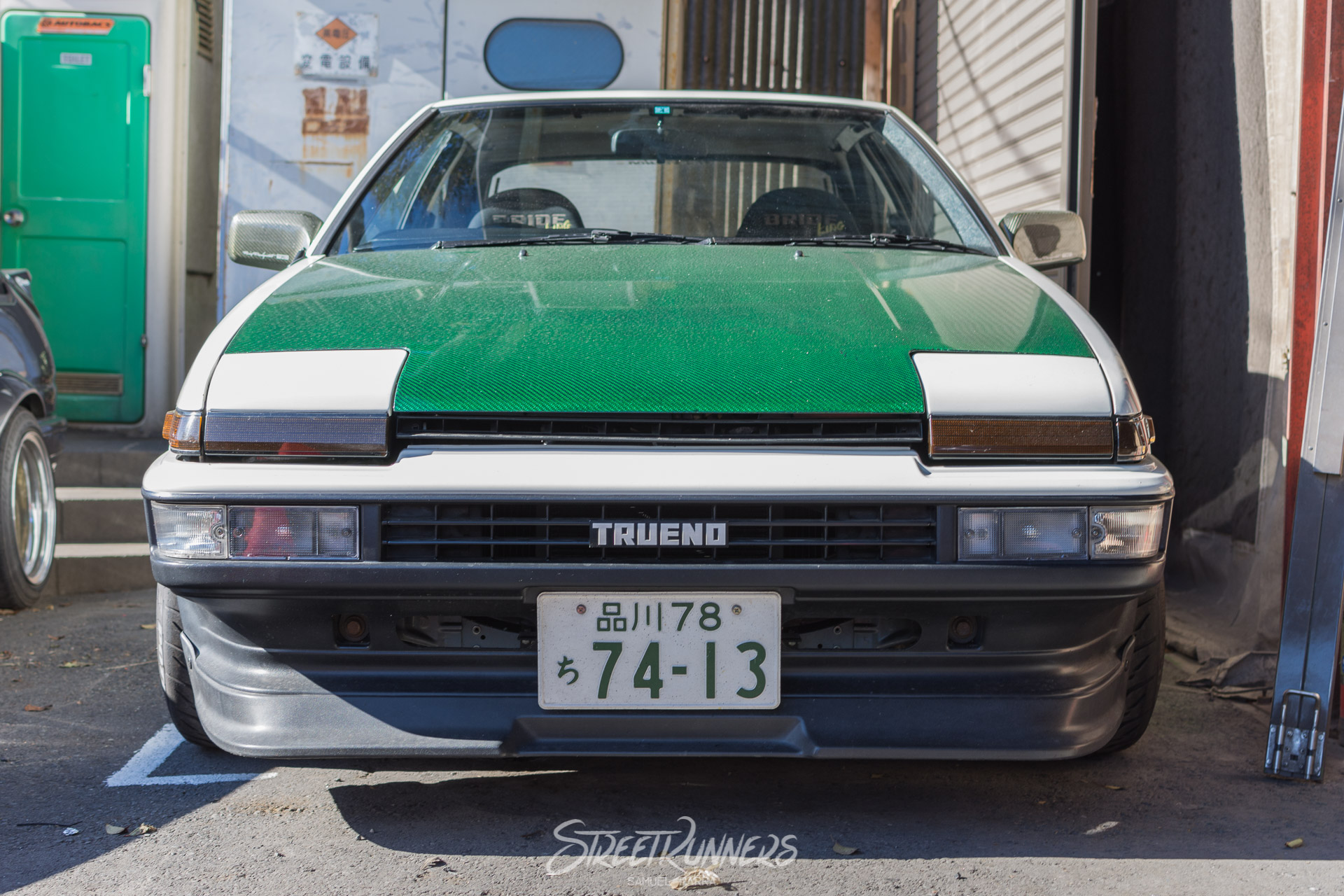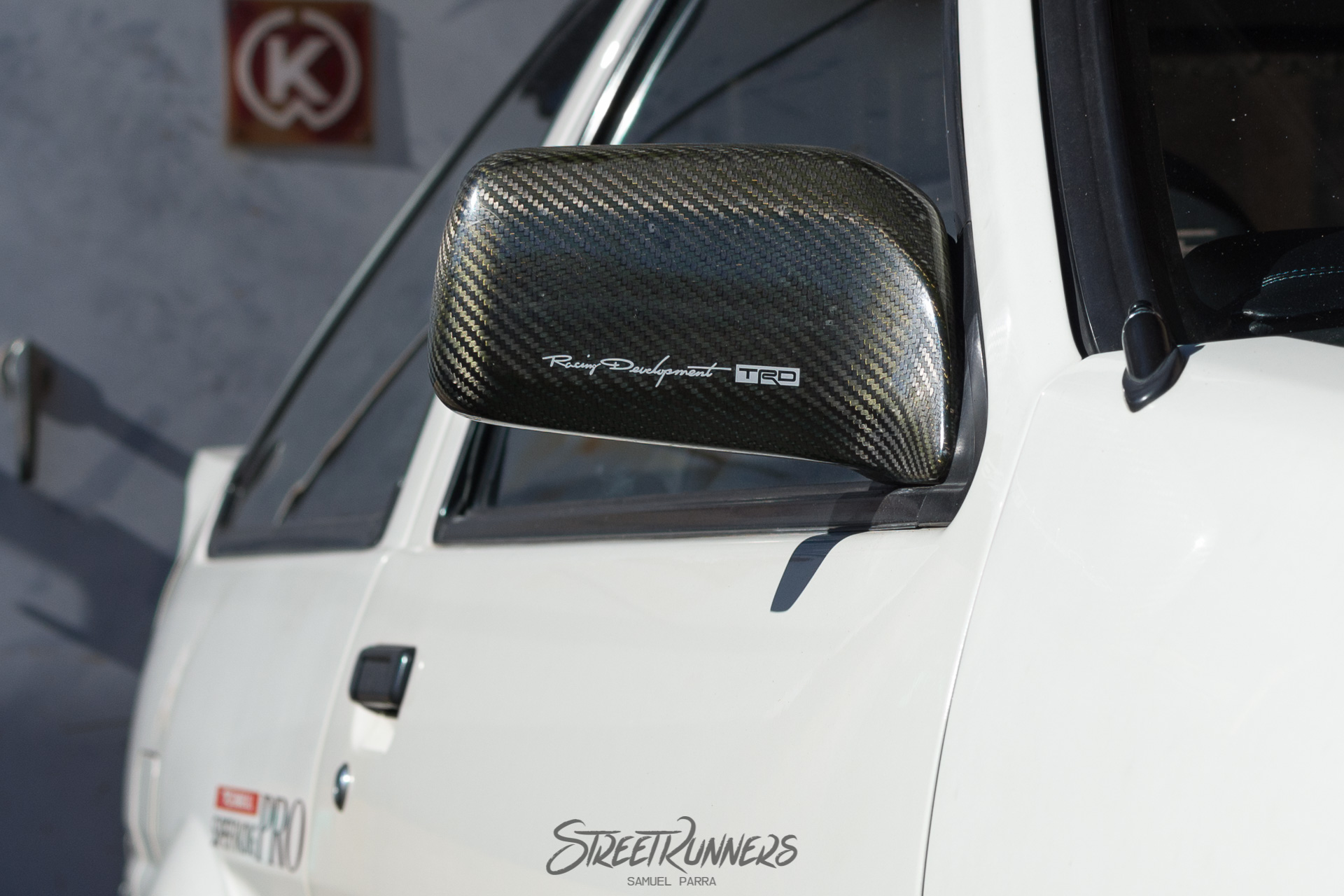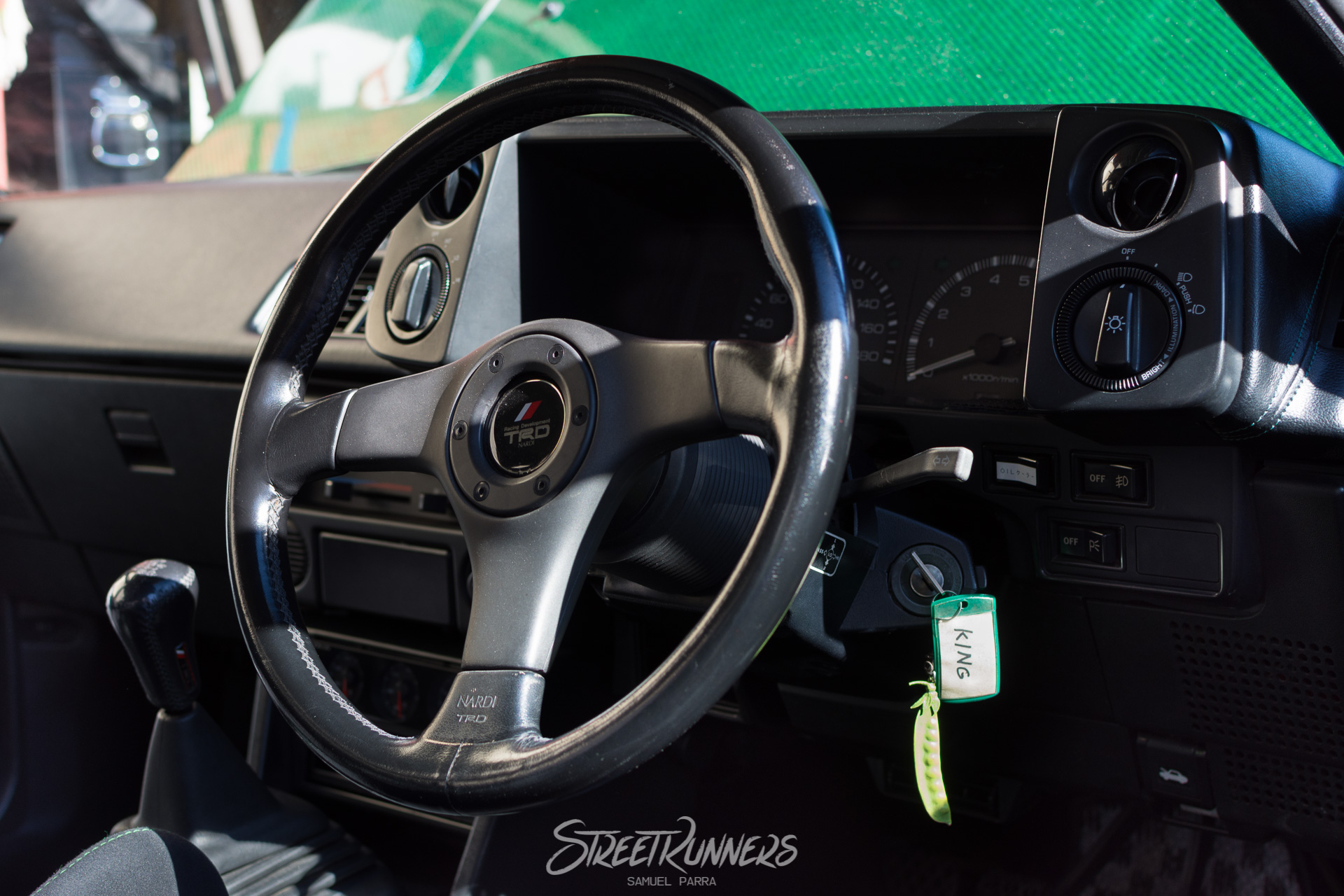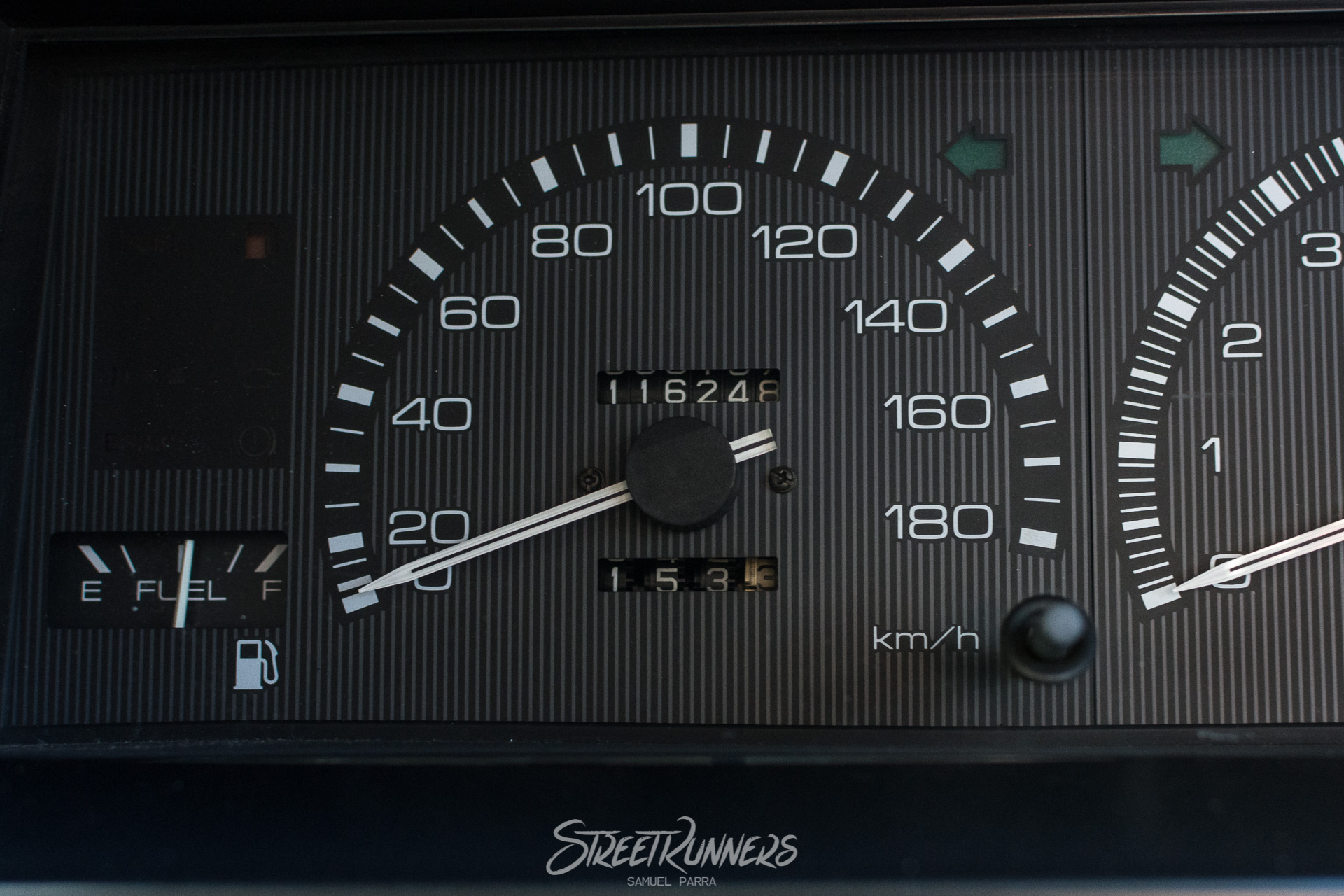 ---
BONUS
Drift Bible with Keiichi Tsuchiya as the main character, probably my all-time most watched video on YouTube.
MOD LIST
ENGINE AND TRANSMISSION
AE111 shaved cylinder head

7A-FE engine block

TEC-CAM 264 camshafts (made in collaboration with TOMEI)

TODA reinforced valve springs

Koizumi Shokai 82Φ forged pistons

Balanced crank shaft

TRD rods

TEC-ART'S oil pan spacer

TEC-ART'S ITBs

TEC-ART'S injectors

TEC-ART'S aluminum pulley set

TEC-ART'S super alternator

MoTeC M84 ECU

TEC-ART'S coil on plugs

TRD engine mounts

TEC-ART'S poly bushes

TEC-ART'S stage 2 single plate carbon clutch
EXHAUST
Street Premium Muffler Tsuchiya TEC-ART'S exhaust system

4-1 TEC-ART'S EX Manifold Type-F headers

OEM AE111 cat
SUSPENSION AND DRIVETRAIN
TEC-DAMPER TYPE-Aragosta coilovers exclusive to TEC-ART's (8k springs front / 9k rear)

TRD sway bars
BRAKE SYSTEM
DIXCEL slit rotor SD discs

ENDLESS CC-Rg pads
EXTERIOR
Tinted carbon fiber hood

AE86 Zenki front bumper

TRD ducktail

WORK Meister CR01 15" 8.5J +3 wheels
INTERIOR
DEFI gauges

BRIDE Gias II Keiichi Tsuchiya KING version (driver)

BRIDE Stradia II Keiichi Tsuchiya KING version (copilot)